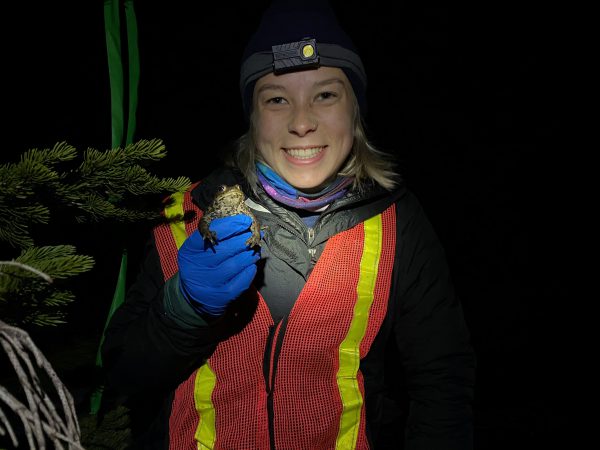 Molly Ratliff '22 hopes to work in an environmental-studies field after she graduates from Kalamazoo College, making her senior integrated project (SIP) this summer an ideal experience. She is researching boreal toads at their known breeding grounds in Rocky Mountain National Park in Estes Park, Colorado, as a way to engage with conservation.
"Amphibians, such as boreal toads, are really great indicators of overall ecosystem health," Ratliff said. "Their skin is highly permeable, making them vulnerable to environmental changes and toxins. Since amphibians are typically the first species to be impacted by changes in the environment such as climate change, they can show general trends of how other species may react."
To be specific, in her research Ratliff is investigating how a skin disease that affects amphibians around the world—Batrachochytrium dendrobatidis or Bd—might be affecting the sizes of the toads at various locations and how this might relate to survivability. She performs surveys at dusk around lake shores, captures toads to mark them with pit tags, takes body measurements, and swabs them to test for the disease. The toads are then released and can be identified as they're recaptured by their unique pit tags.
"If amphibian populations are not doing well in an ecosystem, it can be an indicator that there are stressors, toxins, imbalances, etc. within the entire system," she said. "Amphibians also typically exist as both predators and prey, making them a crucial part of the food chain within an ecosystem."
Ratliff's work is an excellent example of the independent scholarship critical to the K-Plan, Kalamazoo College's integrated approach to academics in the liberal arts and sciences. As a culmination of learning at K, all students explore a subject of their own choosing, resulting in an in-depth, graduate-level research thesis, performance or creative work. Learn more about how these projects fit into the K-Plan at kzoo.edu/k-plan.