Nothing beats a small city for combining location, educational opportunities and a sense of a close-knit home.
You'll connect your academic work and off-campus experiences in the city to allow yourself the most growth. And because K's location is in the Kalamazoo-Portage metropolitan area with more than 335,000 people, those experiences are short walks or a bus ride away—in laboratories, social service agencies, primary and secondary schools, financial institutions, businesses large and small, medical offices, arts organizations and museums, and city and county government.
The College maintains a close and active involvement with the Kalamazoo community, which supports, among other cultural activities, a symphony, the Gilmore Keyboard Festival, a chamber music society, an annual Bach Music Festival, an art institute, a Northwoods League baseball team, a professional hockey team, a nature center, and numerous theaters and movie houses. Year-round festivals, a monthly gallery-to-gallery Art Hop, and a wide variety of restaurants bring additional diversity to the city.
Kalamazoo contains all the advantages of a big city with the intimacy of a small town. That's rare! And it will make your educational experience excellent. And should you need the occasional sense of something larger, Kalamazoo is only 140 miles from Detroit or Chicago (and only 35 miles from Lake Michigan). Several major airlines serve the Kalamazoo/Battle Creek International, and Amtrak service is available several times a day.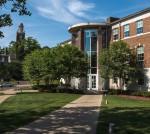 Kalamazoo College's location helps students find educational opportunities and a sense of a close-knit home.