Founded in 1833, Kalamazoo College is a premier liberal arts institution and one of the nation's 100 oldest colleges and universities.
On this page you can find information about the College's
---
Land Acknowledgement
The College acknowledges that it was built on the land of the Council of the Three Fires—the Ojibwe, the Odawa, and the Potawatomi—and recognizes the enduring relationship that exists between the People of the Three Fires and this land.
---
History
It all started when a young minister named Thomas Merrill arrived in Michigan with $7.00 and a plan to establish a Baptist college on the frontier. In 1833, with the ambitious assistance of Judge Caleb Eldred, Merrill's dream became a reality and the Michigan and Huron Institute was founded. The institution then changed its name to Kalamazoo College in 1855 when it earned the ability to grant degrees.
In the years that have followed, the College has gone through many eras of growth and change. Buildings, personalities, and academic programs have come and gone; through it all, we have maintained a tradition of excellence in our commitment to a true liberal arts education.
Today, the College operates independently, acknowledging its historic link with the American Baptist Church.
Academic Origins
When classes first began during the 1836-37 academic year, the curriculum was much different from how it is structured today. Courses of instruction were limited to Greek, Latin, Math, Rhetoric, Physics, Philosophy, and a few others. Classes were offered both at the collegiate and preparatory level, and the old registrar's ledger shows that the College taught students as young as 13!
A theological seminary to prepare men for the ministry was also connected to the college, first offering classes in 1848, and the college's first Black student graduated from the Theological Seminary in 1861. However, the seminary never flourished and closed its doors in the 1870s.
Female Students
Kalamazoo College has always been a co-educational institution. Although the Female Department initially operated separately and students received different "ladies certificates," some classes were combined with the men's courses. By 1870, women were receiving the same degrees as their male counterparts and soon after began having joint commencements, thanks to Ella Osborn Adams (Class of 1871), who successfully petitioned to merge the ceremonies despite some folks' concerns that the women's "pantaloons might show" on stage.
Undergraduate Studies
Up until the 20th century, students could only graduate with classical, Greek scientific, Latin scientific or English scientific degrees. However, after the close of the preparatory department in 1908, the College transitioned to an undergraduate model and officially began offering majors and minors in 1910. Each student was required to declare a major and two minors by the end of their sophomore year, including newer subject areas like philosophy, pedagogy, history, French, mathematics, chemistry, physics, biology and more.
The K-Plan
The College made further changes to its curriculum when implementing the K-Plan in the 1961–62 academic year. Originally, the K-Plan comprised three core components: career service, foreign study and the Senior Independent Project (SIP). To accommodate the K-Plan, the College switched from semesters to a quarter system. Students would spend their first year on campus taking courses and then spend their sophomore spring off-campus at an internship before going abroad the fall and winter of their junior year. Then, senior year, they would work independently on their SIPs, a senior thesis of their choosing.
The K-Plan has since evolved into four parts: excellent academics, study abroad, experiential education and the Senior Integrated Project (SIP). Much less rigid than earlier iterations, today the K-Plan centers around a flexible curriculum that empowers students to make the most of their K experience, explore their interests and dive deep into their passions. Elements of the K-Plan are woven throughout their four years on campus as students learn in community-based courses, take internships, study abroad and complete their SIP.
Early Athletics
While it is now commonplace for colleges to have athletic programs, back in the 19th century, athletics was frowned upon and thought to hamper students' education. Despite these concerns, Kalamazoo College students formed an athletic association in 1879, consisting of intramural men's baseball and football and the occasional field day with other colleges. By 1892, athletics at K had gained enough popularity to form varsity football (1892) and baseball (1894) teams, culminating in the College joining the Michigan Intercollegiate Athletic Association (M.I.A.A.), the oldest collegiate athletic association in the U.S., in 1894.
Men's Athletics
By 1904, men's track and tennis teams were added to the roster, followed by basketball in 1907 and golf in 1930. Unfortunately, during the Great Depression, due to economic constraints, the men's baseball and cross country teams were put on a temporary hiatus. In the 1960s, men's athletics continued to grow, adding in wrestling, swimming and soccer teams. Most recently, the College established a lacrosse team in 2016.
Women's Athletics
While women were not equally represented in athletics until the 1970s, there were several women's athletic teams competing prior to this. As far back as 1913, women were competing in tennis, and Claire Wight Payne, Class of 1916, even won a women's MIAA title in 1916. A Women's Recreation Association (WRA) was organized so that women could play intramural sports on campus.
Starting in the 1950s, the College added women's varsity field hockey and archery teams. By the 1970s, women's swimming, volleyball, track, and basketball teams were organized, with Title IX being an important factor in increasing women's sports. Soccer, cross country, and softball were added in the 1980s, golf in the 1990s, and lacrosse in 2014. While there are no longer field hockey, archery, or track teams at the college, the number of women's teams (9) is now equal to the number of men's teams.
Campus Buildings, Grounds and Facilities
Origins
The College started out as just one, three-roomed building in 1836 and has since expanded to more than 25 buildings today. In fact, the College's campus has moved around Kalamazoo, having originally started in Bronson Park, before it moved a few blocks west in 1855, where the College built the Upper and Lower Halls. In 1887, the College's campus began to expand to our current "fair Arcadian hill" with the construction of the Ladies' Hall.
The Turn of the Century
At the start of the 20th century, with higher enrollment and the start of intercollegiate athletics, the College needed more facilities. In 1902, Bowen Hall was constructed as a classroom building with an auditorium on its top floor. Closer to today's campus, the College also began constructing athletic facilities, including Tredway Gymnasium, tennis courts and an athletic field.
The Campus Quad
In the 1920s a campus plan was developed with new College buildings around what is now the quad: homes for the College president (1925) and faculty (1927-30), Trowbridge (1926) and Hoben residential halls (1936), Welles [dining] Hall (1940), and the library, Mandelle Hall (1930). All this construction was centered around Stetson Chapel (1932), which served as the heart of the College. Many of these projects were designed by architect Aymar Embury in a brick, colonial style that remains the dominant building style on our campus.
Post-WWII Growth
From the 1940s through the 80s, the College rapidly grew with numerous construction projects, starting with expanding our athletic facilities: Angell Field (1946), Stowe Stadium (1946), Woodworth Field (1956), and Calder Fieldhouse (1958) and, later, Anderson Athletic Center (1980) and the Markin Racquet Center (1988).
To house the influx of students, the College also constructed four new dormitories—Harmon Hall (1948), DeWaters (1964), Severn (1965), and Crissey (1967)—as well as several academic and administrative buildings: the Light Fine Arts building (1964), Upjohn Library (1967), Dewing Hall (1969), Hicks Student Center (1970) and the Dow Science Center (1992). Aymar Embury's son, Edward, was the architect for several of these buildings.
Current Developments
More recently, the College has renovated and expanded its athletic facilities, constructing the Athletic Complex (2012), the Fitness and Wellness Center (2016) and the Natatorium (2021). The College also built the architectural-award-winning Arcus Center for Social Justice Leadership (2014), designed by Studio Gang.
The College prioritizes environmental sustainability in our new constructions. The Hicks Student Center, Arcus Center and the Natatorium all have various levels of LEED certification, with the Natatorium being named as the 2022 Innovative Project of the Year by the West Michigan Chapter of the U.S. Green Building Council.
Looking to the future, the College is once again expanding our campus, with plans to build multiple new residential halls. Learn more by reading our campus master plan.
19th Century
In the College's early years, student life centered around literary societies that focused on debate and oratory. These societies organized campus gatherings, the most notable being the Washington Banquet in honor of President George Washington, which remained a College staple from 1889 until 1966.
The oldest active student organization was also formed during this time, The Index, which has been the College's student newspaper since 1877.
Early 20th Century
In the 20th century, the College added a few more traditions, including a freshmen-sophomore tug-of-war rivalry and a junior-senior annual picnic. Other popular events at the time were drama club productions, glee club concerts, the Christmas Carol Service, May Fete and—despite objections from some of the Baptist church leaders—dances! As President Hoben stated in defense of this form of entertainment, "The students will dance!"
Mid-20th Century
By the mid-20th century, literary societies still dominated campus social life but had evolved to more closely resemble modern fraternities and sororities. They sponsored College dances, inter-society plays and an event called Greek Weekend, where students wore togas, competed in chariot races and held oratorical contests. Homecoming celebrations were also in their prime as students decorated "floats," held a parade, elected a Queen and her court, lit a bonfire and supported our football team.
Late-20th Century
After the literary societies stopped operating in 1971 due to low membership, a student activities board was formed to generate new campus events to fill the void in the social calendar. Two of those events are still popular today: Monte Carlo, a casino night, and the Day of Gracious Living (DOGL), a spontaneous day off from classes typically spent at the beach. Other regular events that lasted through the 1990s are the K-Tucky Derby, Quadstock, Airband, Bahama Boogie, and the Spring Fling.
Current Events
Today, students still look forward to Monte Carlo and DOGL but also enjoy new traditions, like the Frelon Dance performances, Pride Ball, Afro Fiesta Desi Sol, Nightmarket, and other all-campus events. The Office of Student Involvement organizes 100+ events each year, including Wellness Wednesday, Friday Game Night, Zoo After Dark and Beyond the Hive excursions. The changes in the types of student organizations and events reflect the diversity of today's student body.
College Spirit
College Colors: Orange and Black
In the College's early years, each incoming class would choose their own colors. It was not until math professor—and later dean—Clarke Benedict Williams arrived on campus in 1894 that the College began using orange and black as our official colors. Williams suggested orange and black because they were the colors of Princeton, his alma mater.
The earliest mention of the colors orange and black was in the November 1902 edition of The Index, the College's student newspaper. It was not until 1912 that the Board of Trustees officially adopted orange and black as the College's colors.
The first reference to the Hornets in a college publication was in 1925 when it appeared in the college newspaper, The Index, and later in the yearbook, The Boiling Pot, in 1926. These references provided no explanation of the Hornet's origin. Before then, athletic teams were simply referred to as Kalamazoo College in print, or occasionally the Orange and Black, or even the Kazooks.
According to a 1974 article in The Index, Jerry Hagan, a one-time Kalamazoo Gazette reporter, gave the label to the school's football team. "It was my first year at the Gazette, in 1923. K had some great players and a fine team. Everyone seemed to be buzzing around enthusiastically and stinging the opponents, so the Hornet tag seemed natural."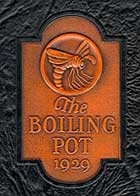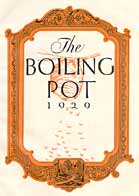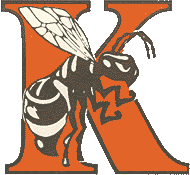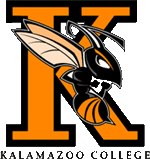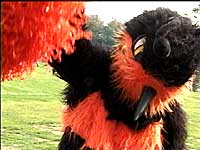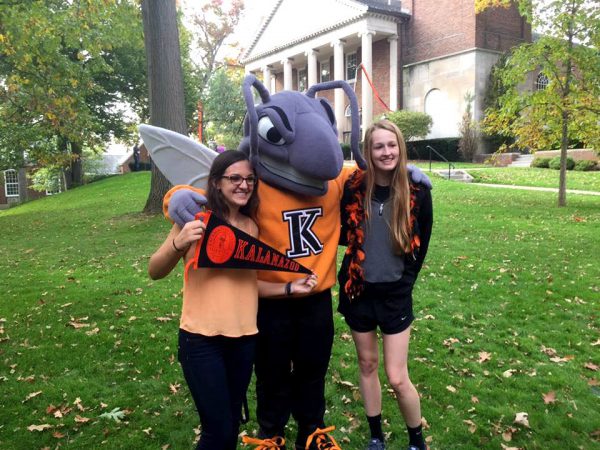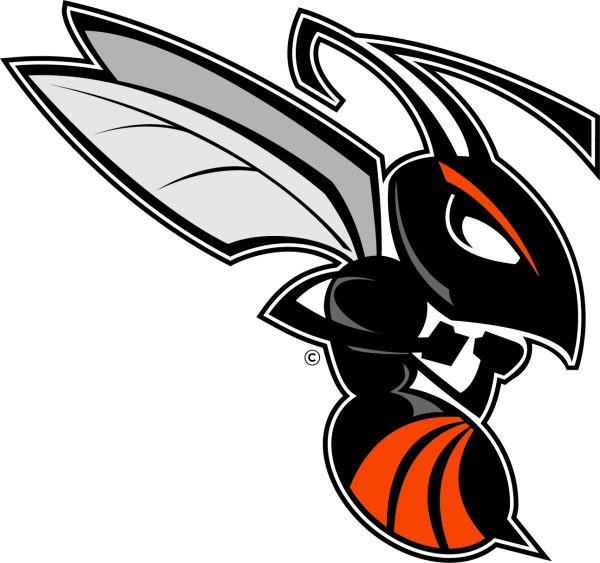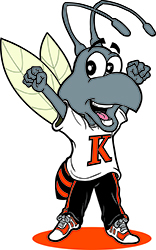 Kalamazoo Alma Mater
R.F. Holden, class of 1907.
W.F. Dunbar, class of 1924
arr. Overley/Rackley (1950/1986)
Lyrics
O, Kalamazoo, our faithful friend,
We offer thee a song,
To praise the home where friendships blend
and weld so true and strong.
O, sacred refuge and most hallowed place,
Where hope and joy renew,
With tight'ning grip and bright'ning face
That speak thy love, Kazoo.
When these dear scenes are left behind
No fortune can subdue
The chords of love that closely bind
Our hearts to thee, Kazoo.
Each tree upon thy fair Arcadian hill
Is dear to us for aye.
Dark storms may come, cold blasts may chill
But friendship e'er will stay
When age has decked our heads with white
And youth has ceased to glow,
We'll revel in one sweet delight
The times of long ago.
O then, Kazoo, shall beauties of the past
Enrich our souls anew,
And while our earthly vigils last,
The watchword is Kazoo.
Kalamazoo Fight Song – "All Hail to Kazoo"
Music by Donald R. Belcher, class of 1909
Words by Alfred G. Walton, class of 1911

Lyrics
Kalamazoo we hail thee!
Faithful to thee we'll be
Though we may wander far and wide,
Our hearts will be bound to thee
Firm are the ties that hold us
Loyal to thee and true,
So let us give together the cheer,
Rah! Rah! Kazoo!
Kalamazoo we hail thee!
Faithful to thee we'll be
Though we may wander far and wide,
Our hearts will be bound to thee
Firm are the ties that hold us
Loyal to thee and true,
So let us give together the cheer,
Rah! Rah! Kazoo!
Kalamazoo College Yells
Breck-ki-ki-kex! Ko-ax! Ko-ax!
Breck-ki-ki-kex! Ko-ax! Ko-ax!
Whoa-up! Whoa-up!
Paraballou! Paraballou!
Kalamazoo! Kazoo! Kazoo!
Hoo rah, hi ka, boom ah hoo!
Zip rah, hi boom, Kalamazoo!
Hoo rah, hi ka, boom ah hoo!
Zip rah, hi boom, Kalamazoo!
These sound recordings were originally made in 1957 for the College's 125th anniversary, and sold for 75 cents.
Events and Traditions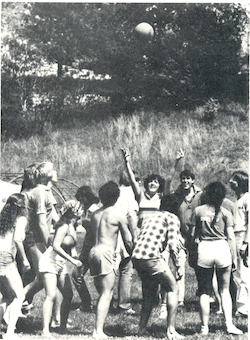 Each year, on a random day in spring term, you can hear the College bells chiming to announce the Day of Gracious Living (DOGL). Originally started in 1974, on DOGL the College cancels classes and busses students to the beaches of South Haven for a day in the sun.
DOGL took on a new meaning in the spring of 1980 when a massive tornado struck Kalamazoo. Students rallied together to help the local community clean up the debris and damages left in the wake of the storm.
Today, the tradition continues honoring its fun and charitable roots. Now the date for DOGL is secretly selected by members of the Kalamazoo College Council of Student Representatives (KSSCR) and only shared with a handful of administrators to keep the day a joyous surprise.
For decades many social events on campus were organized by the men's and women's societies (akin to modern-day fraternities and sororities). However, these organizations fell in popularity in the sixties, leading to their official closure in 1971.
To fill the void, the College Union Board—a student planning committee—began planning campus-wide events with student development staff support. While many of these events have since died off, like Quadstock, Bahama Boogie, and the K-Tucky Derby, one event remains: Monte Carlo.
First celebrated in 1975, Monte Carlo is a night to dress to the nine and play casino games. Inspired by the Monte Carlo Casino in Monaco, the Hicks Center is decorated in the year's theme and filled with casino tables manned by faculty and staff—including the president!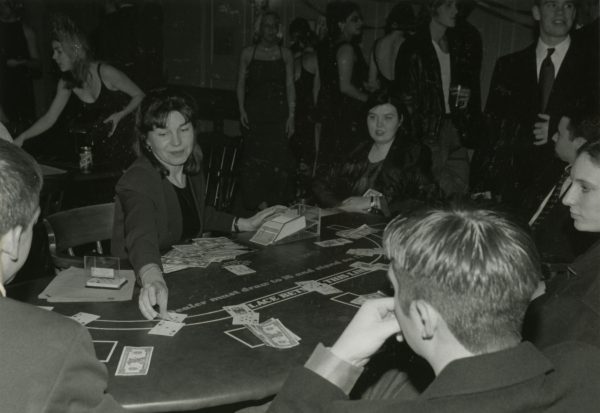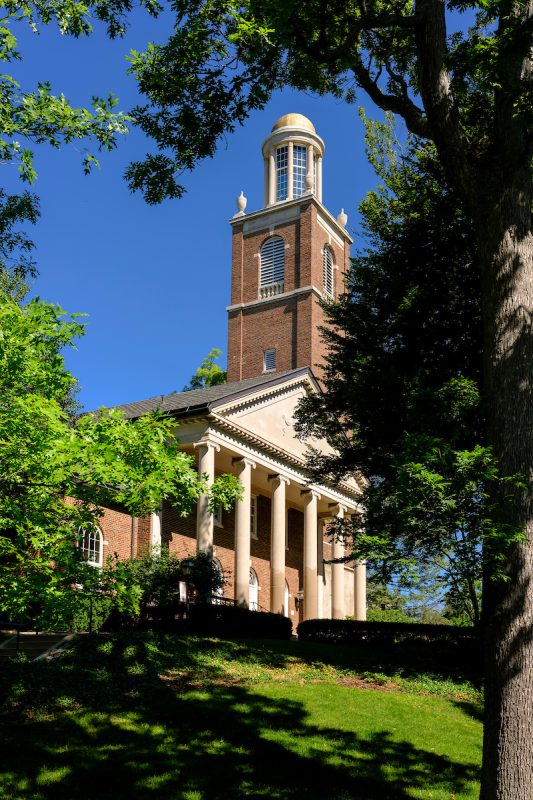 The tower of Stetson Chapel houses a set of eight English change ringing bells, the only such bell tower in Michigan and one of only a few dozen in North America.
Installed in 1984, each bell bears the college motto, Lux Esto ("be light") and is inscribed with a Biblical quotation and the name of a person associated with the college during its first century, including Kalamazoo's first permanent settler, Titus Bronson; college co-founders Thomas W. Merrill and Caleb Eldred; first college president James A.B. Stone and his wife and coeducation pioneer, Lucinda Hinsdale Stone; founder of the First Baptist Church of Kalamazoo Jeremiah Hall; Madelon Stockwell, protégé of Lucinda Hinsdale Stone and the first woman graduate of the University of Michigan; and sixth college president Arthur Gaylord Slocum.
Since its installation, over 100 students, faculty, staff, alumni and community members have learned how to ring at Kalamazoo College. You can hear the bells chime across campus as they announce important events on campus, such as community reflections, graduation, and the Day of Gracious Living.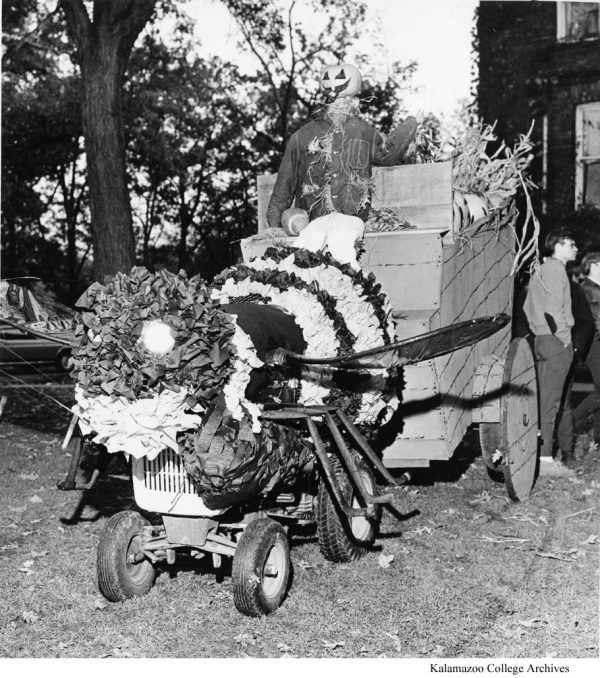 The first homecoming game was held in 1919, and despite a three-year hiatus during World War II and a break during the COVID-19 pandemic, it has remained a fall tradition. While homecoming originally focused on alumni and football, its celebrations have varied over time. From athletic competitions and pep rallies, to parades and bonfires, to homecoming courts and dances, the College has always made space for our students and alumni to have fun and show their hornet pride.
Keeping its athletics and alumni roots, today, homecoming serves as a reunion weekend where alums and students cheer on all our hornet athletic teams. Throughout homecoming weekend, alumni are invited to relive their K experiences at reunion events, historical campus tours, and alumni award ceremonies. Alumni are also invited to mingle with current students by attending networking mixers and campus events like the College Singers concert or a Monkapult standup show.
The College has always celebrated our seniors leading up to their commencement ceremony. Starting in 1878, the graduating class put on a performance and shared advice with the current juniors on Class Day. Then, from 1907 until 1950, they put on a Senior Play to entertain the rest of the student body.
Today, our Seniors celebrate with each other at the Senior Soiree (a large off-campus party), with their professors at the Senior Toast (a faculty-student mixer on the quad), and their family at baccalaureate (a pre-commencement reflection).
Commencement
Mirroring their initial convocation ceremony as first years, graduates gather on the quad at commencement to receive their diplomas. The processional leader holds the College Mace—originally gifted to K's first president, Dr. James Andrus Blinn Stone—symbolizing the forward-thinking, courage, scholarship and community involvement that has guided the College since its founding.
While commencement has been held on the quad since 1952, with a few exceptions due to weather or other extenuating circumstances, it was originally celebrated at a local Baptist church until it moved to Stetson Chapel in the 1930s.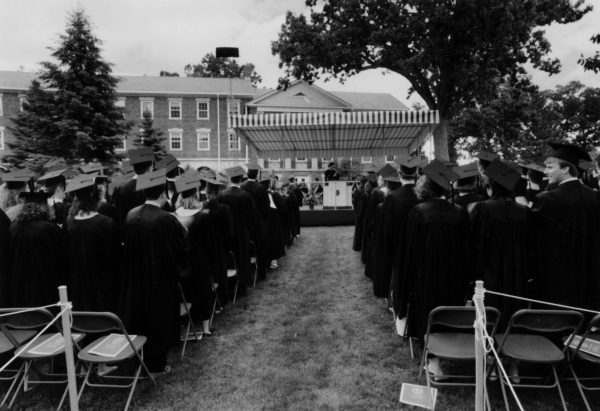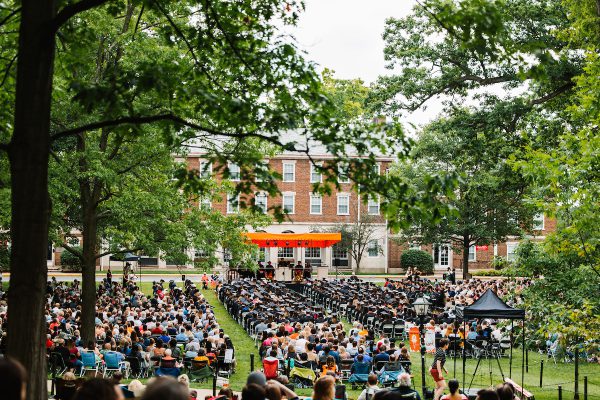 Additional Resources and Historical Recounts