A fortunate pairing of four people with Kalamazoo College ties provided one student with a valuable internship experience last summer in Washington, D.C.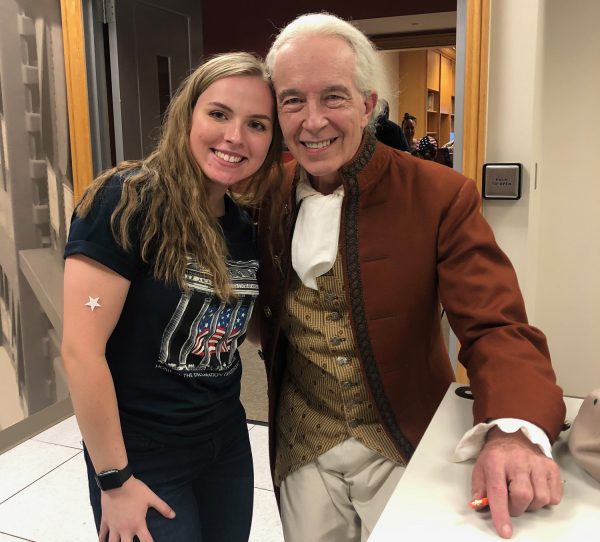 Marie Kohrman '22 was an intern at the National Archives and Records Administration (NARA), a home for more than 20 billion documents related to the federal government throughout U.S. history. There, she worked for K alumna Christiana Hanson '06, a volunteer coordinator, and stayed with Genna (Beaudoin) Gent '94 and Chad Gent '92 from June through August.
Kohrman, who majors in English with a concentration in American studies, was one of 15 interns selected from 95 applicants to work at NARA after her love of museums and history and a desire to find constructive opportunities over the summer converged.
"My parents had been talking to me for a while about finding an internship, and I'm a person who needs to stay busy," Kohrman said of her decision to apply. Students apply for internships through Handshake, a platform available through the Center for Career and Professional Development. "I had no idea my boss would be a K alum."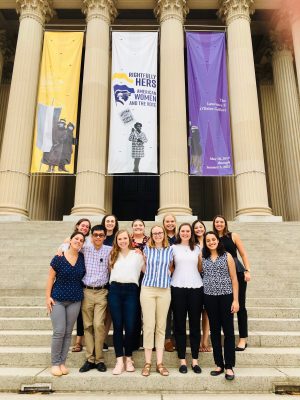 Hanson said NARA tries not to select interns based on where they attend college, although she was happy to meet a student from her alma mater and was delighted with Kohrman's work.
"One of the things about K, is that it offers a very strong liberal arts education," Hanson said. "At the National Archives, we have records that show science, history, civics — no one thing happens in isolation. Because (Kohrman) is a student of the liberal arts, we knew that this would be something she would understand."
NARA typically hires interns to serve its Washington, D.C., departments ranging from presidential libraries to special events. Kohrman worked with other education and exhibits interns, who are interested in fields related to public education, museum studies, public policy, history, political science and communication.
"I really like the fact that working at a museum, you have a responsibility for how people interpret art and history," Kohrman said. "Museums are focused on facts. It's important to portray them in an unbiased way."
In creating a hands-on environment for its interns, NARA tasked Kohrman with creating a game that would help visitors understand the Legislative Branch of the federal government. She created a flow chart that broke down the Legislative Branch, describing the requirements House of Representatives and Senate candidates need to follow to run for office and be elected. She paired that with Constitutional excerpts and documents from U.S. history to provide specific examples of how Congress functions. For example, Kohrman used:
A copy of a 1941 letter from President Franklin Delano Roosevelt to Congress regarding Japan to highlight Congress's ability to declare war.
A political cartoon about taxes from Clifford Kennedy Berryman, a Pulitzer Prize winner, to show Congress's power to collect taxes.
A picture of President Reagan and then-Supreme Court candidate Sandra Day O'Connor, along with a nomination letter Reagan penned to the Senate, reflecting the Senate's ability to confirm justices.
Kohrman also assisted NARA with its biggest event of the year, a Fourth of July celebration that welcomed thousands of visitors from all over the world with re-enactors portraying founding fathers, a fife-and-drum corps and activities related to the time of the Revolutionary War. It was an event that suited Kohrman's strengths well, Hanson said.
"Marie is a very strong personality and I mean that in the best of ways," Hanson said. "She's bubbly with the public, she worked very well with school groups and she had great conversations with adults. We're subject to the Hatch Act, so we want to make sure anyone, regardless of any political affiliation, would feel comfortable here. We have to be neutral and Marie was very thoughtful about how she did that."
Kohrman noted she accepted the internship earlier than most students would, considering she had barely finished her first year at K and was just 19 when she left for Washington, D.C. Regardless, she's glad she followed her heart and pursued it because it cemented her desire to pursue a museum career.
"If you want it, go for it," said Kohrman, regarding the advice she'd give her peers who are interested in internships. "If you don't get the first one you apply for, find another one. Don't be afraid and think you won't get it. I think internships are important because they can help students learn whether a given field is truly for them."