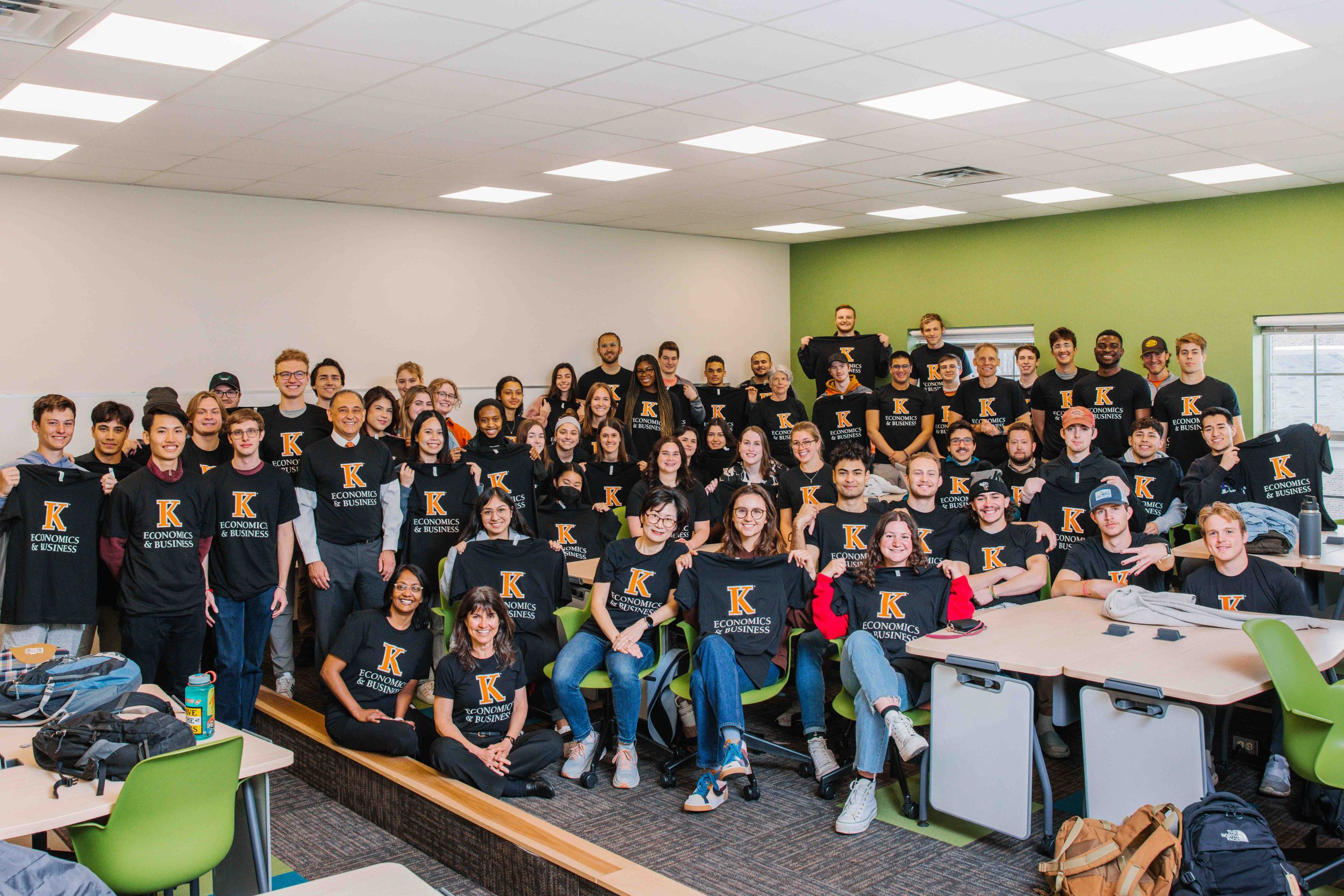 Business Major Economics Major
---
---
Why Study Economics and Business at K?
Integrating Economics and Business, theory and practice, we develop creative, broad-minded problem-solvers and leaders.
As a business or economics major, you will learn how to apply theories to real-world problems and develop the critical thinking, quantitative analysis, and historical perspective necessary to succeed in your future career.
Throughout your four years with the department, you will be exposed to a wide variety of ideas by taking classes focused on economic theory (Principles of Economics; Macroeconomics) quantitative tools and methods (Statistics for Business and Economics; Econometrics) fundamental business principles (Accounting; Marketing) and field-specific topics (Environmental Economics; Principles of Investments). These courses will empower you to build upon theoretical foundations to address pressing real-world problems.
With the tangible skills and broad knowledge base you will gain as a business or economics major—in addition to the experiential education and completion of your Senior Integrated Project—you will be equipped with the talents to be successful in many professional settings. Notably, our alumni have thrived in private, public, nonprofit, domestic and international business sectors.
Note: The Business and Economic majors are two separate programs housed within the same department. Due to the significant overlap in their programming and courses, students cannot double major in business and economics.
What can you do with a business or economics major?
Below are some of the careers, employers, and graduate schools of our business and economics alumni.
Careers
Financial or Investment Management
Law
Marketing or Sales Management
Public Policy
Employers
U.S. Department of Labor
Deloitte
Liberty Mutual
Fleishman Hillard
Federal Reserve Bank of Chicago
Graduate Schools
University of Texas at Austin
University of California Irvine
Michigan State University
Texas A&M University
Washington University in St. Louis
Program Spotlights
Faculty Excellence: Learn from the Experts
You will benefit from learning from our stellar faculty, who are all experts in their fields or entrepreneurs who have demonstrated success in business practices. With an array of different backgrounds and specialties, our faculty cooperate to further their respective fields, such as Professors Hultberg and Udayanganie, who collaborated to research how international economic policies can combat climate change. While our faculty take pride in their research and practices, K is a teaching-first institution, and our professors take immense joy in the close mentorship they develop with students.
Apply your Learning and Gain Experience through Internships
As a business and economics student, many of the skills you need to be successful post-graduation are best learned through professional experiences and internships. The department and the College's Center for Career and Professional Development will coach you through the process of landing a meaningful internship and potentially even providing funding for unpaid opportunities for high-need and first-generation students. It is through these internships that you can begin to contextualize and experience your education first-hand.
Be Actively Engaged in your Learning
All your classes with the department balance theory with practice. For example, in Negotiation and Persuasion, you will learn how to influence others during crucial conversations by drawing from the latest research, use cases and exercises. Each week you will practice these skills through mock negotiations, giving you the confidence to negotiate your worth and resolve conflicts.
Your courses will also take you out of the classroom and into the world, as is the case with Principles of Marketing where you will create real-life, actionable business plans to assist local business owners in meaningful ways.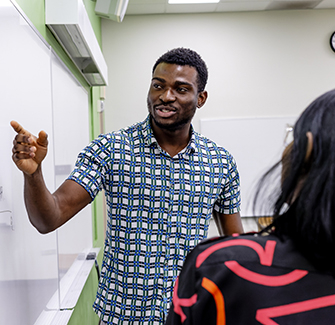 Showcase your knowledge with your Senior Integrated Project (SIP)
For an economics or business SIP, you can choose to either design and execute a research study, expand upon your previous coursework with more in-depth analysis, or take part in an internship that relates to your studies. For example, Mihail Naskovski '22 received funding through the Gilchrist Economics and Business SIP Research Grant to conduct his research, titled, "Econometric Analysis of the Relationship Between Domestic Economic Growth and Levels of Inflow of Remittances Among Developing Countries."
Meet the Current Departmental Student Advisors
Business
What is the best thing about being part of this department?
Professors want you to find your path for success so use office hours to discuss course material or career aspirations. who have contributed to my development and success.
What has been your favorite class at K? Why?
My favorite class has been Business Communication with Professor David Rhoa because I learned how in a business setting, it is essential to be able to efficiently convey messages concisely without emotions or feelings but instead using the facts of a situation.
How have you taken advantage of the open curriculum or experienced breadth in your education?
Being able to take courses in the English, Art, Environmental Sciences, Political Science, and Biology departments, all while completing my major within the Business department, has given me the opportunity to develop critical thinking skills while engaging in the most important issues of today.
What is your Senior Integrated Project (SIP)?
I will be completing an Experiential SIP as a Corporate Responsibility Intern with Kalsec where I will be coordinating a four-tiered audit analyzing company Labor, Health & Safety, Environment, and Business Practices.
What are your career aspirations/next steps after K?
Healthcare Venture Capital.
---
Economics
What is the best thing about being part of this department?
Through the classes and activities offered, the Economics department instills in students well-rounded approaches to viewing the world.
What has been your favorite class at K? Why?
I have enjoyed many of my classes, but I really enjoyed taking Econ and Law with Charles Stull. I thought it was interesting to interpret our policies and laws from an Economists standpoint.
What experiential education opportunities have you participated in?
As a freshman, I was part of the student government. I also tutored at Woodward elementary school. As a sophomore, I became a Resident Assistant, the Vice president of Kalama-Africa (an organization for African and Caribbean students on campus). During the summer, I interned as a Life Belonging Specialist at Goodwill Industries. Junior year, I continued as an RA, became the President of Kalama-Africa, and a Teaching Assistant for Microeconomics. I also got an internship with Nomura Securities- an investment bank in New York – and a Place-Based Policies Internship position at the Upjohn Institute.
What is your Senior Integrated Project (SIP)?
I am currently a Global markets summer analyst intern at Nomura. My SIP would be a summary of my learnings and experience here.
What are your career aspirations/next steps after K?
Right after graduating, I intend to work in sales and trading of an investment bank. In the long run, I intend to get a team together and startup a business.
Business and Economics Department News