Major Minor
---
---
Why Study Theatre at K?
In no other program do you get to study literature, art, politics, music, history and psychology while demonstrating your learning through performance.
By studying the wealth of global theatre traditions, you will investigate the plurality of the human experience and the interdependence of all peoples and cultures. This deep look into society through the lens of theatre will teach you to critically think about and consume media, give you the tools needed for self-discovery, and the communication skills to turn ideas into action.
You learn these skills through creative and analytical courses that teach the fundamental and advanced techniques of acting, writing, directing, stagecraft, and set design. Ensuring a breadth of knowledge, you will explore dramatic literature—across cultures and regions—from classics to contemporary.
Outside of the classroom, the department encourages you to take advantage of the experiential learning opportunities available to you: taking part in campus and off-campus productions, performance-based student organizations, and drama study abroad/away programs.
Productions offer you hands-on experience in acting, set design, stage management, technical areas, and directing. Each term, the department arranges at least one full-length production, open to majors and non-majors alike—including student-written pieces, guest directors, as well as your favorite classics.
Taking your learning off-campus, the College has over 50 study abroad and away programs for you to choose from. Notably, you can go to Queens's University in Belfast, Northern Ireland or spend a term in New York City. In both programs you will work with local theatre groups and production companies to gain first-hand experience with how the industry works.
The project management, collaboration, communication and problem-solving skills you gain at K will set you apart as you join the legacy of alumni who have chartered successful careers as playwrights, directors, producers, lighting designers, sound designers, dramaturgs, theatre arts administrators, and so much more.
What can you do with a theatre arts degree?
Below are some of the careers, employers, and graduate schools of our theatre alumni.
Careers
Stage Manager / Producer
Academia
Communications Specialist
Attorney
Employers
The Juilliard School
The Lee Strasberg Theatre and Film Institute
The Kalamazoo Civic Theatre
Stryker
Apple
Michigan House of Representatives
Graduate Schools
New York University
Columbia University
University of Michigan
Western Michigan University
DePaul University
University of Edinburgh
Program Spotlights
At K, you run the show
From choosing our plays, providing on-stage and backstage talent, to managing the production, our students do it all. Over the course of your four years at K, you can explore different aspects of theatre production—acting, lighting, set design, makeup, costumes, stage management and directing—and gain tangible skills that prepare you for a career in theatre. Many students even write and direct their own plays for their Senior Integrated Project, later showcasing them in our annual Senior Performance Series. Our students don't just do it all; they do it all exceedingly well, always receiving high marks at the Kennedy Center American College Theatre Festival.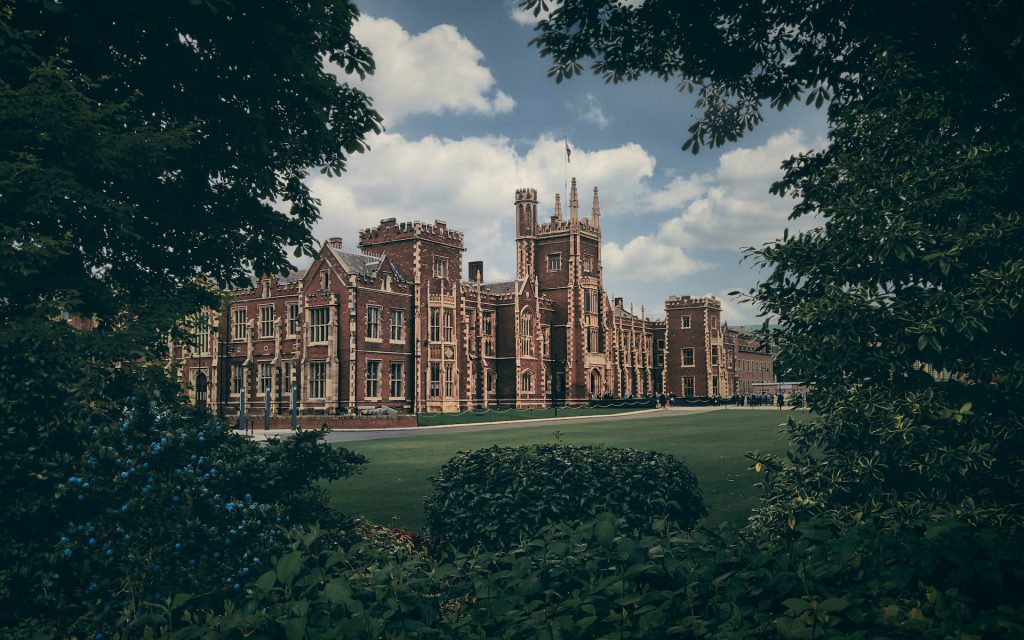 Work with local theatres in Northern Ireland or New York City
While you can choose from any of the College's 50+ study away locations and transfer classes, the Belfast, Northern Ireland, and New York City arts programs offer unique experiences for theatre students. In Belfast, you will spend two terms at Queen's University and get to work in either the Sonic Lab, a high-tech sound studio, or the Lyric Theatre, which puts on large productions and social justice programs. In NYC, you will spend a term working with local artists, theatres, and production companies to gain valuable industry experience, network with professionals, and develop your own creative works.
Join a community of artists within the department, K alumni, and the local theatre scene
Within the department, you will form close connections with your peers and professors as you put on productions together, learn alongside one another, and bond outside of the classroom—like in our regular department tea times. You will also gain access to our strong alumni network, who are eager to connect with you to share tips about the industry, establish mentorships, and collaborate on projects. Kalamazoo is further home to 10+ theatres that collaborate to make the city a more artistically rich place to live, and many of our students have participated in off-campus productions with these local partners.
Meet the Current Departmental Student Advisor
What is the best thing about being part of this department?
The community you become a part of, the ways in which we uplift and support each other, and the creative collaboration.
What is your advice to first years and sophomores about getting connected to this department?
Come to the events that the theatre department hosts! It's a great way to meet other students and get involved in theatre, even if you're not planning on majoring in it. It's a friendly department, and they love welcoming new people into the community in whatever way they'd like to be involved.
What has been your favorite class at K? Why?
Directing! I was originally quite apprehensive to take this course, and often shied away from directing more than any other aspect of theatre. However, it quickly became my favorite class, and inspired me to keep directing. As well as learning about the subject matter, I gained a new-found confidence. I grew both as a director and as a person.
What is your Senior Integrated Project (SIP)?
I will be working on a video montage that showcases the impact that the performing arts has on the disability community, as well as elevating their voices – specifically, focusing on the Chicago-based organization ABLE Ensemble. ABLE is a non-profit that I have volunteered with in the past. It provides performing arts opportunities to those with Down syndrome or other developmental disabilities. I will be conducting interviews with actors, teaching artists, and administrators from ABLE in order to highlight the impact that it has within both the disability community and the Chicago theatre community as a whole.
What are your career aspirations/next steps after K?
I would like to continue working within both the theatre arts and the disability community, and hope to work with other companies such as ABLE after I graduate. I have participated in programs through Steppenwolf Theatre, Goodman Theatre, and Lookingglass Theatre, and aspire to continue working within the Chicago theatre community.
Theatre Department News