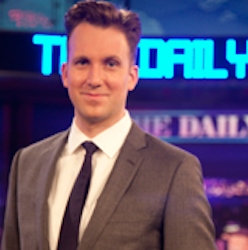 Jordan Klepper '01 has joined The Daily Show with Jon Stewart, as the newest correspondent on the popular late-night Comedy Central show. During his March 3 debut episode, Jordan reported "live" from Ukraine, but his take on events in the politically unstable country quickly devolved in a comedic take on his own new and perhaps unstable job status.
Jordan has performed at New York City's Upright Citizens Brigade (UBC) improvisational comedy and sketch comedy group for three years. He was also a correspondent on the comedic sports show Friday Night Tailgate on the Big Ten Network for three seasons, and performed at Second City and iO theaters in Chicago, where he met his wife and frequent collaborator Laura Grey. Together, Klepper and Grey created and starred in the UCB Comedy-produced pilot Engaged, which they later turned into a web series. His TV credits include IFC's Bunk and MTV's I Just Want My Pants Back.
Jordan grew up in Kalamazoo, attending Kalamazoo Central High School and the Kalamazoo Area Math and Science Center. A Heyl Scholar at K, he earned his B.A. degree in mathematics, while participating in many Theatre Department and Festival Playhouse productions. He often performed in K's student run improv troupe, Monkapult.
Jordan's sister, Caycee (Klepper) Sledge '05 is K alumna and classmate of another well-known Monkapult alumnus, Steven Yuen '05, who appears as Glenn on AMC's popular TV show The Walking Dead.
Jordan is the first new correspondent on The Daily Show in more than two years and joins Samantha Bee, Jason Jones, Aasif Mandvi, and Jessica Williams. The Daily Show airs Monday through Thursday at 11 p.m. ET on Comedy Central.
Check out a selection of web videos, short films, and web series featuring Jordan Klepper and Laura Grey at http://klepperandgrey.tumblr.com and http://splitsider.com/2014/03/the-daily-show-hires-jordan-klepper-as-its-newest-correspondent.
Break a leg, Jordan!