When an award-winning poet speaks on campus, you can bet Kalamazoo College students are eagerly listening and learning.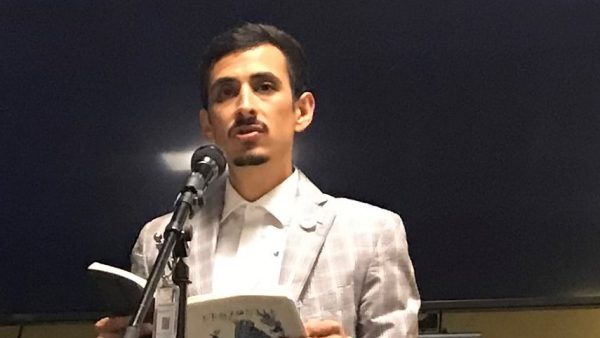 Marcelo Hernandez Castillo, a celebrated writer known for his early life experiences as an undocumented immigrant, was warmly welcomed last week to K. He conversed with students in classes taught by Assistant English Professor Shanna Salinas (Reading the World: Identities) and Assistant Sociology Professor Francisco Villegas (Race and Racism). He also provided a poetry reading in front of about 80 students in the Intercultural Center at Hicks Student Center.
"Intersections of language and home are on the hearts and minds of so many of our students," said Assistant English Professor Oliver Baez Bendorf, who helped facilitate Castillo's visit. "It's important for them to know that they can do anything, and to see different models for that. Their stories matter and they can survive the telling of them and even make it beautiful. Reading is always a portal through which they can transport and grow. I know that Marcelo was likewise touched by the energy of our community and our students, their readiness to engage with his writing, their intellectual and creative curiosity, and all that they so impressively juggle."
Castillo's poetry collection, titled Cenzontle, addresses the fears he once faced of being deported. Castillo came to the United States with his family from Zacatecas, Mexico, at age 5 and was an early beneficiary of President Barack Obama's Deferred Action for Childhood Arrivals (DACA) program. He earned his bachelor's degree from Sacramento State University and was the first undocumented student to graduate from the Helen Zell Writers Program at the University of Michigan.
For Cenzontle, the poet received the New Writers Award this year from the Great Lakes Colleges Association — a 13-member consortium of higher-education institutions in Indiana, Michigan, Ohio and Pennsylvania — which includes K. The award, founded in 1970, honors writers who are in the early stages of their literary career. Along with Cenzontle, Castillo has a 2018 chapbook titled Dulce. His memoir, Children of the Land, is scheduled for release next year.
Beyond poetry, Castillo is an essayist, translator and immigration advocate and a founding member of the Undocupoets campaign, which successfully eliminated citizenship requirements from all major first-poetry-book prizes in the country. His work has been featured in The New York Times, People Magazine, Buzzfeed and New England Review, and he teaches in the Low-Res MFA program at Ashland University.
With focused eyes and open minds, Salinas' students listened intently to Castillo and asked a range of questions: poem- and content-specific, craft and poetic technique, themes and broader open-ended considerations. "I appreciated how generous Marcelo was in sharing his personal experiences and talking about his writing process," Salinas said. "He was invested in their questions and insights, and I could tell the students felt that they were being seen, heard and respected."
Opportunities to hear from renowned, in-the-field experts are celebrated occasions at K regardless of their field of expertise, although hearing from Castillo was a notable treat for students, faculty and staff, especially the aspiring writers among them.
"So many things about reading and writing happen in solitude," Baez Bendorf said. "When you've read words on a page and then the human behind them arrives in your midst, it can be almost magical. I saw that happen with Marcelo's visit. It's thrilling to have a visitor, and even better when they've come with stories and generosity. Our students extended great hospitality to Marcelo and welcomed him into their spaces."