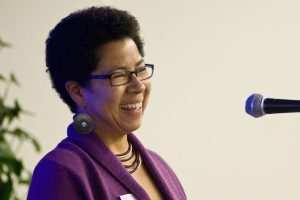 A historian, writer and longtime political activist will headline the Martin Luther King Jr. Day Convocation with a keynote speech at 11 a.m. Monday in Dalton Theater. The event is open to the public.
Barbara Ransby has published dozens of articles and essays in popular and scholarly venues, and is most notably the author of the award-winning books Ella Baker and the Black Freedom Movement: A Radical Democratic Vision, and Eslanda: The Large and Unconventional Life of Mrs. Paul Robeson. Her newest book, Making All Black Lives Matter: Reimagining Freedom in the Twenty-First Century will be available for purchase during the event, and a book-signing will take place immediately after the program.
Ransby is a distinguished professor in the departments of African American studies, gender and women's studies, and history at the University of Illinois at Chicago, where she directs the campus-wide Social Justice Initiative, a project that promotes connections between academics and community organizers doing work on social justice.
Richard Brown '21 will provide an opening address and introduction at the event.
The public is also invited Monday to a wreath-laying ceremony at MLK Park, 507 N. Rose St., at 4:45 p.m. A community celebration from 5 to 6:30 p.m. will follow at the Kalamazoo State Theatre, 404 S. Burdick St. The program at the State will feature local speakers and performers such as Rootead and Kandace "DC" Lavender. Artwork from the top 15 finalists of the Social Justice Art Competition will also be on display. Transportation from campus is available to those who RSVP by Jan. 16 to ncarvalh@kzoo.edu.
Anyone needing assistance or accommodations for these events should contact Director of Intercultural Student Life Natalia Carvalho-Pinto at ncarvalh@kzoo.edu by Jan. 16.
Martin Luther King Jr. Community Reflection
The annual Martin Luther King Jr. Community Reflection is an opportunity for faculty, staff, students and the public to speak from their own experiences on this year's theme, "Injustice for one is injustice for all."
The event is scheduled for 11 a.m. Friday at Stetson Chapel and will be presented by the College's Greer-Sanford Student-Scholars.