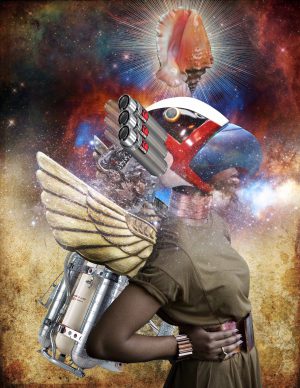 A University of Illinois assistant graphic design professor spending the year at Harvard University as a Nasir Jones Hip-Hop Fellow will visit Kalamazoo College for two events next week.
Stacey Robinson's multimedia work centers on Afrofuturism, which is a movement in literature, music and art that features futuristic or science fiction themes incorporating elements of Black history and culture. As part of the collaborative team "Black Kirby" with artist John Jennings, he creates graphic novels, gallery exhibitions and lectures that deconstruct the work of comic book creator Jack Kirby to re-imagine resistance spaces inspired by Black diasporic cultures. His current project focuses on his emerging sound practice, in which he creates the sonic experience of the Afrofuture through collaging House, Hip-Hop and other music to craft a harmonious soundscape that converses with the aesthetics of a corresponding art exhibition.
Robinson will conduct an artist talk at 5 p.m. Jan. 15 and a workshop at 5 p.m. Jan. 16 at the Arcus Center for Social Justice Leadership.
In the artist talk, titled Designing a Cooperative World Future, Robinson will discuss his artistic practice as a method of world-building by creating self-determined Black liberated futures.
Robinson's workshop will be titled Afrofuturism: Character and World Building as Methodology. The event, open to up to 25 people, will focus on thinking about Afrofuturism through theories and lessons put into practice. It's designed for all levels of familiarity with Afrofuturism, visual creation, sound and space. Robinson will lead participants in learning specific methods and practices of Afrofuturist methodologies so that they can build their own characters and worlds that use speculative design methods to create liberated worlds.
All of the events are free and open to students, faculty, staff and the community. For the Jan. 16 workshop, please email Fine Arts Office Coordinator Sarah Gillig at sgillig@kzoo.edu to reserve your spot in advance.
Prints of Robinson's work will also be on display in an exhibition titled Afrofuture Worlds from Jan. 13-24 at Light Fine Arts. The lobby gallery hours are from 9 a.m. to 10 p.m. Monday-Friday.
Organized by Dr. Anne Marie Butler, assistant professor of art and art history and women, gender and sexuality, Robinson's visit is sponsored by the Kalamazoo College Department of Art and Art History, the Arcus Center for Social Justice Leadership, and the Women, Gender and Sexuality program.