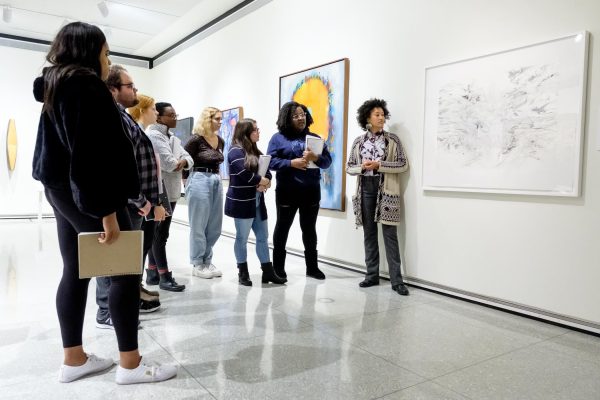 A first-year seminar this term is giving 14 Kalamazoo College students a chance to see critically acclaimed art created by a professional painter who once attended K herself.
Organized by the Studio Museum in Harlem and the American Federation of Arts, Black Refractions: Highlights from the Studio Museum in Harlem, is an exhibit on display at the Kalamazoo Institute of Arts (KIA) through Dec. 8; it features two works by Julie Mehretu '92 among 78 other artists of African descent. The exhibit began traveling in 2018 in celebration of the Studio Museum's 50th anniversary. It opened in San Francisco at the Museum of the African Diaspora, and Kalamazoo is the exhibition's only stop in the Midwest.
For the public, the exhibit creates dialogue regarding the artists, many of whom are inspired by current events, while expanding a viewer's understanding of modern art and addressing themes that affect Kalamazoo and the nation such as poverty, identity, power, status and social justice.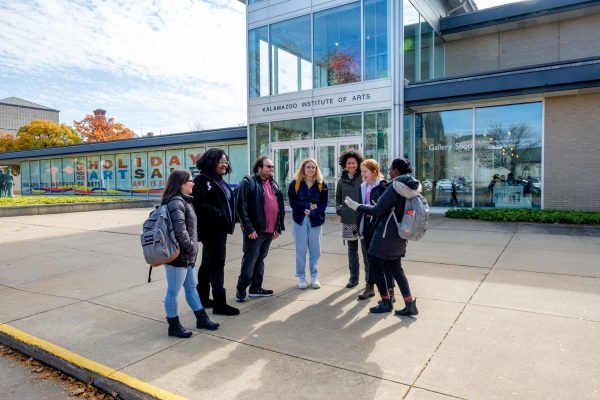 For the K students taking the seminar titled "In Defense of Ourselves: African American Women Artists" specifically, it's a chance to witness original work from an alumna whose art is usually seen in bigger cities, alongside pieces from artists such as Kehinde Wiley, Elizabeth Catlett, Thornton Dial, Barkley Hendricks, Kori Newkirk, Norman Lewis and Howardena Pindell — household names among art historians and curators, as well as Black artists.
The class may be offered again in future terms, although the fall course was designed specifically for Black Refractions, giving students a distinct chance to observe Mehretu's work firsthand.
"Oh, they love her work," said fari nzinga, who teaches the course, of how the students have reacted to seeing Mehretu's creations. nzinga is a visiting assistant professor of art at K and post-doctoral curatorial fellow at the KIA.
"When I first saw one of Mehretu's paintings, I was intimidated by its size and scale, as well as its complexity," she said. "It's abstract and I felt like I didn't have the tools to engage with it and interpret it for myself. But actually, my students have not responded in the same way I did all those years ago. They see connections and stories and aren't afraid to trust their own instincts. I love to see it."
nzinga earned her master's degree and doctorate in cultural anthropology from Duke University. She was based in New Orleans for nearly a decade and conducted dissertation research on Black-led arts organizations and community building after Hurricane Katrina. She also worked for two years at the New Orleans Museum of Art, where she facilitated institutional transformation around issues of diversity, equity and inclusion. In April 2018, she independently produced and curated an exhibition, "The Rent Is Too Damn High," in celebration of the New Orleans tri-centennial.
nzinga came to Kalamazoo when she got to know KIA Executive Director Belinda Tate and it was clear a joint position between K and KIA would be available. The hope is that students taking this course will see what Mehretu has accomplished and feel that they too can one day change the world.
"I feel like they are teaching me so much," nzinga said. "Because the students are in their first semester of college, K hasn't really crystallized for them yet, so I'm excited to see how they make meaning of the institution and make it their own as they grow and develop. I think seeing Mehretu's work right up front at the beginning of their time here will be something that guides them, just an example of what they can do here if they want to and that's powerful. I hope they feel empowered."