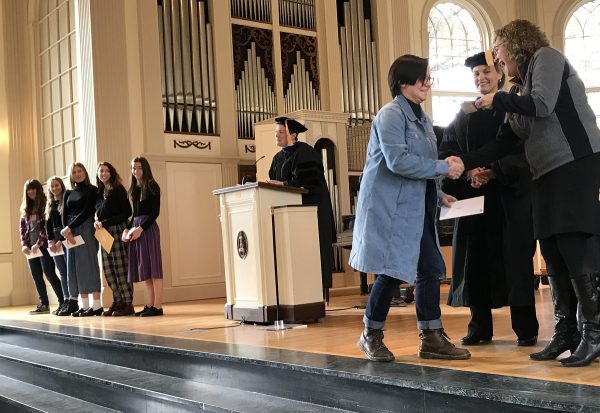 Family Weekend served as the backdrop for the Honors Day 2019 convocation. More than 250 students were recognized Friday, Nov. 8, for excellence in academics and leadership in six divisions: Fine Arts, Modern and Classical Languages and Literatures, Humanities, Natural Sciences and Mathematics, Social Sciences, and Physical Education. Recipients of prestigious scholarships were recognized, as were members of national honor societies and students who received special Kalamazoo College awards. Student athletes and teams who won Michigan Intercollegiate Athletic Association awards also were honored. The students receiving Honors Day awards or recognition are listed below.
FINE ARTS DIVISION
Brian Gougeon Prize in Art
Kate Roberts
Beth Schulman
Zoe Zawacki
The Margaret Upton Prize in Music
Sophia Yurdin
Cooper Award
Maria Jensen
Sherwood Prize
Rebecca Chan
Brianna Taylor
Theatre Arts First-Year Student Award
Rebecca Chan
MODERN AND CLASSICAL LANGUAGES AND LITERATURES DIVISION
LeGrand Copley Prize in French
Rebecca Chan
Thomas Saxton
Hardy Fuchs Award
Christian Zeitvogel
Margo Light Award
Daniel Fahle
Romance Languages Department Prize in Spanish
Emiley Hepfner
Hayden Strobel
Clara H. Buckley Prize for Excellence in Latin
Kelly Hansen
Provost's Prize in Classics
Jessica Chaidez
Annabelle Houghton
Classics Departmental Prize in Greek
Lydia Bontrager
HUMANITIES DIVISION
M. Allen Prize in English
Abigail Cadieux
Jessica Chaidez
John B. Wickstrom Prize in History
Fiona Holmes
Department of Philosophy Prize
Mitch Baty
Julia Bienstock
Emma Fergusson
L.J. and Eva ("Gibbie") Hemmes Memorial Prize in Philosophy
Max Bogun
Zoe Celeste Schneberger
Nick Wilson
NATURAL SCIENCES AND MATHEMATICS DIVISION
Winifred Peake Jones Prize in Biology
Natalie Barber
Abigail Gray
Madeline Harding
Grace McKnight
Department of Chemistry Prize
Aleksandra Bartolik
Grace McKnight
First-Year Chemistry Award
Robert Barnard
Saudia Tate
Andrew Walsh
Professor Ralph M. Deal Endowed Scholarship for Physical Chemistry Students
Leonardo Sota
Lemuel F. Smith Award
Christopher Vennard
Computer Science Prize
Shruti Chaturvedi
Caroline Skalla
First-Year Mathematics Award
Haley Crabbs
Thomas Saxton
Carter Wade
Thomas O. Walton Prize in Mathematics
Lisa Johnston
Dahwi Kim
Samuel Ratliff
Cooper Prize in Physics
Revaz Bakuradze
Samuel Barczy
Kate Roberts
SOCIAL SCIENCES DIVISION
Departmental Prize in Anthropology and Sociology
Yuridia Campuzano
Mauricio Guillén
Jillian Lynk
Wallace Lawrence Prize in Economics
Rebekah Halley
Chaniya Miller
William G. Howard Memorial Prize
Georgie Andrews
Jade Jiang
Zachary Ray
Adam Snider
Wallace Lawrence Prize in Business
Nathan Micallef
Sage Ringsmuth
Irene and S. Kyle Morris Prize
Mihail Naskovski
William G. Howard Memorial Prize in Political Science
Ava Keller
Christian Zeitvogel
PHYSICAL EDUCATION DIVISION
Division of Physical Education Prize
Walker Chung
Kaytlyn Tidey
Maggie Wardle Prize
Darby Scott
COLLEGE AWARDS
Gordon Beaumont Memorial Award
Yasamin Shaker
Henry and Inez Brown Prize
Mya Gough
Mathew Holmes-Hackerd
Rosella LoChirco
Elizabeth Munoz
Erin Radermacher
Virginia Hinkelman Memorial Award
Jilia Johnson
HEYL SCHOLARS
Class of 2023
Samuel Ankley
Ben Behrens ('20)
Carter Eisenbach
Rachel Kramer
Rachel Lanting
Alexis Nesbitt
Suja Thakali
Elizabeth Wang
POSSE SCHOLARS
Class of 2023
Jayla Ekwegh
Naile Garcia
Devin Hunt
Juan Ibarra
Angel Ledesma
Milan Levy
Katharina Padilla
Milagros Robelo
Emilio Romo
Diego Zambrana
NATIONAL MERIT SCHOLARS
Class of 2023
Donald Brown
Claire Kvande
VOYNOVICH SCHOLARS
Audrey Honig
Nikoli Nickson
ALPHA LAMBDA DELTA
CLASS OF 2022
Alpha Lambda Delta is a national honor society that recognizes excellence in academic achievement during the first college year. To be eligible for membership, students must earn a cumulative GPA of at least 3.5 and be in the top 20 percent of their class during the first year. The Kalamazoo College chapter was installed on March 5, 1942.
Elizabeth Abel
McKenzi Baker
Natalie Barber
Samuel Barczy
Aleksandra Bartolik
Mitchell Baty
Julia Bienstock
Alexander Bowden
Haylee Bowsher
Irie Browne
Elizabeth Burton
Abigail Cadieux
Rebecca Chan
Gabriel Chung
Haley Crabbs
Sofia Diaz
Adam Dorstewitz
Imalia Drummond
Daniel Fahle
Emma Fergusson
Kaitlin Gandy
Levon Gibson
Jessica Gracik
Madeline Guimond
Emiley Hepfner
Ellie Jones
Joseph Jung
David Kent
Yung Seo Lee
Marissa Lewinski
Donna Li
Isabella Luke
Deven Mahanti
Clara Martinez-Voigt
Mihail Naskovski
Rushik Patel
Houston Peach
Anthony Peraza
Lucas Rizzolo
Marco Savone
Isabella Shansky-Genovese
Caroline Skalla
Emily Smith
Abby Stewart
Emily Tenniswood
Carter Wade
Samantha White
Zachary Worthing
Christian Zeitvogel
ENLIGHTENED LEADERSHIP AWARDS
Performing Arts: Music
Marilu Bueno
John Carlson
Emily Dudd
Sarma Ejups
Peter Fitzgerald
Rose Hannan
Garrett Hanson
Koshiro Kuroda
Milan Levy
Matthew Mueller
Clarice Ray
MIAA AWARDS
These teams earned the 2018-2019 MIAA Team GPA Award for achieving a 3.3 or better grade-point average for the entire academic year:
Men's Baseball
Women's Basketball
Men's Cross Country
Women's Cross Country
Men's Golf
Women's Golf
Men's Lacrosse
Women's Lacrosse
Women's Soccer
Women's Softball
Women's Swimming and Diving
Women's Volleyball
MIAA ACADEMIC HONOR ROLL
Student Athletes 2018-2019
The Michigan Intercollegiate Athletic Association each year honors students at MIAA member colleges who achieve in the classroom and in athletic competition. Students need to be a letter winner in a varsity sport and maintain at least a 3.5 grade point average for the entire academic year.
Hayleigh Alamo
Georgie Andrews
Hunter Angileri
Lauren Arquette
Brooklyn Avery
Julia Bachmann
Sonal Bahl
Nicole Bailey
Lillian Baumann
Brad Bez
Rose Bogard
Jacob Bonifacio
Maria Bonvicini
Alexander Bowden
Molly Brueger
Jane Bunch
Pierce Burke
Alexander Cadigan
Gabriel Chung
Isabelle Clark
Noah Coplan
Rachel Cornell
Chase Coselman
Eva Deyoung
Alexis Dietz
Adam Dorstewitz
Amanda Dow
Sydney Dowdell
Thomas Fales
Colton Farley
Anders Finholt
Clifton Foster
Jakob Frederick
Brendan Gausselin
Sarah George
Jacob Gilhaus
Anthony Giovanni
Rachel Girard
Sophia Goebel
Preston Grossling
Garrett Guthrie
Rebekah Halley
Emily Hamel
Grace Hancock
Megan Heft
Alyssa Heitkamp
Mathew Holmes-Hackerd
Matthew Howrey
Benjamin Hyndman
Samantha Jacobsen
Benjamin Johanski
Jaylin Jones
Jackson Jones
Claire Kalina
Grace Karrip
Lucas Kastran
Maria Katrantzi
Greg Kearns
Jackson Kelly
Brandon Kramer
Benjamin Krebs
Matthew Krinock
Stefan Leclerc
Kathryn Levasseur
Rosella LoChirco
Molly Logsdon
Nicholas Ludka
Andrea MacMichael
Rachel Madar
Deven Mahanti
Cydney Martell
Samuel Matthews
Eliza McCall
Benjamin Meschke
Hannah Meyers
Nathan Micallef
Zachary Morales
Max Moran
Amanda Moss
Elizabeth Munoz
Kelly Nickelson
Nikoli Nickson
Ian Nostrant
Drew Novetsky
Michael Orwin
Dylan Padget
Paul Pavliscak
Calder Pellerin
Anthony Peraza
Erin Perkins
Eve Petrie
Zach Prystash
Daniel Qin
Erin Radermacher
Harrison Ramsey
Zachary Ray
Jordan Reichenbach
Benjamin Reiter
Lucas Rizzolo
Margaret Roberts
Scott Roberts
Lily Rogowski
Marco Savone
Ashley Schiffer
Nicholas Schneider
Justin Schodowski
Darby Scott
Justin Seablom
Sharif Shaker
Drew Sheckell
Nathan Silverman
Maya Srkalovic
Abby Stewart
Grant Stille
Shelby Suseland
Garrett Swanson
Jacob Sypniewski
Nina Szalkiewicz
Jack Tagget
Leah Tardiff
Emily Tenniswood
Cade Thune
Matt Turton
Madison Vallan
Zachary Van Faussien
Travis Veenhuis
Tejas Vettukattil
Vanessa Vigier
Maija Weaver
Megan Williams
Hannah Wolfe
Sophia Woodhams
Austin Yunker
Christian Zeitvogel