A leading voice in the Black Lives Matter movement and one of Fortune's World's Greatest Leaders is the 2018 William Weber Lecture speaker.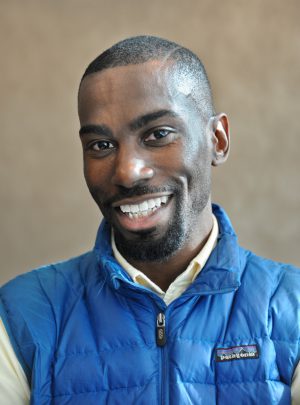 Civil-rights activist DeRay Mckesson will deliver his talk, titled "On the Other Side of Freedom: The Case for Hope," at 8 p.m. Wednesday, Oct. 24, at Stetson Chapel. Doors will open at 7:30 p.m. and seating will be available on a first-come, first-served basis. Mckesson will conduct a short book-signing event after the lecture. Some copies of his book will be available for sale in the lobby before and after the lecture.
The lecture is co-sponsored by Kalamazoo College's Political Science Department and the Mary Jane Underwood Stryker Center for Civic Engagement.
As a civil-rights activist, Mckesson focuses on issues of innovation, equity and justice. He has advocated for issues related to children and families since he was a teenager. He is a leading voice in the Black Lives Matter movement and the co-founder of Campaign Zero and OurStates.org.
Mckesson has become a key voice in the effort to confront systems and structures of justice since the death of Mike Brown and the subsequent protests in Ferguson, Missouri. He is also the host of Pod Save the People, a weekly podcast focused on activism and social justice.
Mckesson was named as one of the World's Greatest Leaders by Fortune Magazine in 2015 and one of the 30 Most Important People on the Internet by Time Magazine in 2016. Mckesson, a Baltimore native, graduated from Bowdoin College and has an honorary doctorate from The New School.
The William Weber Lecture in Government and Society was founded by Bill Weber, a 1939 graduate of Kalamazoo College. Weber also founded the William Weber Chair in Political Science at the College. Past lecturers in this series have included David Broder, Frances Moore Lappé, E. J. Dionne, Jeane Bethke Elshtain, William Greider, Ernesto Cortes Jr., John Esposito, Benjamin Ginsberg, Frances Fox Piven, Spencer Overton, Tamara Draut, Van Jones and Joan Mandle.