When about 1,000 alumni return to Kalamazoo College this weekend for Homecoming, they will have a chance to root for an undefeated football team.
The Hornets are 6-0 for the first time since 1978. They will face Alma at 2 p.m. Saturday in a Michigan Intercollegiate Athletic Association game at the Athletic Field Complex, 1600 W. Michigan Ave.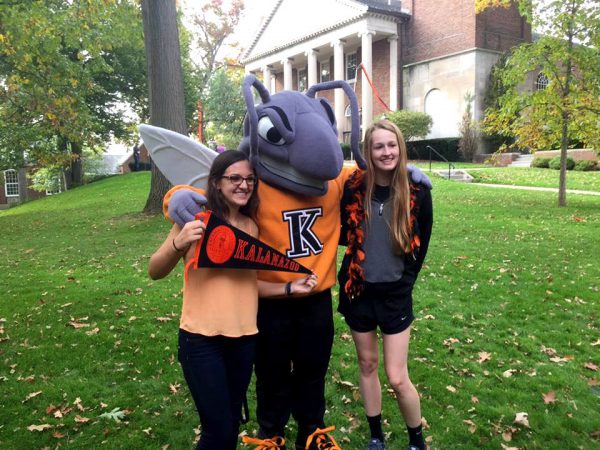 K's volleyball team and men's and women's swimming and diving teams also have home competitions Saturday. The volleyball team faces Wheaton at 11 a.m. at Anderson Athletic Center. The swimming and diving squads face Saginaw Valley State at 2 p.m. at the natatorium.
Other Homecoming events this Friday-Sunday include:
the Alumni Association Awards Ceremony at 7:30 p.m. Friday. Join us in the Dalton Theatre at Light Fine Arts to honor the award recipients for 2018 including Distinguished Service Award winner Rick Gianino '78, Distinguished Achievement Award winner Sandra Greene '74, Weimer K. Hicks Award winner David Barclay, Young Alumni Award winner Eli Savit '05, and the Athletic Hall of Fame Awards honorees. The athletic awards honorees include Kristyn Buhl-Lepisto '04 (women's golf); Meaghan Clark McGuire '05 (women's tennis), Eric Gerwin '00 (football), Scott Whitbeck '04 (men's swimming and diving), and the 1955, 1980 and 1981 men's tennis teams.
reunions of the classes of 1968, 1973, 1978, 1983, 1988, 1993, 1998, 2003, 2008 and 2013.
receptions and gatherings for groups including the 1833 and Stetson societies, the Alumni of Color, the Emeriti Club, and alumni from specific academic departments.
guided campus tours of historical sites, the campus in general and the new hoop house.
performances by Monkapult, Cirque du K and theater seniors.
opportunities for alumni to tell their K stories in video through Story Zoo.
gatherings where alumni can offer advice and compare notes with current students.
fun, games, photos and treats on the Quad.
You can still join the fun and renew connections with your classmates. Visit our homecoming website for a full schedule, details and registration information. Then, watch the College website, Facebook page, Twitter account (@kcollege) and Instagram account (@kalamazoocollege) for photos and updates throughout the weekend.