A world-renowned expert on social justice and its role in international sports will visit Stetson Chapel at Kalamazoo College on Monday, Nov. 4.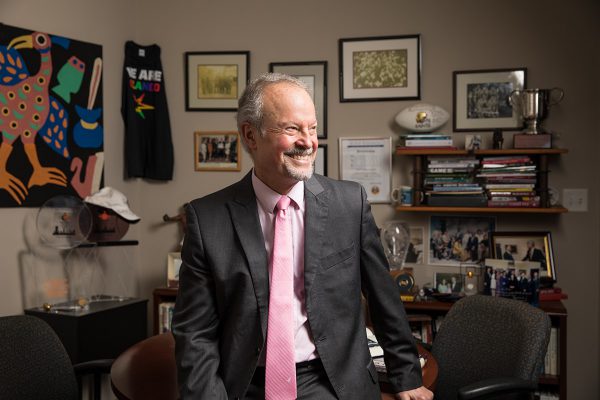 Richard Lapchick, the endowed chair and director of the DeVos Sports Business Management Program at the University of Central Florida and the president of the Institute for Sport and Social Justice (ISSJ), will conduct a conversation about sports, justice and activism with Arcus Center for Social Justice Leadership Director Lisa Brock. Doors will open at 6:30 p.m. before the event, "Just Sport: A Conversation on Sports, Justice and Activism with Dr. Richard Lapchick," begins at 7:30 p.m.
Lapchick founded the Center for the Study of Sport in Society in 1984 at Northeastern University. He served as its director for 17 years and is now its director emeritus. The center has attracted national attention to its efforts ensuring the education of athletes from junior high school through the professional ranks. The center's Project TEAMWORK was called "America's most successful violence prevention program" by public opinion analyst Lou Harris. The project won the Peter F. Drucker Foundation Award as the nation's most innovative nonprofit program and was named by the Clinton Administration as a model for violence prevention.
Lapchick also helped form the National Consortium for Academics and Sport, which is now the ISSJ, in 1985. Nationally, ISSJ athletes have worked with nearly 19.9 million young people in the school-outreach and community-service program, which focused on teaching youths how to improve race relations, develop conflict-resolution skills, prevent gender violence and avoid drug and alcohol abuse.  They collectively donated more than 22 million hours of service while member colleges donated more than $300 million in tuition assistance.
Lapchick has authored 17 books, received 10 honorary doctorates, and is a regular columnist for ESPN.com and The Sports Business Journal. He has written more than 600 articles, has given more than 2,900 public speeches, and has appeared several times on Good Morning America, Face the Nation, The Today Show, ABC World News, NBC Nightly News, The CBS Evening News, CNN and ESPN. From the sports boycott against apartheid to exposing the connection between sports and human trafficking, he has spoken before Congress, and at the United Nations, the European Parliament and the Vatican.
For more information on the event, please call 269.337.7398 or visit the Arcus Center on Facebook.