Thank You for Making a Difference!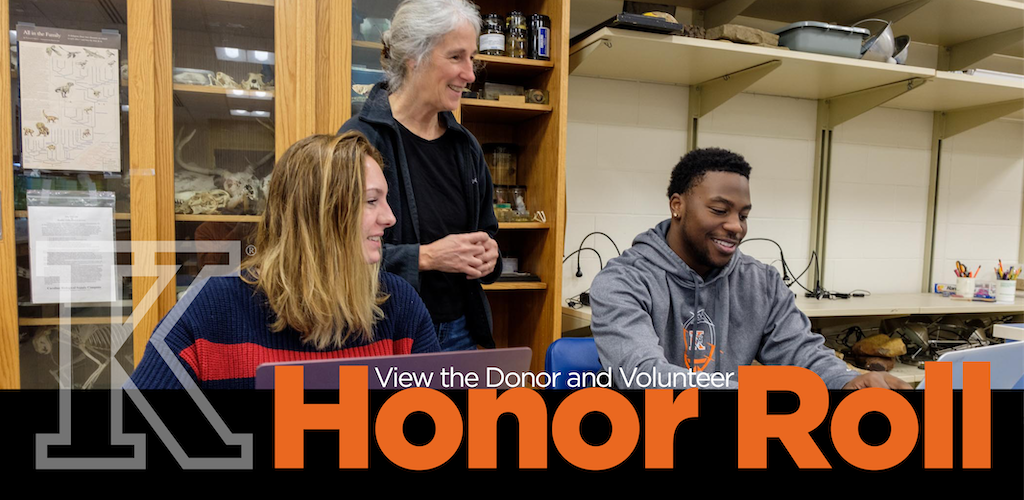 ---
Kalamazoo College is proud to recognize donors and volunteers who made a gift or volunteered between July 1, 2020 and June 30, 2021.
---
$2.57M
KALAMAZOO COLLEGE FUND
"My Favorite Part of K"
…made possible by donors like you!
The Kalamazoo College experience is enhanced by a strong community of donors. Gifts from alumni, parents, families and friends support scholarships, faculty excellence, experiential learning, capital improvements, athletics and so much more! The impact of this philanthropy is evident in the student experiences shared below, including access to diverse academic offerings, supportive faculty and a strong sense of community.
My favorite part of being at K is my ability to take classes across all disciplines. I am able to engage in different areas of knowledge and expand my learning. I also really enjoy the different activities available for students that have allowed me to make multiple connections and get to know new people.

Karina, Class of 2022 – Biology and Spanish
My favorite part of K thus far is the open discussion in classes regardless of the subject. Students are encouraged, by professors, to address the tough questions together.

Drake, Class of 2022 – History and Chemistry
My favorite part about K thus far has been the relationships that I have built within the community at K. Throughout one of the toughest years, I was surrounded (mostly virtually) with great people who made the past year just that much better.

Samantha, Class of 2023 – Economics and International and Area Studies
My favorite part of K so far has been that I feel like I am always being challenged to learn more and consider a variety of perspectives.

Mason, Class of 2024 – Undeclared
---
---
Donor and Volunteer Honor Roll Key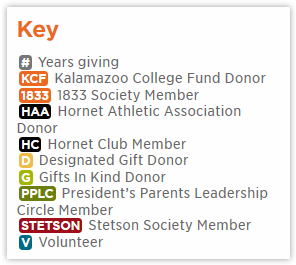 The Donor and Volunteer Honor Roll features various icons related to giving and volunteering. The key indicates the number of years a donor has given to K ("35+" is the maximum) and gift designation areas from the past fiscal year.
Membership in our leadership-level giving societies is also recognized – the 1833 Society (Kalamazoo College Fund); the Hornet Club (Hornet Athletic Association); and the President's Parents Leadership Circle (parents of current students). In addition, the Stetson Society honors individuals who have included the College in their estate plans.
Finally, volunteers from the past fiscal year are acknowledged. Find more information on volunteering at K here.