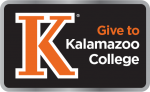 Gifts to the Kalamazoo College Fund provide vital support for the Kalamazoo College student experience. Annual gifts from alumni, parents and friends have an immediate impact in the lives of current students.
Thank You for Your Gifts of
$2,331,549 as of June 23, 2020
We are grateful for your gifts to the Kalamazoo College Fund. The goal for the 2019-2020 fiscal year is $2,417,000.
Kalamazoo College Fund Priorities
You may direct your gift to one or more areas:
Scholarships
Scholarship gifts ensure access to K's a life-changing liberal arts education. Ninety-eight percent of K students receive need-based and/or merit-based financial aid.
Faculty Excellence
Gifts to Faculty Excellence help Kalamazoo College attract, support, and retain outstanding professors. The Collegiate Learning Assessment places K in the 96th percentile nationally for its impact on students' skills in written communication, problem-solving and analytical reasoning.
The K Experience
Gifts to The K Experience are essential to the growth and support of exceptional programs and a strong campus community. Formerly known as K's Greatest Needs, the designation's name was changed to better reflect that gifts to this area support the comprehensive student experience.
Your Gifts make a Difference
Learn more about how your Kalamazoo College Fund gift makes an impact.
Five-Year Giving Summary
To ensure the resources necessary to provide an exceptional education and student experience, participation in the Kalamazoo College Fund increases annually.
Fiscal Year
Kalamazoo College Fund
Dollars Raised
2018-2019
$2,460,407.96
2017-2018
$2,467,472.34
2016-2017
$2,349,895.53
2015-2016
$2,160,651.47
2014-2015
$2,157,760.87
The fiscal year runs July 1 through June 30.
Questions?
For questions or more information, please contact the Kalamazoo College Fund at 269.337.7236 or kcf@kzoo.edu.
Gifts to Kalamazoo College are tax deductible to the extent provided by law. No goods or services will be provided to you in exchange for this contribution.