Fall Term Sixth Week Tuesday
October 17, 2023
10 a.m. – 3 p.m.
Table outside of the Game Room
Weimer K Hicks Center
Join us to hand write thank-you cards to be mailed to Kalamazoo College donors, and enjoy cookies and hot chocolate. Faculty and staff are welcome to stop by the table to enjoy refreshments and say hello.
Ninety-eight percent of K students receive financial aid. Gifts to the Kalamazoo College support need-based and/or merit aid. Philanthropy helps to ensure a rigorous Kalamazoo College liberal arts experience.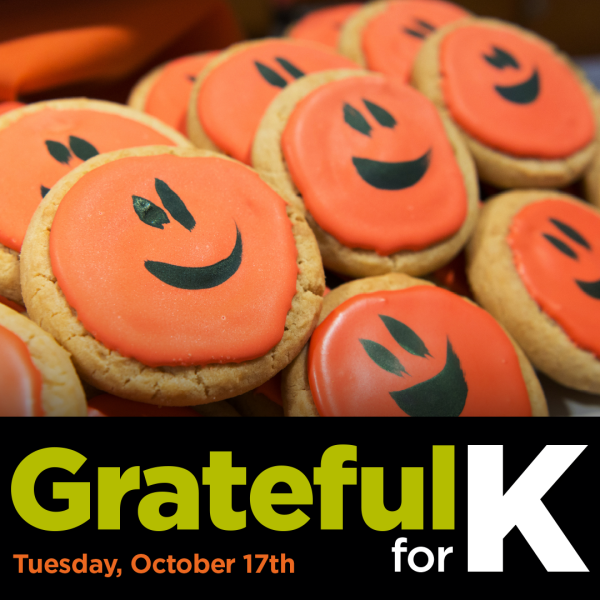 What is Grateful for K Day?
Grateful for K Day is a gratitude event to help educate students about the importance philanthropy plays in sustaining Kalamazoo College. We encourage students to share their gratitude towards alumni, parents, faculty, staff and friends who generously donate to the College in support of the K student experience.
How to Show Your Gratitude
Students are invited to:
Grab a friend and stop by the Hicks Center between 10 a.m. and 5:30 p.m. on October 18, 2022.
Write one or two thank-you cards.
Enjoy a fresh cookie and hot chocolate as a token of our appreciate for your gratitude.
Thanks for helping to put the K in thanKs during #Grateful4K Day.
Donors Share Why They are Grateful for K
To help celebrate Grateful for K Day or any day throughout the year, donors are encourage to share why they are grateful for Kalamazoo College and/or why they give to K. Submit your gratitude stories here.
″My experience at Kalamazoo College was life-changing. I learned so much in the classroom and so much from being an active member of the K community."
Alexis Fiebernitz ′16
″I give because I want to do my part in ensuring that future generations of Kalamazoo College students have the same experience and opportunities I had. K faculty respected and embraced my quirks while challenging me intellectually. K staff gave me the chance to stretch my wings and build my skills. K students became my closest friends, supporting me through thick and thin and making me laugh for the past eighteen years."
Carol Flanigan ′04
″Study abroad has been by far my most transformative K experience. It taught me self-reliance, self-worth and enabled me to put to use the skills I've gained at K."
Emily Finch ′17
″I give because the way K practices liberal arts learning is more likely than other educational options to create citizens who ask questions and who question any answers that include violence and injustice.″
Jim VanSweden ′73