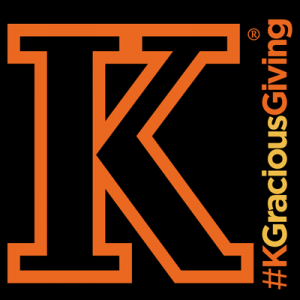 The Day of Gracious Giving is an annual one-day giving challenge that takes place on Kalamazoo College's Day of Gracious Living.
Gifts to the Kalamazoo College Fund provide immediate support for the K student experience. Day of Gracious Giving gifts are directed to these areas: Scholarships, Faculty Excellence and The K Experience. Your gift provides students with the resources they need to develop critical thinking skills through a rigorous liberal arts education.
2018 Results – $226,270 raised in one day!
While K students enjoyed a gracious class-free day on May 25, 2018, alumni around the globe participated in the Day of Gracious Giving. 1,013 donors from the classes of 1947-2017 gave $226,270, not including the Challenge matches. Anonymous donors matched gifts dollar-for-dollar up to $225,000. The 2018 Day of Gracious Giving was by far the most successful in the College's history!
For the fourth straight year, the class of 1992 raised the most dollars and the class of 1999 had the greatest number of donors.
The generosity of so many alumni is truly inspiring. Gifts from alumni are an endorsement of the K education that students will use to positively influence the world. We are so grateful.
| | |
| --- | --- |
| Top Alumni Class Donors | Top Alumni Class Dollars |
| Class of 1999 = 47 donors | Class of 1992 = $21,220 |
| Class of 1970 = 44 donors | Class of 1993 = $15,000 |
| Class of 1992 = 33 donors | Class of 1982 = $13,700 |
To view additional alumni class donor and dollar totals, please click here.
The Day of Gracious Living is always a surprise. How did alumni hear about it?
Kalamazoo College alumni received email messages on the morning of the Day of Gracious Living inviting them to participate in the Day of Gracious Giving. Class agents and other alumni advocates connected with their classmates throughout the day. Don't miss out on next year's Day of Gracious Giving. Verify whether we have your current email address by contacting kcf@kzoo.edu.
You're also encouraged to like the Kalamazoo College Facebook page and join your alumni class Facebook group. We post updates on the Day of Gracious Giving throughout the day. Alumni share why they are grateful for K and tweet using #KGraciousGiving.