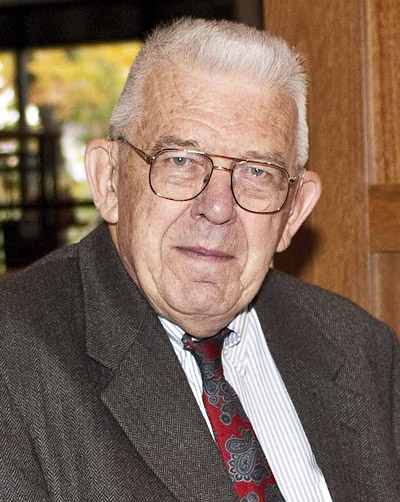 The Modern Language Association's MLA Field Bibliographer Newsletter includes a profile of a Distinguished Indexer who is none other than Kalamazoo College's own Joe Fugate, professor emeritus of German studies and director emeritus of the Center for International Programs. Indexers and bibliographers are indispensable to the art and science of scholarship in all fields. The MLA article notes that Joe has been a field indexer longer than any other contributor, enriching the coverage in the German literature section for almost fifty years, adding thousands of citations to the MLA International Bibliography. He has also served as a member of and consultant to the Bibliography Advisory Committee. He was awarded an MLA International Bibliography Fellowship for the years 2011 to 2014. Much of the article is in Joe's own voice. He says, "My tenure as a bibliographer has differed from that of any other bibliographer I have known because for almost 30 years while maintaining my faculty status, I held an administrative post in our study abroad program, including 18 as director.
"I was fortunate because my faculty interests–German language and literature, especially of the 18th century and in particular J. G. Herder–and my administrative post complemented each other. My frequent overseas trips visiting universities on three continents enabled me to establish personal contact with a number of foreign scholars who shared my academic interests and to perfect my fluency in other languages. The fact that my name appeared in the International Bibliography helped immensely in establishing these contacts.
"Over the years I have witnessed a number of changes in the production of the bibliography. When I first became a contributor all entries were typed or hand written on three by five slips of paper (some of which I still have in my files) and sent to MLA headquarters. These slips were replaced by the color-coded sheets which likewise were completed by hand or typed and then submitted.
"Now everything is on the computer. Traditionalist that I am however, I continue to miss the printed edition. I am sure that the MLA staff was relieved when they no longer had to deal with handwritten entries. Looking back I recall with pleasure the yearly meetings of the bibliographers with the staff at the annual convention. The gathering not only gave us an opportunity to discuss bibliographical matters but also to get to know each other personally. One of our colleagues, a contract interpreter for Russian with the State Department, would enliven our meetings with stories about her experiences with visiting Russians and their habit of proposing frequent toasts of vodka. When she was asked how she handled this, she replied that she tried to stand next to a plant into which she emptied her vodka. She never did tell us what this did to the plant.
"It was my privilege to serve on the Bibliography Advisory Committee. One issue we discussed at length was the lack of recognition as a scholarly and professional activity of being a bibliographer. In this connection I was able to cite one of my colleagues, now retired but still writing and publishing, who proclaimed for all to hear that my work as a bibliographer made his and other scholars' possible. There are many to whom I owe a debt of gratitude for making my activity as a bibliographer an interesting and enriching experience: those who originally accepted me as a bibliographer, the heads of the bibliography department at the MLA, the section heads and the MLA staff with whom I have worked together and continue to work with even today."
Congratulations, Joe!