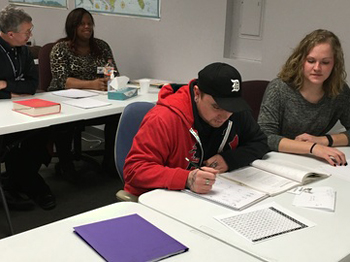 On October 23-25 Kalamazoo College will host the Global Liberal Arts Alliance (GLAA) Institute on Civic Engagement. The institute is titled "Civic Engagement and the Liberal Arts: Local Practice, Global Impact," and its Sunday evening (October 23) keynote address, "Seeking Refuge from Boko Haram: How a University Responded to a Humanitarian Crisis in Northeast Nigeria," is free and open to the public. The talk will occur at 7 p.m. in the Mandelle Hall Olmsted Room. The lecture will be delivered by Margee Ensign, president of the American University of Nigeria (AUN) in Yola, Adamawa. Adamawa is one of the three northeastern Nigerian states still under a state of emergency as a result of the Boko Haram insurgency. Ensign also leads the Adamawa Peace Initiative (API), a local Yola-based response to the escalating violence, which has successfully promoted peace in the area through education, empowerment and community development. Under Dr. Ensign, API is also currently undertaking humanitarian relief work in the region and providing food aid to more than 100,000 internally displaced people sheltering with family members in Yola. Dr. Ensign has been internationally recognized for her pioneering work at AUN.
The GLAA Institute on Civic Engagement gathers representatives (students, faculty, staff, and community partners ) from 21 countries. "The most pressing problems we face are interconnected and global in nature," said Alison Geist, director of The Mary Jane Underwood Stryker Center for Civic Engagement at Kalamazoo College. "As liberal arts institutions, our missions and strengths position us as leaders for social change in our communities and around the world.   This gathering brings together educators, students, activists and scholars whose commitment to the common good spans disciplines, differences and the globe.  We have much to learn from one another."
Civic engagement encompasses endeavors from voting to volunteering with community organizations to social justice activism and advocacy. It includes course-based and co-curricular experiences in which students work beside and learn from members of local communities to address complex social issues, building a foundation for active and informed engagement in democratic processes and social change. When combined with purposeful reflection and theoretical understanding, these opportunities enable students to gain civic, academic, and personal knowledge, and develop important skills.
Civic engagement and community-based learning—the notion of learning in and with communities—"is essential in college," says Geist, "if we want all of our students to flourish by living in and contributing to equitable, sustainable, and just communities."