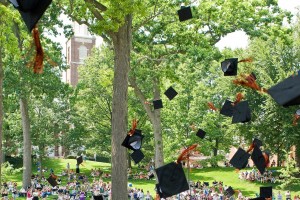 NOTE: DUE TO RAIN, COMMENCEMENT IS CHANGED TO 2:15 OUTDOORS ON THE QUAD!
Kalamazoo College 2015 commencement will be held Sunday June 14, 2:15 p.m., on the campus Quad (1200 Academy St.). Approximately 330 K seniors will receive B.A. degrees.
Kalamazoo College commencement is free and open to the public. Parking will be in high demand, so allow extra time. The College sets up about 3,000 folding chairs on the Quad and guests are invited to bring a lawn chair or blanket to stretch out on the grass. In case of rain, Anderson Athletic Center (1015 Academy St.) is the alternate site. The gym can only accommodate the graduates and a few of their family members, as well as K administrators, trustees, and faculty members. K uses a special ticketing process for those seats.
Speakers include Kalamazoo College President Eileen Wilson-Oyelaran, Board Vice-Chair S. Si Johnson '78, Alumni Association Executive Board Chair Alexandra Foley Altman '97, and senior class speaker Asia Liza Morales '15.
The Kalamazoo College class of 2015 is one of the most diverse in the College's history. About 33 percent of students came from states other than Michigan. Nearly 20 percent self-identify as American Indian, Asian, Black or African-American, Hispanic, or two or more races. Fourteen students identify as non-U.S. resident aliens and 32 countries overall are represented by class members.
David Finkel, a Pulitzer-prize winning journalist and author of "The Good Soldiers" and "Thank You for Your Service," will deliver the commencement address and receive an Honorary Doctor of Humane Letters degree from the College. Finkel was the summer common reading author for the class of 2015 prior to their arrival as first-year students at the College in fall 2011. He visited the K campus during students' orientation, giving a lecture and reading from "The Good Soldiers," his bestselling account of a U.S. Army infantry unit during the Iraq War "surge." Finkel won a Pulitzer Prize in 2006 for his case study of the United States government's attempt to bring democracy to Yemen. Per K tradition, the summer common reading author returns to deliver the commencement address to the same class of students he met in 2011.
Attorney, author, and LGBTQ activist Urvashi Vaid, will receive an Honorary Doctor of Law degree from the College on Sunday. Vaid is the president the Vaid Group, LLC, a consulting firm that works on ending inequality of all kinds. She is the former director of the Engaging Tradition Project at the Center for Gender and Sexuality Law at Columbia Law School. Her most recent book is "Irresistible Revolution: Confronting Race, Class and the Assumptions of LGBT Politics." She was executive director of the Arcus Foundation from 2005 to 2010 and was instrumental in creating the vision for what is now Kalamazoo College's Arcus Center for Social Justice Leadership.
Kalamazoo College (www.kzoo.edu), founded in Kalamazoo, Mich., in 1833, is a nationally recognized liberal arts college and the creator of the K-Plan that emphasizes rigorous scholarship, experiential learning, leadership development, and international and intercultural engagement.
Kalamazoo College does more in four years, so students can do more in a lifetime.