Three concerts in the coming week will put Kalamazoo College students center stage along with a mix of community music partners.
First, the Kalamazoo Philharmonia will hold a recital titled The 9th at 7:30 p.m. Saturday in the Dalton Theater at Light Fine Arts as a tribute to Beethoven's Ninth Symphony.
The performance will include a collaboration with the Kalamazoo Bach Festival Chorus and feature soloists Madelaine Lane, soprano; Carrie Ledet, mezzo-soprano; Jonathon Lovegrove, tenor; and Trent Broussard, baritone. Tickets are $2–$5.
Led by Director Andrew Koehler, the Kalamazoo Philharmonia brings together students, faculty, and amateur and professional musicians. The group won The American Prize in Orchestral Programming—Maestro Vytautas Marijosius Memorial Award in 2014 and has produced several CDs. It also has appeared on CBS Sunday Morning. 
The Kalamazoo College Singers will have a free performance at 4 p.m. Sunday in the lobby at Light Fine Arts. The hour-long program, simply titled RE, will focus on restoring many of the things we lose in the struggles of daily life within themes of revival, restoration, reparation, resurrection, recirculation and respiration.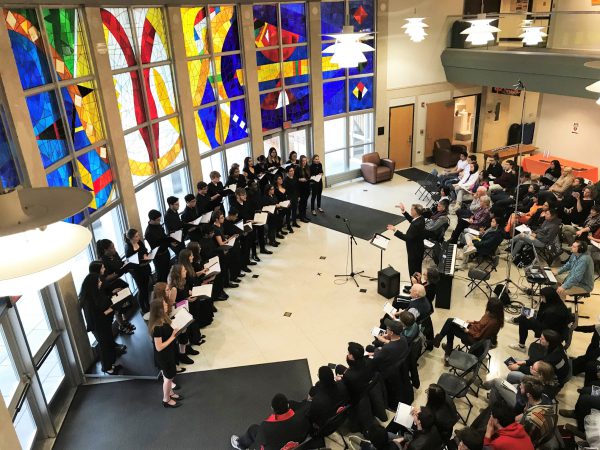 The 35-singer ensemble features students representing majors from music to chemistry. They're from locales as close as Kalamazoo and as far as Colombia. Nature enthusiasts and environmentalists will appreciate the texts centered on Earth's natural beauty. Other works link the power of nature with the beauty of languages such as Mandarin, drawing together similarities from across the globe.
Sophomore Tyrus Parnell, a multi-talented musician and Presidential Student Ambassador, will direct the choir in a gospel piece. In solidarity with the LGBTQ+ community, the singers will perform pieces by luminaries for queer rights such as the Indigo Girls and kd lang. The whole evening wraps up with a bit of Stevie Wonder and a setting of the spiritual Down by the Riverside.
"If audiences have never experienced a concert in the lobby of the Light Fine Arts building, they are in for a treat, as the acoustics are superb for a cappella singing, as most of this concert is," College Singers Director Chris Ludwa said.
Finally, the International Percussion Ensemble will perform a free concert at 7 p.m. Wednesday, March 8, in the Dalton Theatre. The group—which includes African drums, Japanese taiko drums and Caribbean steel drums—features individuals with varied musical backgrounds from K, nearby institutions, and the general community. 
For more information on these performances, contact Susan Lawrence in the Department of Music at 269.337.7070 or Susan.Lawrence@kzoo.edu.