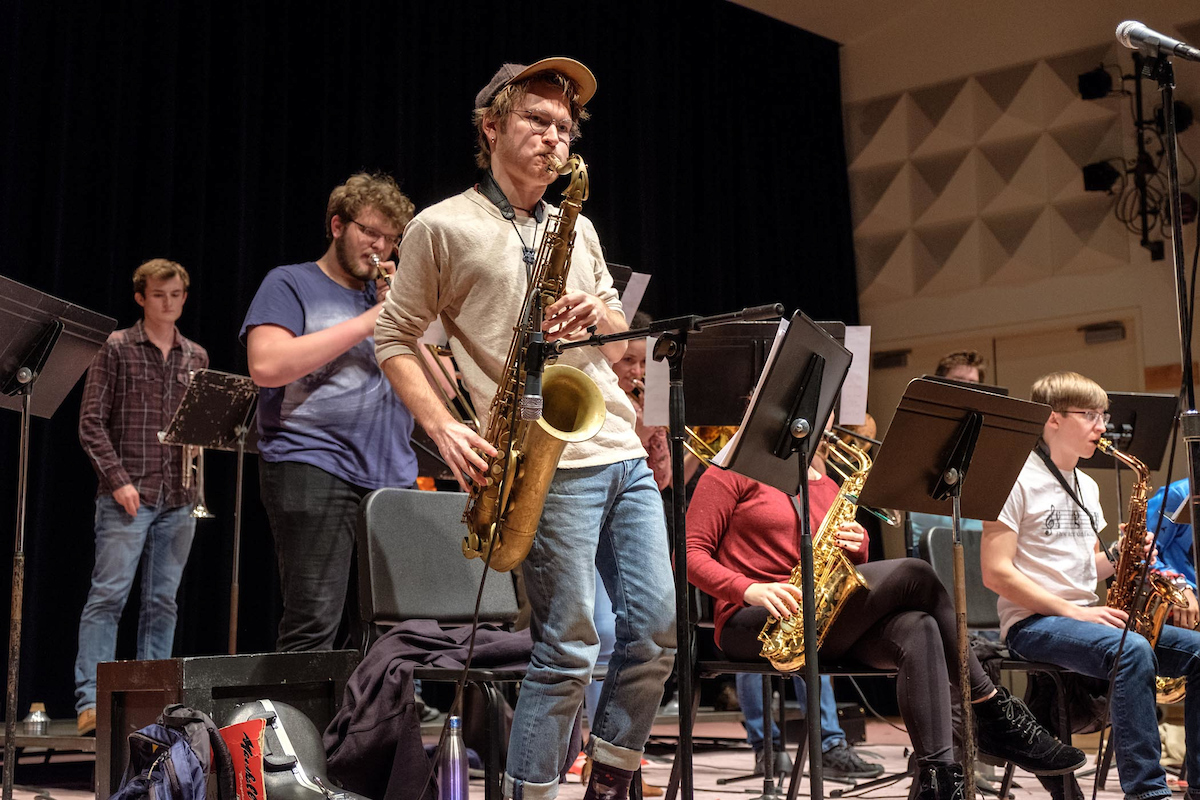 Major Minor
---
---
Why Study Music at K?
Engaging courses, lively ensembles, and personalized faculty mentorship make K an excellent school to be a musician.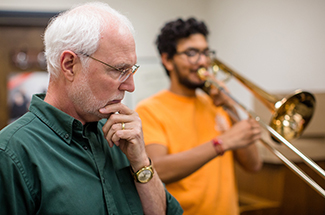 As a music student, you will explore the world of sound and its role in social life across geography and history. Balancing theory and practice, you will become a better listener, learning the languages and histories of the craft, as well as a better creator, developing your technical and artistic ability. 
You will develop these skills through courses in music theory and history (e.g., Music of World Cultures, Western Art Music Before 1750, and Jazz Explorations) and practical classes to improve your musical talents (e.g., Band Methods and Conducting). Outside of the classroom, all students—regardless of their major—are welcome to take part in private lessons and campus ensembles to further hone their musicianship and joyfully create music with fellow students. The Music Department is also a part of the wider tapestry of great music-making that goes on in the vibrant cultural life of Kalamazoo.
The creativity, self-discipline, communication, and analytic thinking skills you will develop as a music student will prepare you for professional life or to continue your education in graduate school. Our alumni work in every aspect of music—as teachers, performers, composers, editors, and technicians—and beyond.
What can you do with a music degree?
Below are some of the careers, employers, and graduate schools of our music alumni.
Careers
Music Therapist
Audio Engineer
Teacher
Sound Designer
Arts Administrator
Employers
Sony Music Publishing
Vicksburg Public Schools
Irving S. Gilmore International Piano Festival
Livewire Recording and Production
Grover Gaming
Graduate Schools
Berkee College of Music
Bowling Green State University
University of North Carolina
Cambridge College
University of Wisconsin Madison
Program Spotlights
Music is for everyone, not just majors
At K, we do not place you in "majors-only" siloes, instead, your study of music will benefit from a broad and open-minded engagement with the liberal arts. All our ensembles, lessons, and courses are open to all students regardless of their major (or majors!): we have chemists and anthropologists playing in the orchestra and biologists and poets in the jazz band.
Join the community of musicians in Kalamazoo
Located near downtown Kalamazoo, the College takes full advantage of the city's rich music community. You will get to learn from and play with local professionals in our advanced ensembles, attend musical events hosted both on and off campus, and benefit from the College's close connections with local music organizations, such as The Gilmore, Bach Festival, and Fontana Chamber Arts. Some of our students have even had the privilege of playing with the Kalamazoo Symphony!
Play in one of the College's nine ensembles
Any and all students are encouraged to take advantage of the breadth of campus ensembles K has to offer.
Kalamazoo Philharmonia (orchestra)
The Academy Street Winds (band)
Bach Festival Chorus (choir)
Jazz Band (band and some strings)
College Singers (choir)
Lux Esto Chamber Singers (choir)
International Percussion Ensemble (percussion)
Bayati Ensemble (strings, woodwinds, and singers)
Improvisation Ensemble (all instruments)
Meet the Current Departmental Student Advisor
What is the best thing about being part of this department?
The faculty! Some of the most important people in my support system at K work in the music department.
What has been your favorite class at K? Why?
History of Western Art Music After 1750. Dr. Koehler made the class such an enjoyable and engaging experience. I was already a bit of a music history nerd, but his knowledge and passion for the subject deepened my own knowledge and appreciation exponentially.
What experiential education opportunities have you participated in?
I'm an Interfaith Student Leader (ISL). I'm in Kalamazoo Philharmonia (K Phil). I take violin lessons and I work in the music department office.
What is your Senior Integrated Project (SIP)?
I am doing a violin recital in the spring for my SIP.
What are your career aspirations/next steps after K?
I'm looking into doing something in music administration along the lines of what I currently do in the music office.
Music Department News