When Kalamazoo College's Department of German Studies was one of just three in the country to earn a German Center of Excellence award last year, the department's community outreach was cited as one reason why.
Some of that community outreach was put into motion when Assistant Professor of German Petra Watzke secured a La Plante Grant in summer 2021 for K's introductory German students to plan workshops for fourth graders in Ms. Snow's class at Woodward Elementary School in Kalamazoo. That fall and in fall 2022, in a partnership with the Mary Jane Underwood Stryker Center for Community Engagement (CCE), K students collaborated to provide children with early lessons in the foreign language.
The outreach struck such a positive chord with parents, teachers, children and the K students, that the program expanded during the winter term to include Ms. Longhon's kindergarten class at the school. In its most expansive effort to date, teaching assistants Alex Nam '25 and Ben Flotemersch '23 tested their new language skills by preparing lessons and materials for both grades, introducing lessons, and supporting students in the classroom.
"I went on one or two trips to Woodward in the fall, and then I was asked by Professor Watzke if I would want to help lead these trips as a TA," Nam said. "I immediately said, 'Oh, yes, I'd love to join in.' Chances are not all of them will remember every word we teach them for the rest of their lives. We just want to instill within the kids an open-mindedness that leads to learning new languages. We want them to understand that different languages may sound a little weird and some may sound really similar to English. That sense of progress is something I've definitely seen with the kids through their willingness to step into the discomfort of learning a new language."
In return, K representatives such as Flotemersch experienced a valuable way to make deeper connections within the community by visiting Woodward.
"I hadn't really felt in touch with the Kalamazoo until now," Flotemersch said. "My first year, we had 20 weeks on campus, and then COVID hit. Then, I was isolated sophomore year. This is just my fourth term on campus, and for the first time, I feel I've left campus and I've had a great time."
Nam and Flotemersch both worked in close contact with Lucinda Hinsdale Stone Associate Professor of German Kathryn Sederberg and Watzke, who helped them build syllabuses and curriculums.
"It's rewarding to go into the elementary schools and interact with these kids," Nam said. "But on a deeper level, it allows me to contextualize how I learned German because I began these trips last year as a 101 student when I barely knew any German myself. To put myself in the role of a teacher instead of a student for a concept that's still very fresh provides me with a much greater appreciation for German education, as well as the German language, because I've been able to see both perspectives of student and teacher."
It was an experience that Flotemersch hopes will touch more K students while benefiting Woodward students in the future.
"I think we all had this experience, when we were kindergarteners or fourth graders, of an adult who showed up as a special guest," Flotemersch said. "Those are highlights of our school experiences. When someone comes and they're teaching you German, that's amazing, and I think more people should volunteer in similar ways."
Flotemersch and Nam gained experiences through volunteering at Woodward that might improve their chances of earning the Fulbright scholarships they seek. Through its U.S. Student Program, Fulbright helps graduating seniors, graduate students, young professionals and artists to teach English, perform research or study abroad for one academic year.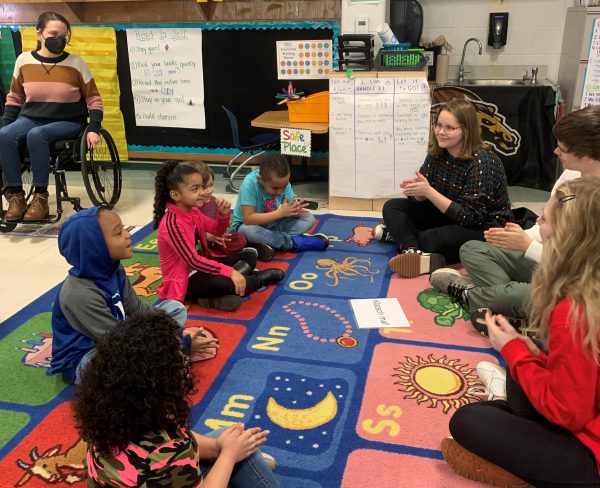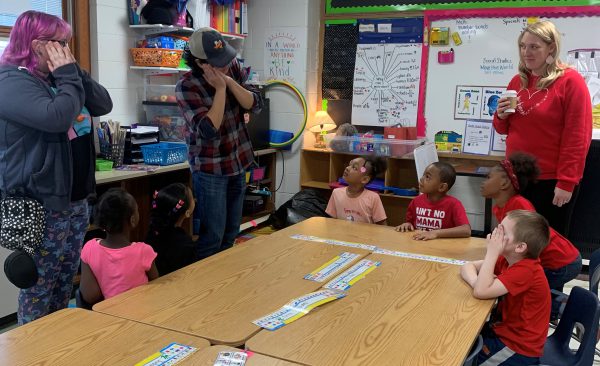 For Flotemersch, that would mean following in the footsteps of his brother, K alumnus Matthew Flotemersch '20, who now serves Fulbright's U.S. Teaching Assistant Program in Austria. The elder brother also previously earned a Fulbright through the U.S. Student Program to teach in Germany. But for now, the younger brother is relishing his opportunity to instill a love of foreign languages locally.
"We can't expect every kid to be engaged all the time," Flotemersch said. "One kid might be kind of sleepy one day, and the next week, they're super engaged. We just keep using different teaching strategies, and hopefully, we reach as many kids as we can. Emotionally, reaching students makes the teaching really rewarding."