A Kalamazoo College alumna has won one of the largest and most prestigious awards for opera composers in the U.S. for her first-ever libretto.
Ginger Strand '87 has been awarded the 2023 Charles Ives Opera Prize, along with composer Laura Schwendinger, for their 2019 opera, Artemisia. The honor, granted by the American Academy of Arts and Letters, includes a $15,000 prize for Strand as librettist and $35,000 for Schwendinger as composer.
The award came as a surprise to Strand. While they knew they had been nominated by Academy member and Pulitzer Prize-winning composer Shulamit Ran, the prize is not awarded regularly. Established in 2008, the Charles Ives Opera Prize has only been previously awarded in 2008 and 2016. The prize is granted to a recent work that reflects the mission of the Academy to foster and sustain interest in literature, music and the fine arts by rewarding "works of highest aspiration and superior craft," according to artsandletters.org.
"I opened my email and there was this letter from the American Academy that said, 'Good news from the Academy.' I kind of thought I was being pranked or something; it just seemed unreal," Strand said. "I called Laura, and asked, 'Is this for real? Did we just win the Charles Ives Opera Prize?' She was in a museum and she started screaming. She hadn't seen her letter and I got to be the one who broke the news. It was very exciting and felt out of the blue, in particular being my first-ever libretto."
A five-member jury unanimously voted to award the Charles Ives Opera Prize to Artemisia.
In the 35 years since Strand "learned how to learn" at Kalamazoo College, she had written copy for a consulting firm, short stories, essays, one novel and three books of narrative nonfiction before branching into opera.
"It came about completely by chance," Strand said.
Having met at the MacDowell artist residency program, Strand and Schwendinger were long-time friends when Schwendinger confided in Strand over lunch that she was going to compose an opera and thought Strand should write the text.
"She wanted to write about an amazing Baroque painter, Artemisia Gentileschi," Strand said. "One of the reasons Laura and I became friends is that we have a lot of interests in common, one of which is women artists in history."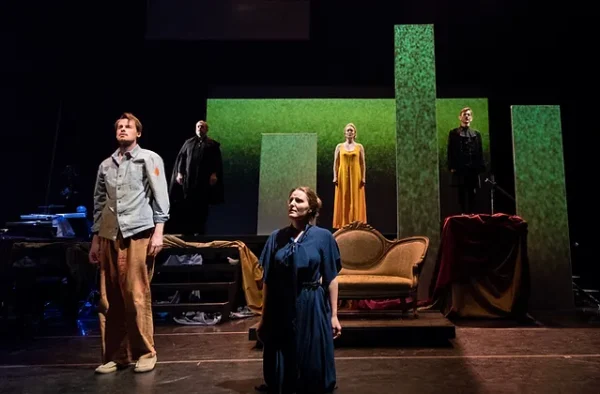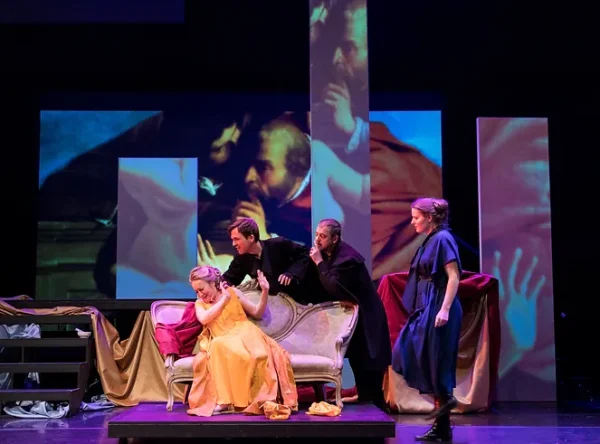 While Artemisia Gentileschi is better known now, she was ignored in history for a long period, with many of her works attributed to her father, Strand said.
"She had a life story that was basically already an opera," Strand said. "Her father taught her to paint and then he hired one of his assistants to teach her the art of perspective, and this assistant raped her. Her father sued for damage to property, because she was considered his property, and in the course of the trial, Artemisia was tortured to see if she was telling the truth. After the perpetrator was convicted, she was hastily married off to some other dude that she quickly dispensed with, and she went on to become a painter of great renown and had a rather illustrious career."
Schwendinger shared her concept of Artemisia's paintings coming to life in the opera, and the two went their separate ways to compose the music and write the words.
"It was really a collaborative process, partly because I didn't necessarily know everything about what a composer needs out of a libretto," Strand said. "Laura would say things like, 'I see this moment as an emotional high point, and what we really need here is an aria; we need the two characters to sing something really intense.' Then I would go away and work on that. Or, 'I want all the singers on the stage here; they don't have to be literally in the same place, but we need a big moment where they're all contributing to the song,' and I would work on that. Sometimes it was something as simple as, 'You can't end the line on this word, because the singers won't be able to sing it.' It was a learning process the whole way along."
The process was also fun for Strand.
"Because it was an opera and not a work of nonfiction, I could make things up, although I based it on facts," Strand said. "My starting point was her actual biography, some letters she wrote, and the paintings, of course. Then, where the historical record was faulty, I could imagine things and put them in, and that was super fun and unusual for me to give myself permission to make things up. It's not something you're allowed to do as a nonfiction writer." 
The writing process took about a year, followed by another year or so of production before two premieres—a shortened chamber orchestra version in New York City and a full orchestra version in San Francisco. Strand attended both.
"At certain moments, it was exhilarating," she said. "Other moments, it was excruciating, thinking things like, 'Why did I write this so long?' Laura's experience was completely different from mine because I was focused on the story and the words and she was focused on the music."
Strand and Schwendinger will be awarded the Charles Ives Opera Prize at the American Academy of Arts and Letters' annual ceremony in New York City in May. In the meantime, they're continuing to collaborate on more operas—one of many writing projects for Strand.
"I'm always nursing several obsessions, which is something my particular career has enabled me to do," Strand said. "I don't always know what will come of them. I'm working on another book proposal. Laura and I are thinking about possible future operas. I've got a couple essays and all kinds of things I'm working on. I always have a number of balls in the air, which goes all the way back to my K experiences, being comfortable working on multiple things at once."