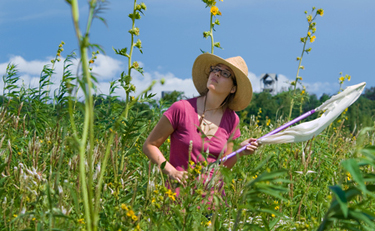 K alumna and bee expert Rebecca Tonietto '05 is interviewed in the Huffington Post on the ways humans can help address colony collapse among bee populations. Tonietto is a postdoctoral David H. Smith Conservation Research Fellow exploring urban bee communities, pollination and conservation through the Society for Conservation Biology at Saint Louis University.
The interview is fascinating. Did you know there are over 20,000 species of bees, more than all species of mammals, reptiles and amphibians combined. That may be a very good thing given the pressure on honeybee populations from herbicides and the loss of plant diversity to agricultural expansion. Enter wild pollinators and, yes, urban environments. Turns out the patchy habitat of urban settings–with a little help from human friends–can, from a bee's perspective, look at lot like the norm in meadows and prairies. As cities shrink, more green space is added. Humans help with flower boxes, landscaping, by leaving a limb or log about and holding back on some of the mulch, and allowing those dandelions and clover to keep on dotting the lawns.
Cities are a respite from agricultural pesticides and plant monoculture, and natural pollinators need and love that. And bees benefit city dwellers in many ways beyond pollination of food and flowers. Bee habitat is beautiful, says Tonietto, making urban areas more aesthetically pleasing. "And there is a measurable psychological benefit from urban biodiversity," she adds. "Just the bees being there is a benefit in and of itself." Yes! Tonietto earned her B.A. at K in biology.