Samantha Jolly '15 is building a bike that will help save the world.
As you know, the Kalamazoo College campus is covered with gardens large and small. But did you know that the College produces some its very own compost to fertilize these gardens? It does. And it intends to produce even more this coming year with help from Jolly's bike.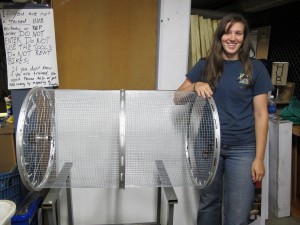 Jolly and other Student Compost Interns in the K Recycling Department collect food waste from the Living Learning Houses and elsewhere on campus each week and place it in compost bins located in The Grove behind DeWaters and Trowbridge Residence Halls. Last year's pilot project turned about 3,000 pounds of food waste into composted soil that helps fertilize garden beds across campus.
Mother nature controls much of the composting process, but Jolly and her fellow interns speed that process by regularly turning  compost in the bins with pitchforks and shovels. They also filter out the final product (dirt, essentially) from the active material by shaking it all through hand-held screens.
Here's where the world-saving bike comes in. Working from her own design and with help from K Recycling Director Rob Townsend, Jolly is building a stationary bike to help separate the finely composted soil from larger chunks. Instead of a rear wheel, her bike features a cylinder made of chicken wire stretched around old bike wheel rims. A bike chain connects the cylinder, which straddles the legs of an old College bunk bed, to the bike gears.
Students shovel compost into the cylinder, jump on the bike seat, and pedal. The chain turns the cylinder, which churns the compost. A wheelbarrow strategically placed under the cylinder catches the fine freshly filtered fertilizer.
Thereby saving the world. Or at least one small corner of it in Kalamazoo, Michigan.
"It′s been really fun trying to find things to recycle and turn into this sifter. It′s like one giant recycling project. I have to build a machine out of recycled parts to help recycle our food waste!" said Jolly.