A five-course dinner helped strengthen the connective fiber of a community when Fair Food Matters hosted a fundraiser at the Kalamazoo Farmers Market one Thursday evening in late June. General manager of Kalamazoo College Dining Services James Chantanasombut and Chelsea Wallace '14 were some of the featured chefs, and other K folk attended the event.
Fair Food Matters is a nonprofit organization as interested in healthy communities as it is in healthy food. FFM empowers and connects people in Kalamazoo through projects and programs, and a few of these include: the Woodward School Garden, the Douglass Farmers' Market that serves residents of the city's Northside neighborhood, and the region's only licensed "incubator kitchen" called Can-Do Kitchen—a shared space where local entrepreneurs can use FFM resources to start a business.
At the recent fundraiser people young and old filled each seat of a 150-foot table while local chefs prepared dishes ranging from bean salads to roasted chicken from a local farm. The meal was fit for kings and queens—or for a very extended family.
And the evening felt like a family gathering, even when people didn't know each other. Sharing food brought people together. They mingled as they sampled appetizers like the chicken liver pâté, or grabbed beers, courtesy of Arcadia Brewing Co. As local band Graham Parsons and the Go Rounds played twangy rock songs, the patrons sat at the long table, made new friends, and shared artisan bread or kale salad.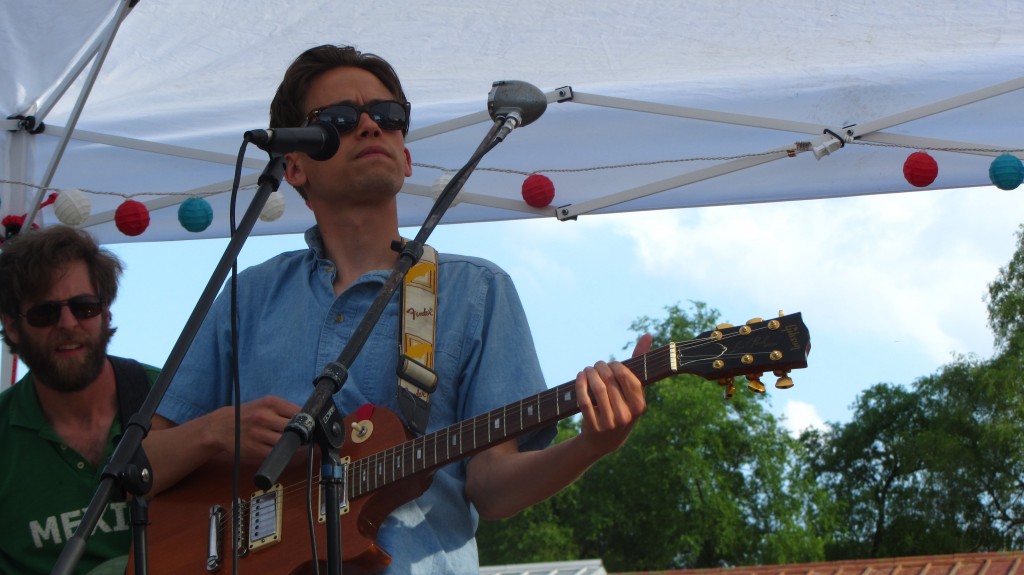 The Kalamazoo Farmers Market can function as a gateway into the local community for students and staff. K art professor and media producer Dhera Strauss said, "The Farmers Market is my life off of campus." Student Michelle Bustamente '15 is interning with the Farmers Market this summer, and she said the Market gives her a greater sense of community.
Wallace and Chantanasombut prepared an appetizer and one course of the dinner: curry dusted rice chips with black walnut and sesame leaf pesto, and an Asian-inspired soy bean and cabbage cake, respectively.
They made the cake from produce at Bonomego Farms, and the ingredients included onions, green onions, Korean Bok Choy flakes and paste. Because they were given the challenge to make a gluten-free dish, they used flax seed mill, a healthier and tasty substitute for egg. Topping the cake were ingredients from Understory Farm (Bangor, Michigan), burdock root, fiddlehead fern relish, pickled ginger, baby kale, pickled bok choy, and garlic scapes. The entire gastric ensemble was dressed with citrus miso vinaigrette.
The chefs only used local ingredients. Wallace said, "Where you get your food from, how it is grown, and the science behind it determines taste." The Jamaican born biology major would know. She was a member of the student organization Farms to K, and she started baking scones for the College's dining services operation during winter term of her senior year. That experience has influenced her career aspirations.
"I want to cook professionally," she said, "and I want to learn the ropes." This summer she has shadowed or will shadow the kitchen staff at two popular local restaurants: Bravo! and Food Dance.
Strauss and Bustamente, Chantanasombut and Wallace experience food as a way to connect K with the local community. Chantanasombut said, "It's great to be part of the community and to know local farmers, chefs, and organizations like Fair Food Matters."
Everyone at the Fair Food Matters fundraiser seemed to feel the same way: strangers no longer. Eating local food together makes strong communities.