Ed Menta, the James A.B. Stone College Professor of Theatre Arts, is this year's recipient of the Lux Esto Award of Excellence, which honors an employee who has served Kalamazoo College for 26 or more years for a superlative record of stewardship and innovation.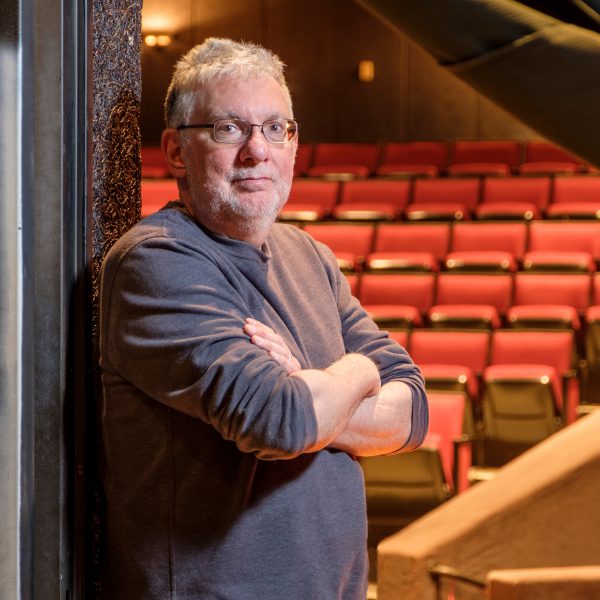 Biology Department Chair Binney Girdler and Educational Technology Specialist Josh Moon, who received Outstanding Adviser awards, and the Rev. Elizabeth Candido, the College chaplain, who received the Outstanding First-Year Advocate Award, also were recognized at the annual Founder's Day Reflection on Friday, honoring the College's 185th year.
Menta, a faculty member since 1986, has directed dozens of productions at K, including award winners such as last year's college debut of "Fun Home." K's staging of the Tony Award-winning musical, co-written by Lisa Kron '83, was selected for a featured performance at the Region III Kennedy Center American College Theater Festival in January 2018.
Nomination letters by students, faculty, staff and alumni praised Menta for what they said has been his dedication to teaching, his efforts to build and bolster the theater community at K and across Kalamazoo, and his willingness to take on challenging and culturally relevant works that expand the horizons of actors and audiences.
In presenting the award, President Jorge G. Gonzalez cited a nominator who wrote that "Ed's mark on the College is simply indelible."
Provost Mickey McDonald, who after 10 years is leaving the College to assume the presidency of the Great Lakes Colleges Association, gave the keynote address for Founders Day, reflecting on how being a "fellowship in learning" — a concept that originated during the 1922-1935 presidency of Allan Hoben — has allowed K to navigate decades of challenges and changes.
"This has been an amazing, rewarding 10 years for me," McDonald said. "I have witnessed Kalamazoo College continue to become a more equitable place to live and learn and work … and I have relished being part of a fellowship of learning that embraces a sense of innovation. That ability to change, to adapt, to reflect — as we are reflecting today —  is an essential part of what has kept Kalamazoo College vital and relevant for almost 200 years. And I have every confidence that it will sustain the College as it enters its third century."