More in Four. More in a Lifetime.®
K students make for highly qualified employees, with alumni pursuing a multitude of careers and the College being a top producer of Ph.D. candidates and Fullbright recipients. Our students are empowered to go far in their careers because of the critical thinking, intercultural awareness and passion for lifelong learning they develop on campus. 
However, you are not alone in your growth. Departments across campus, especially the Center for Career and Professional Development (CCPD), are here to assist you in finding the right path for your passions, building up your technical and soft skills, and helping you land a meaningful job after graduation.
---
"Ten years ago, many of the jobs available today didn't exist, or looked very different. Our goal is to prepare you for the career you can choose today, while giving you transferable skills that will serve you mid-career and beyond, wherever your career takes you."

President Jorge Gonzalez
---
Turning Four Into More
Finding your Career Path
Not exactly sure what you want to do after graduation? That is perfectly normal—college is the time to explore the world of opportunities that await you post-graduation.
To empower you to try out different fields of study, K takes an open approach to its curriculum: no forced general education requirements and no declaring a major until the winter of your sophomore year. This freedom gives you the chance to sample different subjects and find the right fit for you.
Outside of the classroom, you are encouraged to take advantage of the college career services available at the CCPD, who are here to assist you from the day you arrive on campus until the day you are ready to retire. The CCPD offers personalized coaching and career assessments to help you find jobs that match your talents and interests.
To start you on your path, drop into the Career Studio and ask critical questions like, "How do I know what major is right for me," "How do I make a resume," or "How do I approach getting an internship?" The Student Career Ambassador staff are available not only to help you find your way but also to give you valuable insights into how to stand out from the pack throughout your career.
Additionally, you can join a Hornet Huddle to meet K alumni in your prospective fields and learn about their career paths, college experience, and how they leveraged their K education. Or, you can always take a small step and listen to the CCPD's podcast, Career-Ish, where they talk with K alumni, staff and faculty about their professional journeys.
Building your Skills

Every aspect of your time at K and the K-Plan is designed to help you in your post-graduation life: your courses, on-campus job, leadership roles, community engagement, international experiences, and, ultimately, the completion of your Senior Integrated Project. The time management, leadership and critical thinking that you use on a daily basis as a K student will help you land a great first job, you just need to know how to tell your K story.

Outside of the learning experiences integrated into your K education, you can build out your talents through research and internships.
Research
Professors at K are scholars pursuing meaningful research in their fields, most of whom appreciate passing down their knowledge to student research assistants. Whether you want to pursue a career in academia or transfer these talents to other sectors, researching alongside K professors teaches you invaluable lessons in problem-solving, analytical thinking and communication that will enhance your employment prospects.
Internships
Internships are a key opportunity to develop skills and build out your portfolio. K offers several avenues for you to gain professional experiences, such as through K-specific programs like our community-building internships; coaching on how to find and secure external internships; and providing stipends for unpaid opportunities for high-need and first-generation students.
Landing a Meaningful, Post-Graduation Job

Once you have a vision for your future—and the skills to back it up—comes the task of finding a job to match.

To help you secuure that first job, the College provides several career services, experiences and resources to expose you to potential employers. Notably, the College hosts and partners with recruiting events to get you face-to-face with employers; provides students with Handshake accounts to search for entry-level jobs and connect with hiring managers; and invites you to tap into K's engaged alumni network.

Once you are ready to apply, CCPD staff members can help you polish your resume, cover letter, and interview skills through one-on-one coaching sessions.
---
Student Spotlights
Anna Canales '23
An aspiring child advocacy attorney, Anna Canales '23 worked at an arts and science summer program in Kalamazoo for her Community Building Internship, working full time writing curriculum, liaising with parents, and ensuring the physical and emotional wellbeing of her students.
Peter Fitzgerald '23
Finding his home in Kalamazoo, Peter Fitzgerald '23 worked with the community in three political internships: assisting on a federal congressional campaign, working with Michigan Congressional Representative and K alum, Darrin Camilleri '14, and interning with Governor Whitmer.
Katie Rock '23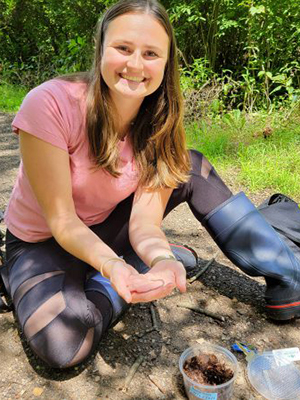 Gaining field research experience to jumpstart her career in ecology and environmental science, Katie Rock '23 wrote her Senior Integrated Project at the College's arboretum investigating an invasive species of jumping worms.
---