College is more than schoolwork; K wants students to strike a healthy balance between their academic and social lives. The Office of Student Involvement intentionally makes space for fun by hosting over 100 student-organized traditions, events, and off-campus excursions each year.
Campus Traditions
Monte Carlo
Named after the casino in Monaco, K's Monte Carlo is an extravagant evening where over 70% of the student body gathers in the Hicks Student Center to dress up, take glamorous photos and play casino games with faculty and staff.
Day of Gracious Living
Established in 1974, the Day of Gracious Living symbolizes the importance of cherishing the present. Each year, on a random day in spring, classes are canceled and the College takes students to Lake Michigan for a beach day followed by a party on the quad filled with food, games and music.
Afro Fiesta Desi Sol
Students get to share their culture at Afro Desi Sol (AFDS) where ten multicultural student organizations collaborate to stage performances that honor their heritage and share their favorite traditional foods with the entire student body. To add to the festivities, the College decorates the Hicks Student Center with flags and décor that reflect the multitude of identities represented at K.
Pride Ball
Challenge gender norms at K's Pride Ball hosted by LGBTQ+ organizations on campus. Featuring drag performers, student fashion shows and great music, the Pride Ball is a celebration of queerness open to the whole campus community.
De-Stress Fest
To help you relieve stress before finals, the College throws an end of term De-Stress Fest where students are invited to take a break from their studies to relax on the quad. With inflatable playhouses, food trucks and music—it is always a great party!
Weekly College Events
Wellness Wednesday
Each week we invite students to drop by the Hicks Student Center for some self-care at our Wellness Wednesdays. Often hosted by holistic-minded student organizations, Wellness Wednesdays offer an array of activities to help center and relax students: paint a mural, pot some plants, sing at an open mic, or do some yoga!
Friday Game Night
On Fridays, the College hosts a game night. Often planned in collaboration with student organizations on campus, these events offer an inclusive space for students to play culturally diverse games you may never have heard of—in addition to all your favorites!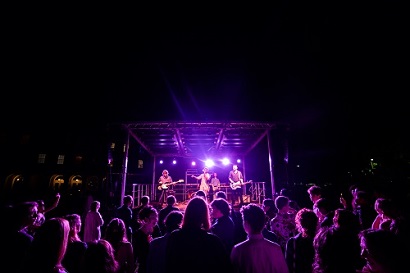 Zoo After Dark (Saturday)
Zoo After Dark is the place to go on a Saturday night! Each week is different; Whether it is playing soccer in an inflatable bumper ball, listening to live performers, or performing in an all-out karaoke party, it is sure to be a blast with great food and fun people.
Off-Campus Excursions
For when you want to break out of the K bubble, join the Office of Student Activities on one of their Beyond the Hive events where they gallivant around Kalamazoo and nearby cities, such as Chicago, Detroit, or Grand Rapids. In the average term, there are five opportunities to get off campus for a free adventure.
Ride rollercoasters and get your adrenalin pumping at Cedar Point
Get star-struck and attend local performances and shows at the Kalamazoo State Theatre
Cheer on our Detroit sports teams at Pistons and Redwings games
You can also go on fun escapades with the Office of Outdoor Programs who—with the help of students—organize events to get off campus and explore the wilderness throughout the term and over breaks.
Spend the afternoon rock climbing right here in Kalamazoo
Take a day trip to bike around South Haven and Lake Michigan
Go on a coastal sea kayaking adventure over winter break in Georgia