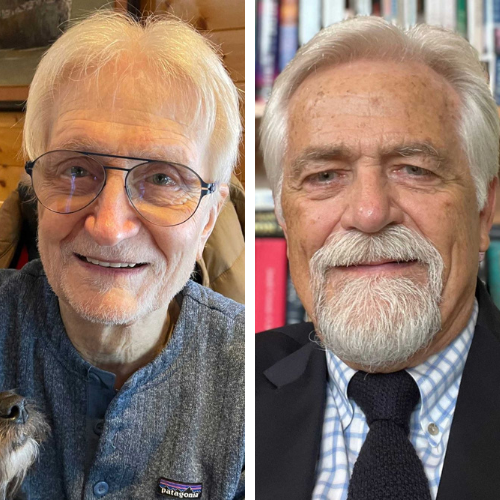 2022 Citation of Merit Recipients
Bruce Benton '64 and Harold Decker '67 at the 2022 recipients of the Citation of Merit award.
About the Citation of Merit Award

The Emeriti Club Citation of Merit honors those who have demonstrated affection for the College by their loyalty and involvement in the activities and programs of Kalamazoo College. If you know someone like these individuals, please nominate them today!
Bruce Benton '64 and Harold Decker '67
Bruce Benton '64
What part of the K-Plan is life-changing?
For Bruce Benton: studying in Aix-en-Provence in 1962/63. "Living with a French family; exploring new subjects such as art history, European history, and French literature; and traveling around Europe during holidays and after spring semester—all of these, in particular the latter, were eye-opening," he says.
"The camaraderie among us study-abroad pioneers was very special. We crossed the Atlantic on the SS Groote Beer, with our professors Dick Stavig and Ed Moritz, and we returned on the SS Queen Elizabeth. All that time together to share our experiences in Europe formed close friendships among classmates that have endured."
The impact of study abroad on Benton's life after K has been profound. After graduating (B.A. in history) he joined the Peace Corps and served as a teacher in Guinea, West Africa. After returning to the United States, he earned master's degrees in international relations (Johns Hopkins University) and economics (University of Michigan) and then went to work as an international economist for the U.S. Department of Agriculture and, later, in the Office of the Secretary of the U.S. Treasury Department.
In 1980 he received a Congressional Fellowship from the American Political Science Association and served as senior foreign policy and economics advisor to two congressmen: Representative Silvio Conte (Mass.) and Senator John Chafee (R.I.).
He joined the World Bank in 1982. There, three years later, he was picked to manage the World Bank/World Health Organization co-sponsored onchocerciasis control effort for Africa, a position he held for two decades until his 2005 retirement. A disease caused by parasitic worms, onchocerciasis causes incessant, unbearable itching, unsightly skin lesions, and, eventually, blindness, usually around 30 years of age. Benton organized the donor community, mobilized the funding, and chaired the interagency steering committee that managed operations for the two Bank/WHO-sponsored programs. Those programs have largely eliminated the disease throughout Africa, protected hundreds of millions of at-risk Africans, and prevented an estimated five million cases of blindness.
Because of his leadership in these programs, Benton received a Special Presidential Award presented by then World Bank President, James D. Wolfensohn, in 2000—the "high point of my professional career," says Benton.
Benton continued to work on behalf of others after his retirement. He taught global health at Georgetown University, where his instruction focused on community-based approaches to control infectious diseases. He later created and managed the program English Now! to teach content-based English to non-native English-speaking professionals. "Subjects included economics, health, international relations and development," says Benton, "and my students were visiting scholars and employees of organizations like the National Institutes of Health, the IMF, and the Pan-American Health Organization, among others."
In 2014, Benton began writing a book about the onchocerciasis programs he had led and the best practices in disease control he had learned. The book, Riverblindness in Africa: Taming the Lion's Stare, was published in December, 2020 (Johns Hopkins University Press), the same year Benton and his wife, Patricia, moved permanently to Orcas Island, northwest of Seattle in Puget Sound. There he continues to help make the world more livable for all. He set up Island Rides, an emissions-free ride sharing program for Islanders unable to drive. "We have 15 volunteer drivers and two electric vehicles," says Benton. "Between free rides and food and prescription medicine deliveries, we average 4,000 trips a year."
To advance transition to electric vehicles, Benton is working to increase the number of publicly available electric vehicle charging stations on the island. "Fossil fuel emissions increase ocean acidification," he says, "which is adversely affecting Western Washington's substantial shellfish industry."
When Benton came to Kalamazoo College, its K-Plan was a nascent experiment. That explains, in part, his receptivity to new things that change lives for the better. "It's been the focus of my life, and I'll always be grateful to K for that."
Harold Decker '67
The two words that best capture the reason Harold Decker chose K: innovative; experiential.
One example: Decker's interest in municipal government led him to major in political science. Elton Ham, then chair of the College's political science department, had created the Bureau of Municipal Research, which trained students in local government by giving them the opportunity to complete projects for the City Manager in Kalamazoo.
"I spent my career service quarter working at the research bureau in City Hall," says Decker. "That kind of innovative, experiential form of learning was the most stimulating part of my undergraduate education, and it set K apart from any other school I visited."
The intimacy of a small school made a huge educational difference as well. "The closest and most lasting relationship I had with a member of the faculty was with Rolla Anderson, athletic director and head football coach, who recruited me to attend K," says Decker. (Decker, by the way, earned seven letters in three sports, an achievement that distinguishes him as one of the greatest Hornet athletes in K history. He remains the only player in K's history to be drafted by an NFL team.) "All of the members of the political science department had a positive impact on my education." Those professors included Wen Chao Chen and Donald Flesche.
The College's commitment to the liberal arts led Decker to some wonderful encounters outside his major. "I took a course in classical literature from Peter Kapsalis, a visiting professor who clearly enjoyed teaching ancient literature to undergrads," says Decker. "He had a mastery of the texts, history, and geography, enhanced by his deep emotional attachment to the subject. Sadly, Professor Kapsalis died alone in his rented room off campus midway through the course. I remember him fondly and often."
Decker studied abroad in Muenster, Germany; for his Senior Individualized Project, he explored the economic, social, and political issues germane to the proposed 1980 master plan for the redevelopment of downtown Kalamazoo.
In March 1967, shortly before his June graduation, Decker was drafted by the NFL's Houston Oilers (today's Tennessee Titans). Though he trained with the team, that adventure was cut short by a different kind of draft. Harold entered the U.S. Army and served with distinction in Vietnam. His awards for service include, among others, Combat Infantry Badge, Bronze Star, Air Medal, Army Commendation Medal, and American Spirit Honor Medal.
After his honorable discharge, Harold earned a law degree (Southwestern Law School, Los Angeles, Calif.). He spent most of his legal career with The Upjohn Company, serving as the international pharmaceutical corporation's vice president for litigation and product stewardship. His law career also included private practice, teaching, and an appointment as interim president and chief executive officer of the American National Red Cross (Washington, D.C.). He always found time to work pro bono for people in need and to serve as a mentor for numerous students.
His civic involvements are legion. He has been a board member and/or officer for many organizations, including Boys and Girls Club, Kalamazoo Junior Symphony Orchestra, American Bar Association, the Stulberg International String Competition, and, yes, Kalamazoo College.
Two other words capture the heart of Decker's K story: Rosemary Tucker '67. They met in October 1964 ("at the southwest corner of Mandelle Hall") fell in love, married, and raised three accomplished daughters. They had been married 48 years in 2016, the year Rosemary died in an equestrian accident.
Says Harold: "I started at K more passionate about athletics than academics. That changed for many reasons: the support of my parents; the fellowship of learning among gifted faculty, administrators, and fellow students. Above all, because of the profound influence and affection of Rosemary I found an interest in learning, self-improvement, classical music, arts, and history that has led to a remarkably interesting and happy life."
Past Recipients
The name of the honoree is listed alphabetically, followed by class year and the year the award was bestowed.
A
Harold Brainard Allen '21 (1977) #
Harold Byron Allen '24 (1975) •
Ray T. Allen '30 (1990)
Donald T. Anderson '33 (1984)
Hugh V. Anderson '43 (2007) #
Helen W. Appeldoorn '29 (1981)
B
Justin Bacon H'33 (1966)
Marston S. Balch '23 (1975)
Robert S. Barrows, Sr. '42 (1993)
Elinore Hoven Basnett '43 (1997) #
H. Lewis Batts, Jr. ′43 (2001) •
Jean McColl Batts ′43 (2001)
Harold D. Beadle '25 (1980)
Russell J. Becker '44 (2007)
Donald R. Belcher '09, H'44 (1967)
Robert T. Binhammer ′51 (2004)
Betty Hoben Brown '33 (1987)
Earl H. Brown '23 (1976)
Harold W. Brown '24 (1975) •
William Buchanan '14 (1965)
C
I. Carl Candoli '50 (2006) •
George F. Cartland '24 (1980)
Coleman Caryl '14 (1971)
Ruth Scott Chenery '24 (1975) #
Barbara Goodsell Clark ′47 (2007)
Frances O. Clark '28 (1983) •
Orval S. Clay '40 (1992)
Versa V. Cole '27 (1982)
Joyce Kirk Coleman '66 (2018) #
Richard Compans '63 (2021)
Maynard M. Conrad '36 (1995) #
Laurence A. Cook '30 (1990)
John N. Cooper '35 (1988)
Helen Coover '33 (1984) #
Richard B. Crandell '32 (1985)
Alma Smith Crawford '27 (1985) •
William H. Culver '42 (1994 posthumously)
D
Albert L. Deal '37 (1988) #
Rosemary (Luther) DeHoog ′60 (2011)
John M. Dentler '48 (2014)
Karen (Lake) De Vos '59 (2010) #
Robert D. Dewey ′47 (2003) #
Lewis L. Dipple '27 (1979)
Gordon Dolbee ′50 (2005) #
Mildred Doster '30 (1990) •
Donald B. Doubleday '26 (1989)
William C. Drier '40 (1992)
Marion H. Dunsmore '20 (1972)
E
Frances Eldridge '14 (1969)
F
George Ferguson '13 (1973)
Robert F. Finlay '35 (1988)
Elizabeth Stetson Fleugel '17 (1971)
James H. Fowler '56 (2009)
Marlene (Crandell) Francis '58 (2009) #
Elsie Herbold Froeschner '35 (1997) •
G
Harry Garland '68 (2021) •
Ilse Gebhard '62 (2015)
Alfred J. Gemrich '60 (2018) #
Walter A. Good '37 (1996) •
William E. Good '37 (1996) •
Barbara Goodsell Clark '47 (2007)
Agnes Grenell Goss '12 (1967)
Louise L. Goss ′48 (2001)
Leslie F. Greene '35 (1994)
Frederic Groetsema '31, H'53 (1991)
Martha Guse '37 (1989)
H
Mildred Gang Hackney '28 (1988 posthumously)
Charlotte (Hauch) Hall '66
Caroline Richardson Ham ′48 (2005) #
Mildred Tanis Harris '18 (1979)
Lois Stutzman Harvey '29 (1993) #
Ruth Demme Hayes '37 (1996)
Don W. Hayne '32 (1996)
Robert (Red) Heerens ′38 (1999)
Marilyn Hinkle ′44 (1999) #+
Paul S. Hiyama ′49 (2011)
Winfield J. Hollander '28 (1982)
Richard C. Howlett '41 (1995)
Richard Hudson '18 (1973)
Winthrop S. Hudson '33 (1983)
J
Anna Monteith Johnson '15 (1968)
Charles K. Johnson '32, H'50 (1982)
Pauline Byrd Johnson '26 (1977)
Warren C. Johnson '22 (1977)
K
Phillip A. Katzman '27 (1981)
Leland J. Kerman '16 (1974)
Roy G. Klepser '33 (1986)
Ruth Knoll ′58 (2013)
Thomas E. Kreilick '60 (2016)
Edith Kuitert '41 (1998)
Louis C. Kuitert '39 (1997)
Charles J. Kurtz 1894 (1965)
L
Tom Lambert '63
John P. Lambooy '37 (1992)
Louis Levin '29 (1981)
Shirley Payne Low '26 (1984)
M
Jacqueline Buck Mallinson '48 (1998) •
Margaret Hootman Marsh '41 (1995)
Gertrude F. McCulloch '16 (1970)
Jeriene Ward McKee '35 (1991)
Marion (Poller) Meyer ′49 (2013)
Richard Meyerson '49 (2006)
John D. Montgomery ′41 (2001) •
Jane Merson Moore ′40 (2002)
Lansford J. Moore ′40 (2002)
Andrew F. Murch '29 (1987)
N
Carl Norcross '23 (1974)
Peter H. Norg '27 (1983)
Louise Northam ′36 (2005) #
0
Kiyonao Okami '40 (1998)
P
Jane (Hunter) Parker '48 (2010)
Mary Frances Miller Patton '36 (1991)
Clifton W. Perry '22 (1979)
Fern Ball Persons '31 (1987)
Oscar J. Peterson '15 (1969)
Eleanor (Humphrey) Pinkham ′48 (2008) +
Ernest E. Piper '14 (1969)
Robert Poel '62 (2015)
John G. Polzin '47 (2006) #
Jack Price '54 (2009)
R
Ruth Goss Eldridge Ralston '17 (1976)
Charles A. Randall '36 (1991)
Mabel Benson Ratcliffe '13 (1973)
Murray Rice '19 (1972)
Eleanor Currey Rich '19 (1974)
Bess Freeman Rickman '16 (1980)
Gladys Martin Rowland '14 (1970)
S
Curtis W. Sabrosky '31 (1985)
Carl E. Schweitzer '36 (1993)
Chuck Seifert ′55 (2013)
Mildred Welsh Shackleton '15 (1972)
Luel P. Simmons ′42 (1993) #
Marian Wilson Simmons '42 (1993) #
B. Thomas Smith ′55 (2010) #
Gordon V. Smith '28 (1986)
Mary Lou (Schofield) Smith '55 (2010) #
Marian (Hall) Starbuck ′45 (2008) #
Katharine L. Swift ′31 (1998)
Russell T. Snip '40 (1992)
T
Edward "Ned" Thomas '29 (1997)
Betty Shaler Thompson ′41 (1999)
Louis T.E. Thompson '14 (1967)
Royena Hornbeck Tice '26 (1978) #
Dee Tourtellotte '25 (1978)
V
Edward A. VanDyke '42 (1994)
Merrilyn (Cigard) Vaughn-Hoffman '58 (2014)
Charles J. Venema '33 (1994) #
William Venema '59 (2017)
W
Lillian Kroegen Walcott '11 (1971)
William H. Weber ′39 (2003)
Charlotte Rickman Wiedoeft '32 (1989)
Monroe J. Wilcox ′21 (1972)
George W. Williams ′41 (2002)
G. Daniel Wood ′40 (2002)
Helen Cary Everett Wood ′22 (1986)
William P. Woodard ′18 (1968)
Diane Dugas Worden '59 (2016)
Donald T. Worth ′40 (2004)
Y
Eugene G. Yehle ′41 (2003)
Mildred Hoff Yehle ′43 (2003)
Z
Wendell C. Zeluff ′36 (1993)
---
• Received Distinguished Achievement Award
# Received Distinguished Service Award
+ Received Weimer K. Hicks Award