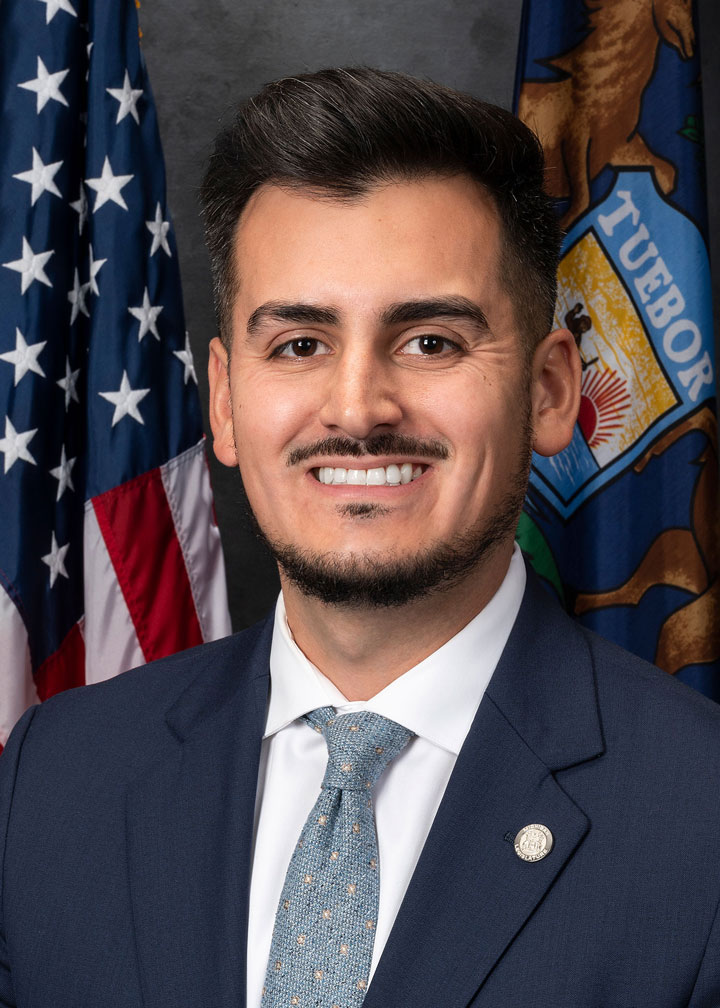 2023 Recipient
Darrin Camilleri '14 is the 2023 recipient of the Young Alumni Award.
Read about Darrin Camilleri
Whoever would have guessed the importance of those red cobblestones on Academy Street?
"I'm a first-generation college student," says Darrin Camilleri, "so going through the application process was daunting and difficult." After visits to the state's big land-grant universities and a few smaller colleges in the Midwest he and his family (his father is an immigrant from Malta, his mother a Mexican American who grew up in Michigan) got the chance to visit K. "The minute we stepped foot on Academy's red bricks I felt this was the right fit," says Darrin. "Study abroad, small classes, and the academic offerings sold it as a 'home away from home.'"
At K Darrin majored in political science; earned a minor English; studied abroad in Quito, Ecuador; interned in the office of U.S. Congressman John D. Dingell; and completed a creative non-fiction writing project for his Senior Individualized Project. "I loved my professors," he says. "So many of them opened my eyes to different parts of the world and pushed my academic boundaries in important ways."
His co-curricular experiences also deeply influenced his eventual career in public service. At K he served as Student Commission president, led the College Democrats, wrote for the student newspaper, conducted college tours for high school students and their families, and worked at the college library's circulation desk.
"One of the most important privileges I had was leading Student Commission and pushing our institution to be the best version of itself," says Darrin. "From local food on campus to changing the ways K invested in and supported students of color, to adding and funding the first-ever, campus-wide antiracism training, we advanced K to a position that was better than when we arrived here.
"K encouraged trying new things," adds Darrin. "And it gave me leadership experience at a young age. I would not be where I am today if I hadn't had that chance to grow so quickly as a student."
Today Darrin serves as a Michigan State Senator (District Four) and Assistant Senate Majority Leader after three successful terms in the State House of Representatives. District Four spans 17 communities across Downriver and western Wayne County. Darrin is an outspoken progressive voice on labor issues and, as a former teacher, is involved in legislative efforts to improve the educational outcomes of Michigan students. He has been recognized as Progress Michigan's Legislator of the Year (2017), the Michigan Association for Media in Education Outstanding Legislator (2018), and the Michigan Economic Developers Association Economic Development Champion (2020). He has served as advisory board chair for the Progressive Turnout Project Fellows and the vice-chair of the Michigan Latino Legislative Caucus.
Darrin lives in Trenton and enjoys playing basketball, bowling, reading, traveling, and spending time with his family and fiancé, Larna.
About the Young Alumni Award
The Young Alumni Award is awarded to graduates of Kalamazoo College within 15 years of their graduation year, on the basis of outstanding achievement, personal growth in career or outstanding professional, civic, and cultural service in ways that positively reflect on Kalamazoo College.
Award Nominations
If you know someone like this, please nominate them today!
---
Past Recipients
The name of the honoree is listed alphabetically, followed by class year and the year the award was bestowed.
C
Esperanza Cantu '11 (2022)
D
Christine Dragisic '99 (2014)
G
Elizabeth Garlow '07 (2015)
L
Lisa Ludwinski '06 (2021)
M
Jeffrey M. Marinucci '00 (2013)
R
Peter Rothstein '14 (2019)
S
Eli Savit '05 (2018)
W
Samantha Weaver '08 (2016)
Y
Steven Yeun ′05 (2017)