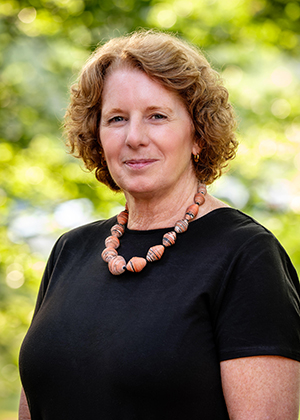 2023 Recipient
Melanie Williams is the 2023 recipient of the Weimer K. Hicks Award.
When Ed Menta came to Kalamazoo College (1986) there were almost no regularly produced student-directed or student-written plays. He changed that situation by creating the Senior Performance Series and the Student Playwright Staged Reading Series.
Because of the former, K students directed as many as six plays each year for more than 25 years in the Dungeon Theatre. Under the auspices of the latter, students produced more than 40 plays that they, or fellow K students, had written. "And many of those plays," says Menta, "went on to be further developed and produced in other programs and festivals."
In addition to expanding opportunities for K students to engage in theatre, Menta directed and/or produced more than 100 plays for Festival Playhouse of Kalamazoo College. His favorites include The Tooth of Crime (Sam Shepard), A Dream Play (August Strindberg), Vinegar Tom (Caryl Churchill), The Cherry Orchard (Anton Chekhov), and "Master Harold"…and the boys (Athol Fugard). Three of Menta's Festival Playhouse productions were selected for the American College Theatre Festival Regional Competition—Joe Hill (Bryan Zocher), Alison Shields (by K alumnus Joe Tracz '04), and Fun Home (by K alumna Lisa Kron '83).
Menta created and produced the Festival Playhouse Diversity Guest Artist Series, which provided, at no charge, culturally diverse art to the greater Kalamazoo community. Guest artists included Nobel Prize Laureate Wole Soyinka; Kron and fellow performance artists Holly Hughes '78, Guillermo Gómez-Peña, and Jose Torres Tama; improv troupes Stir Friday Night and Improv Olympic; and Obie award winners Oni Faida Lampley and Daniel Beaty.
As befits a college dedicated to study and learning abroad, Menta arranged the staging of two productions overseas. In 2012, Kahani, a devised piece based on a contemporary Indian novel, performed at the College's study abroad center in Varanasi, India. Lisa Kron's Broadway hit, Well, performed at the Muestra Internacional de Teatro Universitario 2008 in Caceres, Spain.
Menta earned a B.A. in theatre (Southern Connecticut State University, 1978), a M.F.A. in directing (University of Connecticut, 1981), and a Ph.D. in theatre (Michigan State University, 1992). His book, The Magic World Behind the Curtain: Andrei Serban in the American Theatre, was a Choice Outstanding Academic Book. He has published in Theatre Topics, Theatre Research International, and The Baseball Research Journal. Menta has worked to bring plays to community members whose interest and experience in theatre vary widely. He is a founding member of Theatre Kalamazoo, the consortium of theatres in Kalamazoo County, and co-directed its New Play Festival from 2010 to 2015. He also created and produced High School Drama Day, which offered a variety of theatre experiences to Michigan high school students. A true devotee to the liberal arts, Menta is a guitarist/singer/songwriter with the blues band, BlueBack. (The band recently released its first CD and will perform a concert on October 21 at 4:30 p.m. in the Nelda K. Balch Playhouse.)
Menta received the College's LuxEsto Award (2018), Outstanding Academic Adviser Award (2006), and Lucasse Fellowship for Scholarship and Creative Work (2000). "My 32 years at K gave me the opportunity teach and learn from smart students," says Menta. "I grew up at K—as a teacher, an artist, and a citizen of the world, thanks to the people who surrounded me."
About the Weimer K. Hicks Award
The Weimer K. Hicks Award honors a current or retired employee of the College who has provided long-term support to the College programs or activities beyond the call of duty, or who has provided excellent service in the performance of his or her job, making a significant contribution to the College in ways that have advanced the goals of the Alumni Association. This award is typically given to an employee upon retirement or conclusion of a specific period of special service.
If you know someone like this, please nominate them today!
Past Recipients
The name of the honoree is listed alphabetically, followed by class year (if applicable) and the year the award was bestowed.
A
George Acker (1999)
Rolla L. Anderson (1997)
Marigene Arnold (2008)
B
David Barclay (2018)
Laurence N. Barrett (1997)
Tom Breznau (2014)
C
Wen Chao Chen (1994) #
Ruth L. Collins (1996)
C. Kim Cummings (2010)
D
Al DeSimone (2021)
F
Billie Fischer (2009)
Donald C. Flesche (2001) #
Joe Fugate (1998)
G
Gail Griffin (2017)
H
Conrad Hilberry (2005)
Marilyn Hinkle '44 (1995) # ^
L
Marilyn LaPlante (2004)
Letitia Loveless (2002)
M
Paul Manstrom (2015)
John R. McFarland (1994)
Ed Menta (2022)
N
George M. Nielsen (1995)
O
Paul Olexia (2007)
Sally Olexia (2007)
P
Bernard S. Palchick (2006)
Romeo Phillips (2003)
Eleanor Humphrey Pinkham '48 (1993) ^
Thomas M. Ponto (2011)
Marcia Price (2000)
S
Joellen L. Silberman (2013)
T. Jefferson Smith (1993)
Paul Sotherland (2016)
Richard T. Stavig (1993)
Kathryn N. Stratton (1993)
T
Babette Trader (2002)
V
Jim VanSweden '73 (2019)
W
John Wickstrom (2012)
Z
Ruth Ziegelmaier (1994)
# Received Distinguished Service Award
^ Received Citation of Merit Award