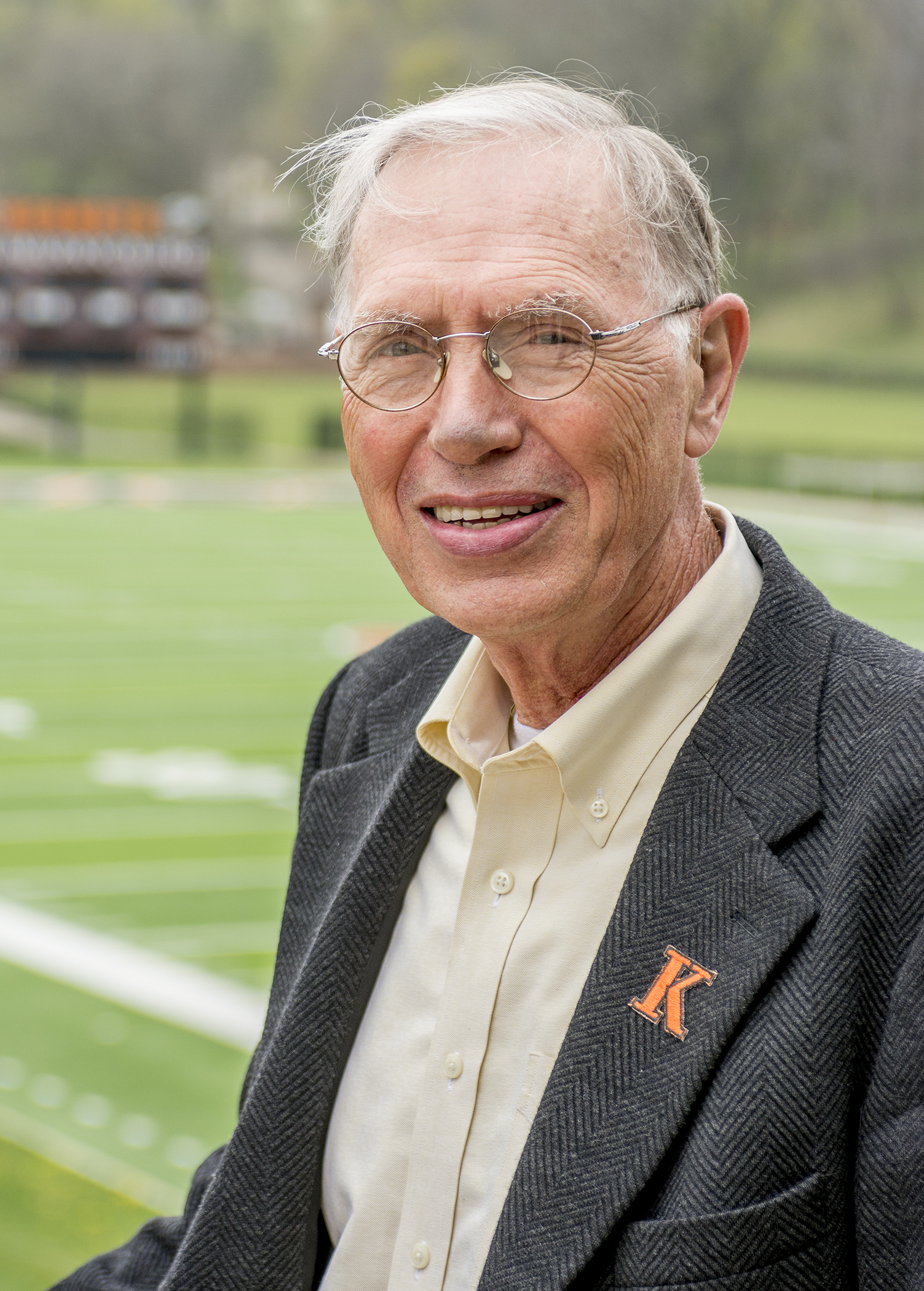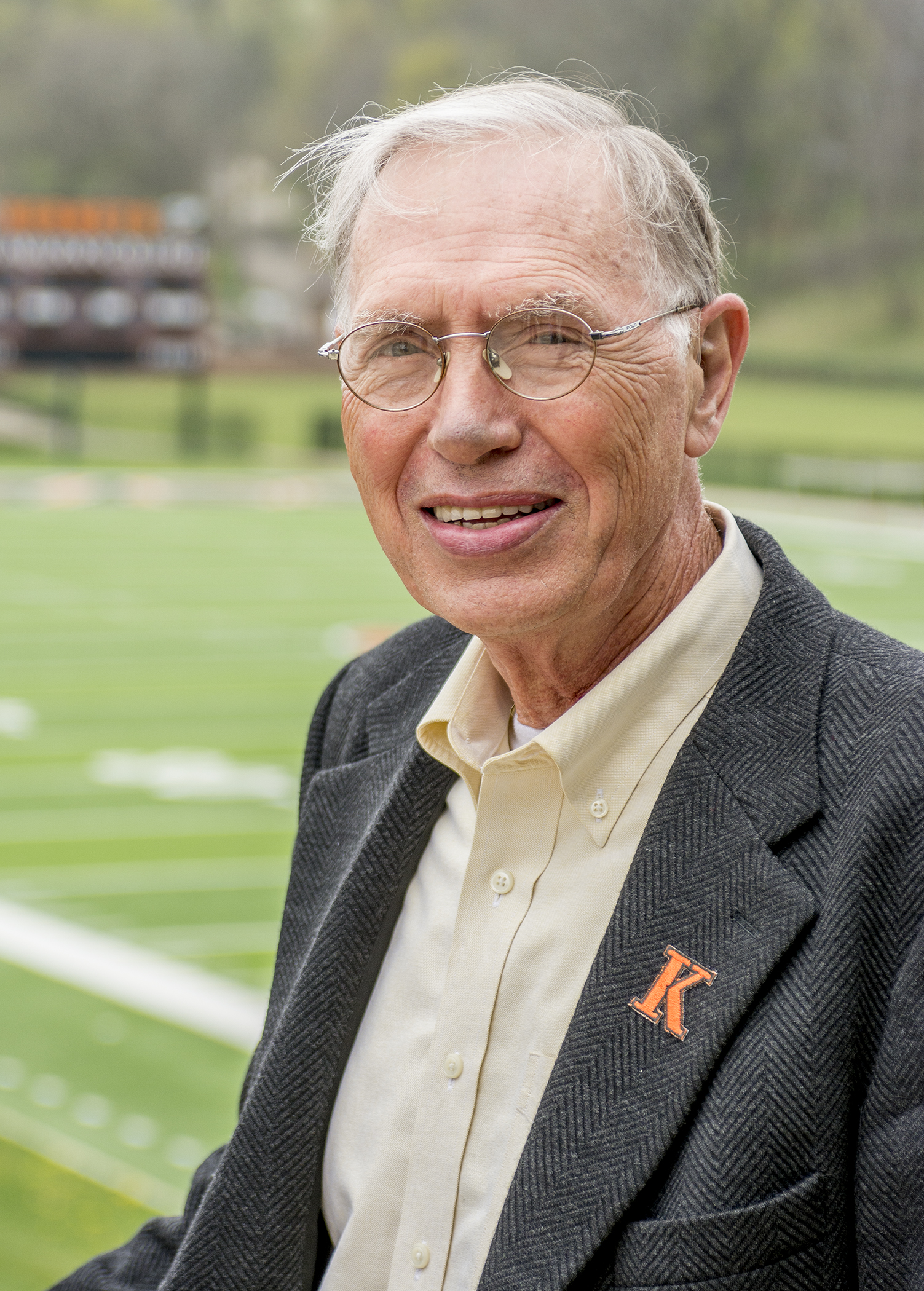 2023 Recipient
Don Schneider '63 is the recipient of the 2023 Distinguished Service Award.
K was legendary to Muskegon High Schooler Don Schneider. MHS alums at K likened it to "the Oxford of the Midwest."
"My heart was always set on K," Don says, though he knew the financial costs would challenge his working-class parents considerably.
Famed writer James Baldwin sat in on Don's freshman composition class ("the first author I'd ever seen!"), and that summer found him studying in France, part of the first cohort in K's nascent study abroad program.
The College's K-Plan had yet to be formalized, but Don, a biology major, enjoyed both a foreign study experience in Caen and Grenoble and a SIP-like experience in Florida. "Professor of Biology Lewis Batts recruited five of us to work on a goldfinch migratory study," says Don. The group drove to the Everglades, camped in the national park, set up mist nets to capture birds, banded and released them.
"We banded a lot of birds the first week," says Don, "but they weren't goldfinches."
"No problem," said the park ranger the night before we had to break camp. He had a pet canary whose songs attracted plenty. Sure enough, when Don and his colleagues set their nets around the ranger's trailer, they captured and banded 80 goldfinches in just a couple of hours. "However, we never found a single banded bird in Michigan," reported Don.
Another K memory was cross-country coach Swede Thomas's "Soo-to-Kazoo in 62" week-long, pre-season training run from the Soo Locks to K's quad. The team split each day's distance into two-person legs of two to four miles. "We carried a baton and visited as many of our hometowns as possible," Don says. Muskegon included! Don loved the experience so much that 50 years later he and wife Jean, both avid bicyclists, cycled 300 miles of the 345-mile route, concluding on K's quad.
A fond memory honors Professor of Biology Frances Diebold. Don says, "In her botany class I asked so many mechanistic questions that she suggested a summer research program at Michigan State that changed my focus from field biology to molecular research. I earned my Ph.D. in biochemistry at MSU, did productive postdoc training before becoming a professor."
Don taught and did research for 17 years at the University of Massachusetts in Amherst and the Dartmouth College School of Medicine in Hanover, NH. He then worked for 32 years at the National Institutes of Health, organizing the vital peer reviews of research grant applications.
Given the importance of K in his life journey, his service comes as no surprise. He has served as Class Agent (23 years), Alumni Association Engagement Board member (nine years), and Emeriti Club Leadership Council member (four years). He and Jean established the Len and Hilma Schneider Scholarship to provide needs-based aid for students interested in the sciences. It honors Don's parents, who worked so hard at multiple jobs to make his K dream a reality.
About the Distinguished Service Award
The Distinguished Service Award recognizes individuals who have made exceptional personal contributions to the College. Alumni and friends of the College are eligible to receive this award. Candidates shall have performed effectively in voluntary or elected leadership positions for the Alumni Association and/or College.
If you know someone like this, please nominate them today!
---
Past Recipients
The name of the honoree is listed alphabetically, followed by class year (if applicable) and the year the award was bestowed.
A
Harold B. Allen '21 (1983) ^
Hugh V. Anderson '43 (1976) ^
B
Larry B. Barrett '64 (1988)
Elinore Hoven Basnett '43 (1982) ^
Marie S. Burbidge (1989)
C
Phil Carra '69 (2017)
Stanley J. Chalmers '51 (1984)
Wen Chao Chen (1990) +
Ruth Scott Chenery '24 (1978) ^
Joyce Kirk Coleman '66 (1996) ^
Gene R. Conrad (1987)
Maynard M. Conrad '36 (1979) ^
Helen I. Coover '33 (1985) ^
Joan Story Copeland '56 (1995)
Robert L. Copeland '55 (1995)
Amy Courter '83 (2008)
D
Cara Marker Daily ′96 (2015)
Albert Deal '37 (1999) ^
Karen DeVos '59 (2004) ^
Eleanor Hootman Dewey '45 (1987)
Robert D. Dewey '47 (1987) ^
Mary Joslin Discher '50 (1991)
Gordon L. Dolbee '50 (1991) ^
E
David Easterbrook ′69 (2012)
F
F. Conrad Fischer (2011)
Donald C. Flesche (1991) +
Samuel Folz '47 (1987)
Marlene Crandell Francis '58 (1976) ^
Richard K. Francois '69 (2003)
Susan (Kilborn) Francois '68 (2003)
Joe Fugate (2022) +
G
Charles E. Garrett, Jr. '42 (1988)
Alfred J. Gemrich '60 (1980) ^
Edwin G. Gemrich '26 (1980)
Rick Gianino '78 (2018)
H
Amy Mantel Hale '66 (2006)
Richard L. Halpert ′69 (2013)
Caroline Richardson Ham '48 (1988) ^
I. Frank Harlow '39 (1982)
Lois Stutzman Harvey '29 (1977) ^
Marilyn Hinkle '44 (1979) + ^
John Honell '66 (2002)
Marian Monteith Hudson '18 (1975)
Joanne Lent Hyames '60 (1983)
I
Jane Schaafsman Iannelli '58 (1981)
James H. Ingersoll (1993)
J
Ven Johnson '83 (2009)
K
David Kessler '70 (2005)
L
Thomas W. Lambert '63 (1985)
William J. Lawrence, Jr. '41 (1988)
E. Turner Lewis '63 (2016)
Kay Lewis '65 (2016)
Delbert D. Long '34 (1987)
John W. "Jack" Lundeen '69 (2007)
M
David R. Markin (1997)
Elizabeth Upjohn Mason (1979)
Ralph W. McKee '34 (1985) •
Gary L. Miller '61 (1992)
James W. Morrell '53 (1990)
Jon R. Muth '67 (1991)
N
West Nelson '81 (2019)
Louise Barrows Northam '36 (1994) ^
P
Preston S. Parish (1998)
James H. Pinkham '48 (1984)
John G. Polzin '47 (2014) ^
Burke E. Porter (1993)
R
Jane Meyer Rapley '37 (1983)
W. Harry Rapley '38 (1983)
Jim Robideau '76 (2021)
Marshall H. Rutz '34 (1982)
S
Marion Johnston Schmiege '45 (1984)
Luel P. Simmons, Jr. '42 (1977) ^
Marian Wilson Simmons '42 (1977) ^
Stuart H. Simpson (1985)
B. Thomas Smith, Jr '55 (2001) ^
Mary Lou Schofield Smith '55 (2001) ^
Charles E. Starbuck '48 (1982)
Marian Hall Starbuck '45 (1982) ^
Virginia Johnson Stone '47 (1978)
Jon Stryker '82 (2010)
T
Betty Heystek Thompson '44 (1985)
Edward P. Thompson '43 (1985)
Royena Hornbeck Tice '26 (1993) ^
Paul H. Todd, Jr. '42 (1992)
V
Charles J. Venema '33 (1980) ^
W
Richard A. Walker '41 (1981)
Marilyn Barton Wilhelm '39 (1975)
J. Rodney Wilson '60 (1989)
Mary K. Woolever '70 (2000)
Y
Nancy Southard Young '67 (1975)
---
• Received Distinguished Achievement Award
+ Received Weimer K. Hicks Award
^ Received Citation of Merit Award