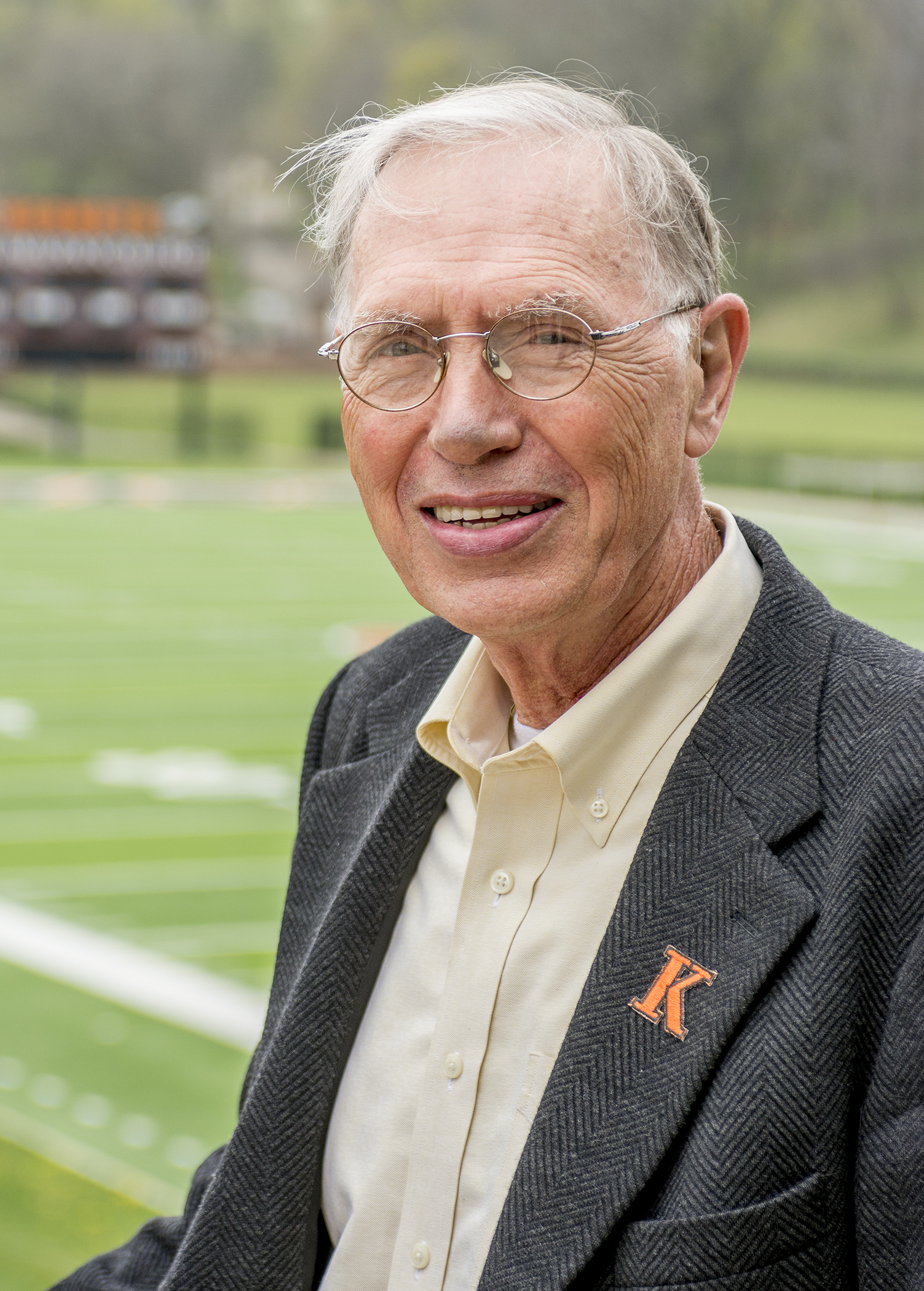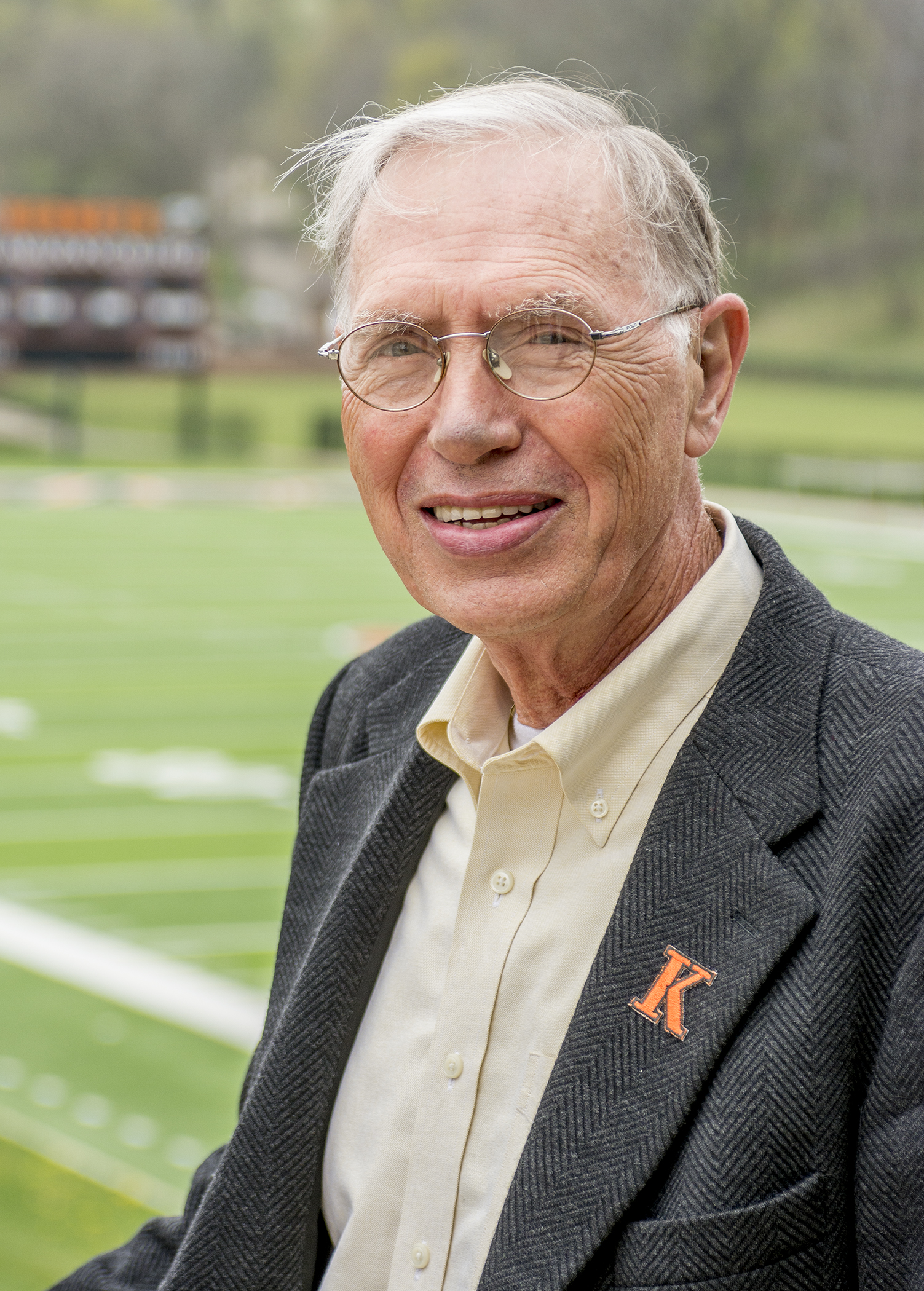 2023 Recipient
Don Schneider '63 is the recipient of the 2023 Distinguished Service Award.
If there was a "Wide World of K Award," or "Institutional Seat of Memory" (a.k.a. "The Hippocampus Chair"), then surely Joe Fugate would be a top contender.
"Since my family became established in Kalamazoo in 1961," he says, "the College has been the center of our lives.
"Most of our friends have come from the College community. Since 1967 we have lived in the same house one block from the campus. Our neighbors were predominantly members of the College community—the Chens, the Jeff Smiths, Claire Myers, Marigene Arnold, and the Boards, among others. Our children grew up with other faculty children, and our daughter, Erika, is an alum.
"At various times K students lived with us. We have corresponded extensively with students from our earliest K days. Just recently we met virtually with eight of the members of the Class of 1965 who were with us in Bonn in 1963/64.
"I also maintain a clearing house of information about retired faculty and staff and College happenings. Sadly, as we grow older together, these numbers shrink. Hardly a week goes by that we do not take note of the passing of a member of the community."
Fugate was born on Halloween in 1931 and was reared in East St. Louis, Ill. He graduated from Southern Illinois University and did his graduate study in German at Princeton University. Between undergraduate and graduate school, he worked as an interpreter and translator in the U.S. Army in Germany.
In 1961 he was appointed assistant professor of German at Kalamazoo College, where he remained until his retirement, if it can be said that he ever retired.
Says Fugate: "I consider the impact I had on many of my students and my continued relationship with them my greatest service."
During his K years he was active in various professional circles, including the Modern Language Association (MLA), the American Association of Teachers of German, NAFSA: Association of International Educators, the Council on International Educational Exchange, and others. In these organizations, Fugate made many friends and contacts, "and I have cherished these relationships."
Fugate was a frequent reviewer of books (German and English), a prolific presenter of papers, and author of many articles. He wrote one book and retired as the longest serving field bibliographer for the MLA International Bibliography.
His many honors include, among others: Southern Illinois University Honors Society; Woodrow Wilson Fellow; Honorary Fellow of the Institute for American Universities, Aix-en-Provence, France; Honorary Member of Phi Beta Kappa; Verdienstkreuz erster Klasse, Federal Republic of Germany; Ordre Palmes Academique, France; and Grande Medaille de la Ville de Caen, France.
Fugate and his wife Louise married in 1953. They have three children, 10 grandchildren, and eight great-grandchildren. "I owe my family, and especially Louise, a special debt of gratitude," says Fugate. "They carried on during my frequent overseas absences when I directed the College's foreign study program."
Though retired, Fugate finds himself quite busy. "I continue to do things for the College; I'm on my computer daily with correspondence and inquiries; I still do translations. Never a dull moment."
About the Distinguished Service Award
The Distinguished Service Award recognizes individuals who have made exceptional personal contributions to the College. Alumni and friends of the College are eligible to receive this award. Candidates shall have performed effectively in voluntary or elected leadership positions for the Alumni Association and/or College.
If you know someone like this, please nominate them today!
---
Past Recipients
The name of the honoree is listed alphabetically, followed by class year (if applicable) and the year the award was bestowed.
A
Harold B. Allen '21 (1983) ^
Hugh V. Anderson '43 (1976) ^
B
Larry B. Barrett '64 (1988)
Elinore Hoven Basnett '43 (1982) ^
Marie S. Burbidge (1989)
C
Phil Carra '69 (2017)
Stanley J. Chalmers '51 (1984)
Wen Chao Chen (1990) +
Ruth Scott Chenery '24 (1978) ^
Joyce Kirk Coleman '66 (1996) ^
Gene R. Conrad (1987)
Maynard M. Conrad '36 (1979) ^
Helen I. Coover '33 (1985) ^
Joan Story Copeland '56 (1995)
Robert L. Copeland '55 (1995)
Amy Courter '83 (2008)
D
Cara Marker Daily ′96 (2015)
Albert Deal '37 (1999) ^
Karen DeVos '59 (2004) ^
Eleanor Hootman Dewey '45 (1987)
Robert D. Dewey '47 (1987) ^
Mary Joslin Discher '50 (1991)
Gordon L. Dolbee '50 (1991) ^
E
David Easterbrook ′69 (2012)
F
F. Conrad Fischer (2011)
Donald C. Flesche (1991) +
Samuel Folz '47 (1987)
Marlene Crandell Francis '58 (1976) ^
Richard K. Francois '69 (2003)
Susan (Kilborn) Francois '68 (2003)
Joe Fugate (2022) +
G
Charles E. Garrett, Jr. '42 (1988)
Alfred J. Gemrich '60 (1980) ^
Edwin G. Gemrich '26 (1980)
Rick Gianino '78 (2018)
H
Amy Mantel Hale '66 (2006)
Richard L. Halpert ′69 (2013)
Caroline Richardson Ham '48 (1988) ^
I. Frank Harlow '39 (1982)
Lois Stutzman Harvey '29 (1977) ^
Marilyn Hinkle '44 (1979) + ^
John Honell '66 (2002)
Marian Monteith Hudson '18 (1975)
Joanne Lent Hyames '60 (1983)
I
Jane Schaafsman Iannelli '58 (1981)
James H. Ingersoll (1993)
J
Ven Johnson '83 (2009)
K
David Kessler '70 (2005)
L
Thomas W. Lambert '63 (1985)
William J. Lawrence, Jr. '41 (1988)
E. Turner Lewis '63 (2016)
Kay Lewis '65 (2016)
Delbert D. Long '34 (1987)
John W. "Jack" Lundeen '69 (2007)
M
David R. Markin (1997)
Elizabeth Upjohn Mason (1979)
Ralph W. McKee '34 (1985) •
Gary L. Miller '61 (1992)
James W. Morrell '53 (1990)
Jon R. Muth '67 (1991)
N
West Nelson '81 (2019)
Louise Barrows Northam '36 (1994) ^
P
Preston S. Parish (1998)
James H. Pinkham '48 (1984)
John G. Polzin '47 (2014) ^
Burke E. Porter (1993)
R
Jane Meyer Rapley '37 (1983)
W. Harry Rapley '38 (1983)
Jim Robideau '76 (2021)
Marshall H. Rutz '34 (1982)
S
Marion Johnston Schmiege '45 (1984)
Luel P. Simmons, Jr. '42 (1977) ^
Marian Wilson Simmons '42 (1977) ^
Stuart H. Simpson (1985)
B. Thomas Smith, Jr '55 (2001) ^
Mary Lou Schofield Smith '55 (2001) ^
Charles E. Starbuck '48 (1982)
Marian Hall Starbuck '45 (1982) ^
Virginia Johnson Stone '47 (1978)
Jon Stryker '82 (2010)
T
Betty Heystek Thompson '44 (1985)
Edward P. Thompson '43 (1985)
Royena Hornbeck Tice '26 (1993) ^
Paul H. Todd, Jr. '42 (1992)
V
Charles J. Venema '33 (1980) ^
W
Richard A. Walker '41 (1981)
Marilyn Barton Wilhelm '39 (1975)
J. Rodney Wilson '60 (1989)
Mary K. Woolever '70 (2000)
Y
Nancy Southard Young '67 (1975)
---
• Received Distinguished Achievement Award
+ Received Weimer K. Hicks Award
^ Received Citation of Merit Award