The Kalamazoo College Student Health Center is staffed by dedicated healthcare professionals who are committed to serving the students' healthcare needs. The Center provides a variety of services at minimal or no cost:
diagnosis and treatment of illness and injury,
travel consultation and immunizations,
contraceptive counseling and prescribing,
diagnostic testing,
referrals to an excellent network of outside medical care centers and specialist physicians.
In an effort to ensure all students have access to healthcare, Kalamazoo College requires students to carry adequate health insurance. The Student Health Center only directly bills the college health insurance and it will supply invoices for submission to other insurance plans.
Kalamazoo College believes the entire college community is best served when every student is immunized and requires new students to obtain immunizations against vaccine-preventable diseases to ensure the safety of the entire campus. Review our complete Immunization Policy and contact the Student Health Center for more information.
Student Health Center Staff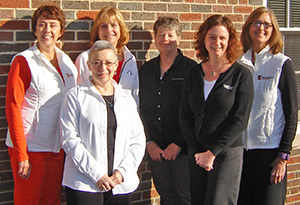 Lisa Ailstock, PA-C, Director of Student Health Services
Jennifer Combes, BA, Health Center Coordinator
Steve Pollens, MD, Medical Director
Deborah Annen-Caruso, RN, Nurse
Jennifer Hill, RN, Nurse
Angela Marazita-Yado, RN
Cindi Anspach, RN
International Travel Clinic
The Travel Clinic at Kalamazoo College Student Health Center offers immunizations for students, faculty, staff, and community members who are planning to travel out of the USA. The Clinic is a State of Michigan Department of Health designated center for yellow fever vaccine. Please call 269-337-7200 to schedule and for prices.
More information available on the Health Center web site