Three Kalamazoo College faculty members from the music, German studies and French studies departments have been awarded tenure along with a promotion to associate professor.
The tenure milestone recognizes excellence in teaching, scholarship and service to the College, and signifies its confidence in the contributions these faculty will make throughout their careers. The Board of Trustees-approved tenure recipients are:
Assistant Professor of Music Chris Ludwa
Ludwa is the director of the College Singers, the Lux Esto Chamber Choir and the Kalamazoo Bach Festival at K, where he is an advocate for a variety of singing methods including contemporary a cappella, musical theatre, opera, oratorio and pop music, especially those connected with justice and equity.
In 2020, Ludwa collaborated with Everett McCorvey, a fellow voice professor from the University of Kentucky; and Rhea Olivaccé, a soprano soloist with an international career and a professor of voice at Western Michigan University; to create Awake! Arise!, a musical dialogue about the lived Black experience, in contrast to what it is perceived to be. The work was a challenge to audiences to acknowledge injustice and change the world, which featured music from Johann Sebastian Bach's 300-year-old cantata Wachet auf, ruft uns die Stimme, and the words of Black artists, activists and authors such as Langston Hughes, Maya Angelou, W.E.B. Du Bois, Martin Luther King Jr., Amanda Gorman and Valyn Turner.
Ludwa previously worked in professional music roles for employers such as the Federated Church of Cleveland, Cuyahoga Community College, the Indianapolis Symphony Orchestra, the Leonard Bernstein-inspired Artful Learning School Reform Model at the GRAMMY Foundation and the International School of Indiana. He holds a Bachelor of Music Education, a Master of Music and a DMA in Conducting and Leadership Studies from Indiana University.
Lucinda Hinsdale Stone Assistant Professor of German Studies Kathryn Sederberg
Sederberg teaches beginning, intermediate and advanced German as well as Contemporary German Culture and senior seminars on varying topics.
In 2021, Sederberg received a national honor, the Goethe‐Institut/American Association of Teachers of German (AATG) Certificate of Merit, for her achievements in furthering the teaching of German in the U.S. through creative activities, innovative curriculum, successful course design and significant contributions to the profession. She was just one of five educators between high schools and colleges from around the country to earn the honor.
In 2022, Sederberg spent a month at the University of London in its Institute of Modern Languages, conducting research through a Miller Fellowship in Exile Studies. In that research, she sifted through thousands of passages from the diaries of Jewish people who migrated away from Nazi territories in the 1930s and 40s. The experience led her to create a sophomore seminar offered this winter, Bearing Witness: Holocaust Literature and Testimony.
Sederberg holds a bachelor's degree from St. Olaf College and a Ph.D. from the University of Michigan.
Assistant Professor of French and Francophone Studies Aurélie Chatton
Chatton pursues teaching and interests in the poetics of globalization inspired by the philosophical concepts of Martinican thinker Edouard Glissant. Her research explores 20th and 21st century theatre and performance as well as the history and aesthetic of French cinema.
She has published articles on contemporary French and francophone artists in literature, cinema and theatre, including Wajdi Mouawad (2021), Aki Kaurismäki (2022) and Bernard-Marie Koltès. She is currently working on a book project in which she shows the shared thinking among a number of interdisciplinary and contemporary artists and the philosophy of Edouard Glissant.
At K, Chatton also designed the first Languages Film Festival, taking place each year.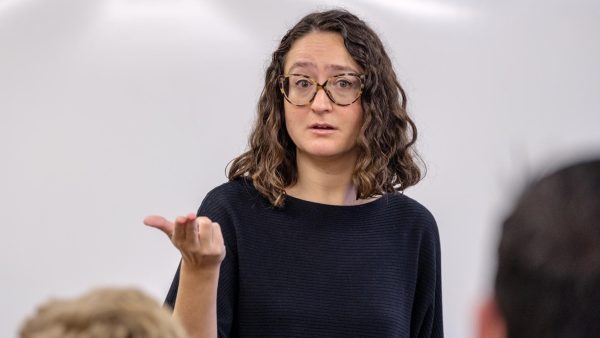 Before coming to K, Chatton taught at Columbia University and New York University, where she developed a variety of classes from elementary language courses to upper-level literature and culture courses.
Chatton received her Ph.D. from the Department of French Literature, Thought and Culture at NYU. She received a teaching certificate from the Graduate School of Arts and Sciences Teaching program at NYU in 2010 and a Blended Learning Award from Columbia in 2015.