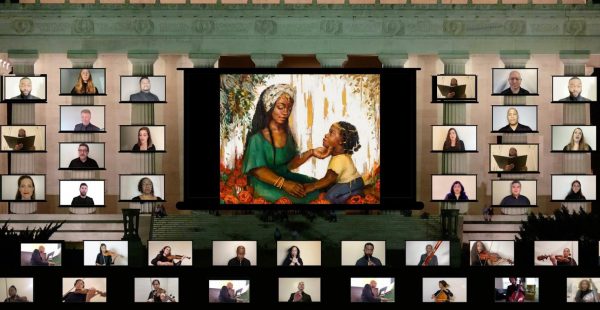 Based on a tune originally written during the plague, "Awake, Arise!" revitalizes a 500-year-old melody with the words of Black authors, activists and artists who breathe new life into the music of Johann Sebastian Bach. The result is a dramatic musical composition calling on audiences to acknowledge injustice and work together to change the world.
Bach's cantata "Wachet auf, ruft uns die Stimme" is a work that would be performed during Advent in preparation for the arrival of Christmas and the birth of Jesus. It premiered in 1731 in Leipzig, and is based on a hymn written by Philipp Nicolai in the wake of the plague in the 16th century. The original text encourages the preparation for Jesus' arrival, encouraging us to "Wake up, as the voice calls to us."
Like many ancient texts, the words of the original cantata refer to prophesies and promises of what is to come: a better life, salvation or freedom. As the world suffers massive death and despair from a pandemic in 2020 and 2021, stark inequities and injustice between people of different races which have always been present are so evident that they cannot nor should not be ignored, and must now be addressed by everyone.
"Just as Bach was known to reset his own music and that of others, it is time to breathe new life into this seminal work, giving it a voice that resounds the call to equity of 2000 years ago and of 60 years ago," said Kalamazoo College Assistant Professor Chris Ludwa, one of the composers behind "Awake, Arise!"  "In reflecting on the countless Christmas hymns and songs that sing of a new day to come, our brothers and sisters of color have waited long enough."
Ludwa collaborated with Everett McCorvey, a fellow voice professor from the University of Kentucky; and Rhea Olivaccé, a soprano soloist with an international career and a professor of voice at Western Michigan University; to use the words of Langston Hughes, Maya Angelou, WEB DuBois, Martin Luther King Jr., Amanda Gorman, Valyn Turner and others in providing a response to these hymns and songs in a dialogue about the Black experience, in contrast to what it is perceived to be.
The result is a new arrangement of Bach's immortal cantata, performed in English, implementing the language of hope from great authors and activists of color. This new work is presented with spoken word artists interspersed between movements, underscoring the urgency of texts we may have failed to read with clear eyes. The world premiere in March 2021 featured a 17-piece orchestra comprised of musicians of color from the United States and the United Kingdom, a diverse body of 20 singers and three internationally acclaimed soloists against the backdrop of the Lincoln Memorial and a multimedia display of visual artists of color.
The premiere of the filmed performance united Olivaccé, tenor Lawrence Brownlee and bass soloist Kyle Ketelsen, along with Concert Master Ilmar Gavilan, spoken-word artists, and a chorus and orchestra of diverse musicians that is now available on YouTube.
The goal is to make this new version of the cantata available to choirs of all kinds that they might become better allies against injustice, a particularly important aspiration given how dominant white culture is in the performing arts world.
"How often have people of color sung these spirituals praying for a fair shot, only to be answered with a gun shot," Ludwa said. "How often have those of us who are white sung the lyrics of these familiar tunes, only to follow it by ignoring the message to 'Wake up, and arise?'"
Watch the April 11 performance on YouTube, and contact Ludwa for more information about the musical composition at cludwa@kzoo.edu or 231-225-8877.