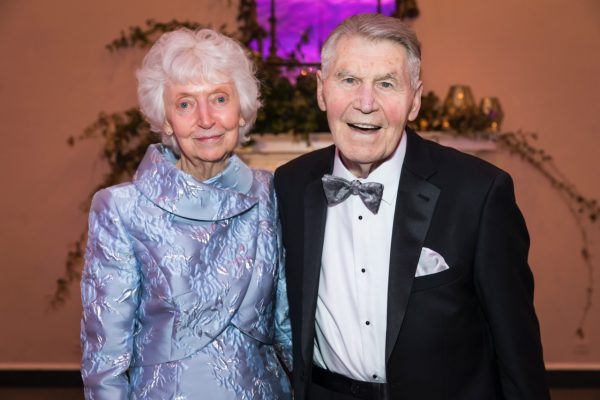 A generous $5 million commitment to Kalamazoo College from emeriti trustees Rosemary and John Brown will create an endowed scholarship fund to help provide access to talented students of all socioeconomic backgrounds. The Browns are active philanthropists, particularly as strong supporters of higher education.
The Rosemary K. and John W. Brown Endowed Scholarship Fund will further the College's strategic plan by assisting future students in achieving their goals through a K education. The Browns have donated to higher-education institutions through scholarships, faculty-chair funding, capital projects and programs within engineering, sciences and mathematics, the performing arts and veterinary medicine including many gifts to K over the years; in particular, they made two large gifts to establish the Rosemary K. Brown Endowed Professorship in Mathematics and Computer Science, showing their generosity to the College. Such efforts nurture future breakthroughs, progress and leadership. One of their favorite quotes is by Nelson Henderson: "The true meaning of life is to plant trees, under whose shade you do not expect to sit."
"We are profoundly grateful to the Browns for their remarkable gift, which opens the doors of our unique institution to students who otherwise might not have this opportunity," Kalamazoo College President Jorge G. Gonzalez said. "A K education is truly life-changing for our students, and we are honored that the Browns have chosen to invest in our mission and our students through both their past service as trustees and their financial support of the College."
Rosemary Brown is a lifelong educator who shared her passion for math with students in East Brunswick, New Jersey, and several schools in Kalamazoo. She earned her bachelor's degree in chemistry from Auburn University and her master's degree in mathematics education from Rutgers University. She received an honorary doctor of laws degree from Freed-Hardeman University, an honorary doctor of science degree from Auburn University, and was presented with the Distinguished Alumni Award from Auburn's College of Science and Math. Rosemary is an emerita trustee of the College, having served on the board from 1998 to 2009. She was also a member of the Kalamazoo College Women's Council.
John Brown is former chairman, president and CEO of Stryker Corporation. He was named Chairman Emeritus of Stryker in 2010. He earned his bachelor's degree in chemical engineering from Auburn University, an honorary doctor of humane letters from Kalamazoo College, an honorary doctor of laws degree from Freed-Hardeman University, and an honorary doctorate in science from Auburn University. John is an emeritus trustee of the College, having served on the board from 1980 to 1995.
Reflecting on their gift, the Browns shared, "Our involvement with Kalamazoo College dates back to the late '70s when we moved to Michigan.  It has been a rewarding experience: getting to know the administrators, the faculty, the students, attending the Boys' tennis tournaments, the concerts, the Kitchen lectures…we are happy to play a role in helping students have the opportunity to become part of the K family."