Thirty students known for their invaluable contributions to the Kalamazoo College community were honored Friday at the 15th annual Senior Leadership Recognition Awards.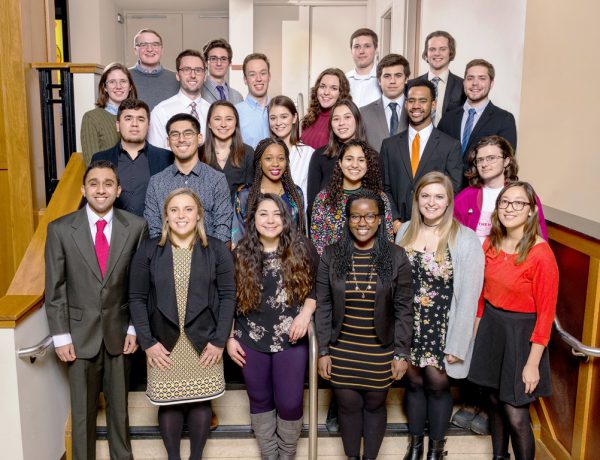 The selection committee, consisting of Associate Deans of Students Karen Joshua-Wathel and Dana Jansma, asked faculty and staff through a letter in December to nominate students, while noting an exemplary nominee isn't necessarily the "team captain" or "organization president."
"The individual may be the person who always seems to have a positive attitude, is consistently involved in helping a group move forward, serves as a continual role model to other students, and who shows dedication, even in times of adversity," the letter said.
The Senior Leadership Recognition Award winners represent talented athletes, outstanding academic performers, members of the President's Student Ambassadors and student-organization standouts.
Here are the honorees along with brief statements from their nominators:
Hayleigh Alamo, nominated by Softball Coach Kelli Duimstra:
"Hayleigh is a third-year softball team captain, which speaks to her natural leadership ability and how much her teammates look up to her. … She is the person who connects every person on our team."
Lauren Arquette, nominated by Assistant Professor of Political Science Justin Berry:
"Lauren is one of the strongest students with whom I've had the opportunity to work."
Max Aulbach, nominated by Assistant Professor of Political Science Justin Berry:
"Max is a very strong and committed student. … The regularity and quality of his contributions to classroom discussions are unmatched."
Jacob Bonifacio, nominated by Men's Lacrosse Coach Vince Redko:
"More than any other player, I can rely on Jake to do the right thing and encourage others to be their best."
Molly Brueger, nominated by Women's Soccer Coach Bryan Goyings and Wen Chao Chen Associate Professor of East Asian Social Sciences Dennis Frost:
"Molly is an exceptional individual excelling in the classroom, on the soccer field and internationally. She is diligent, generous, intelligent, selfless and kind."
Alexander Cadigan, nominated by Computer Science Chair Alyce Brady, Computer Science Associate Professor Pam Cutter and Men's Tennis Coach Mark Riley:
"K is a better place because of Alex's leadership as a [resident assistant], a [teaching assistant] in computer science, and as a mentor."
Tapiwa Chikungwa, nominated by Residential Life Area Coordinator Erika Perry, and Alison Geist, Teresa Denton, Moises Hernandez and Emily Kowey of the Center for Civic Engagement:
"As a third-year [resident assistant], Tapiwa's contributions have been invaluable. … Her authentic servant leadership has been an incredible asset. … As a Civic Engagement Scholar, she brings deeply informed and compassionate perspectives."
Qynce Chumley, nominated by Josh Moon of Information Services:
"The scope of Qynce's mentoring, leadership and initiative is notable, … a distinct example of living an authentic, undaunted existence."
Anthony Diep Rosas, nominated by Dow Distinguished Professor in the Natural Sciences Jan Tobochnik (physics) and Residential Life Area Coordinator Ashley Knapp:
"He uses his position to advocate for those without a voice."
Emma Eisenbeis, nominated by Assistant Dean of Students Brian Dietz:
"Emma's combination of quiet confidence and a genuine desire to help others has enabled her to effectively lead a diverse group of peers as president of [the Kalamazoo College Council of Student Representatives]."
Ian Freshwater, nominated by Assistant Dean of Students Brian Dietz:
"Ian has done fantastic work serving on student government since his first year and has taken on key roles throughout."
Sarah George, nominated by Women's Soccer Coach Bryan Goyings:
"Sarah is an extraordinary individual excelling at K in the classroom, on the soccer field and in the community."
Sharat Kamath, nominated by Chief Information Officer Greg Diment, Kalamazoo College Fund Associate Director Sandy Dugal, and Alison Geist, Teresa Denton, Moises Hernandez and Emily Kowey of the Center for Civic Engagement:
"He works respectfully to build a more accepting, inclusive community."
Sabrina Leddy, nominated by Chemistry Professor Regina Stevens-Truss:
"Sabrina has been a leader/mentor of the [American Chemical Society] student group since her sophomore year."
Joy Lim, nominated by Study Abroad Adviser Alayna Lewis:
"Joy stands out as a leader, from the roles she has held to the manner in which she conducts herself and encourages others."
Nicholas Ludka, nominated by Men's Golf Coach Mitch Wilson:
"Nick is one of the top ambassadors for K and the [Michigan Intercollegiate Athletic Association (MIAA) ]. … He's a two-time co-captain of the golf team and will finish his career as one of the top three Hornet golfers of all time."
Cydney Martell, nominated by Interim Provost Laura Furge:
"A highly gifted scientist. … Simply the best combination possible of compassion, empathy, kindness, ability and intelligence."
Ian McKnight, nominated by Assistant Professor of Political Science Justin Berry, Residential Life Area Coordinator Erika Perry, Assistant Dean of Students Brian Dietz and Kalamazoo College Fund Associate Director Sandy Dugal:
"What makes Ian stand out beyond being a strong student is the degree to which he commits not only to his personal growth, but also the broader community."
Hannah Meyers, nominated by Women's Lacrosse Coach Jessica Smith:
"Hannah is a two-year captain of the lacrosse team and a fantastic leader…she is the first player to offer assistance to younger players on and off the field."
Zachary Morales, nominated by Men's Lacrosse Coach Vince Redko:
"He has been instrumental in launching lacrosse at the College and he was our first All-MIAA selection in program history."
Amanda Moss, nominated by L. Lee Stryker Associate Professor of Business Management Amy MacMillan, Women's Basketball Coach Katie Miller and Women's Lacrosse Coach Jessica Smith:
"Amanda is a dedicated leader in the classroom, on the basketball court, on the lacrosse field, and in the community. … She co-founded Sports Business Club. … She is a tenacious go-getter who sets an example of excellence for other students."
Nkatha Mwenda, nominated by Biology Assistant Professor Anne Engh and Kalamazoo College Fund Associate Director Sandy Dugal:
"She embodies the sort of inclusive, cooperative leadership that we need in the world."
Marco Ponce, nominated by Biology Professor Ann Fraser:
"Marco demonstrates commitment, fortitude and perseverance in all that he does. … He is gifted and the longest serving research assistant I had over my 16 years at the College."
Shivani Rana, nominated by Assistant Dean of Students Brian Dietz:
"Shivani always comes to the table with a positive disposition, a genuine care for others, and a strong desire to make things better."
Cecilia Ringo, nominated by College Chaplain and Director of Religious and Spiritual Life Liz Candido:
"While always acting with integrity, she found ways to encourage others to expand their thinking and learn more about themselves."
Sharif Shaker, nominated by Computer Science Chair Alyce Brady, Computer Science Associate Professor Pam Cutter, Swimming and Diving Coach Jay Daniels and Kalamazoo College Fund Associate Director Sandy Dugal:
"Sharif sets an example of dedicated and self-motivated learning … He is bright and is among the best writers we've ever seen."
Regina Shaw, nominated by Center for Career and Professional Development Assistant Director Jackie Srodes:
"Regina is a professional, thoughtful student leader and our entire career development team appreciates her positive demeanor, facilitation skills, and willingness to represent the department."
Allen Vinson, nominated by Men's Tennis Coach Mark Riley:
"Allen pushes his teammates to do the little things to be outstanding student athletes."
Jordan Wiley, nominated by Baseball Coach Michael Ott and Kalamazoo College Fund Associate Director Sandy Dugal:
"Jordan had flourished and become one of our top academic, athletic and leadership examples we have in the baseball program. … As a President's Student Ambassador, he is gracious and possesses an outstanding attitude."
JayLashay Young, nominated by Assistant Dean of Students Brian Dietz:
"Jay is the epitome of the type of enlightened leaders we hope all K graduates become. … She created the Kalamazoo Dance Team and is a leader in student activities. … She is a unique combination of dedication, perseverance and optimism."