Fortune tellers, wanderers, hobbits and mermaids … meet them all through music when Kalamazoo College presents two public winter concerts this Friday and Saturday in Dalton Theater at Light Fine Arts.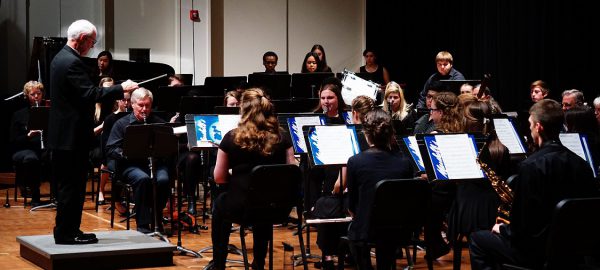 The Academy Street Winds will perform at 8 p.m. Friday, March 1, featuring a theme of "Rogues and Vagabonds."
The Academy Street Winds is a wind ensemble providing a performance outlet for woodwind, brass and percussion students. Community musicians joined the ensemble in winter 2016 to expand the group's sound and capabilities. Conducted by Music Professor Thomas Evans, the group performs one concert each term, playing exciting arrays of challenging band music. The ensemble is a favorite of audiences as the programs are coordinated around diverse themes, which allow for performances of much-loved pieces, both classic and contemporary. Admission is free.
The Kalamazoo Philharmonia, directed by Kalamazoo College Associate Professor of Music Andrew Koehler, will perform at 8 p.m. Saturday, March 2. Tickets to this concert are $5 each for the public, $2 for students and free for Kalamazoo College students who present their College IDs.
This orchestra unites professional and amateur musicians, including Kalamazoo College students and faculty, along with many from the community. The concert is titled "A Tale of Two Cities" and will compare works from Johannes Brahms' "Symphony No. 1" and Alexander Zemlinsky's "The Mermaid." Both composers had ties to Vienna, Austria.
The Kalamazoo Philharmonia won the 2014 American Prize Vytautas Marijosius Memorial Award for Orchestral Programming and has produced several CDs. It also has appeared on CBS Sunday Morning, and collaborated with the Bach Festival Chorus, as well as many renowned soloists. Listen to some of its recorded concerts at our website.
For questions about either of the winter concerts, call 269.337.7070 or email susan.lawrence@kzoo.edu.