Sixteen Kalamazoo College students took advantage of a winter break day to network with professionals — including several K graduates — in the beer-making facilities at Bell's Brewery, named the top-ranked brewery in America in 2018 by the American Homebrewer's Association.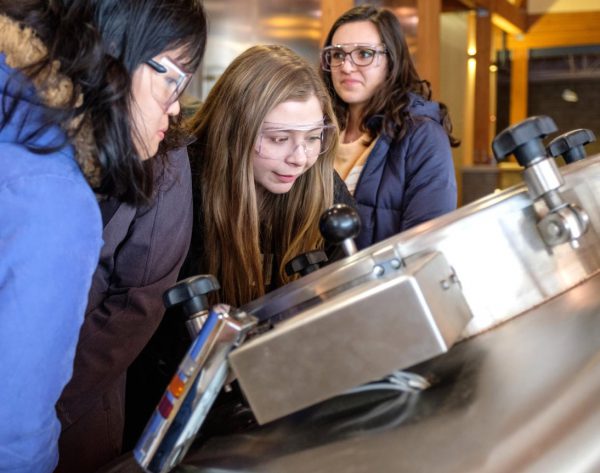 The trip was the latest K-Trek offering from the Center for Career and Professional Development (CCPD), which provides K students with in-person, immersive discussions with leaders in various industries, many of them K alumni.
CCPD Assistant Director Rachel Wood helped plan the event and attended, noting the students asked a panel of Bell's Brewery representatives, including founder and Kalamazoo College alumnus Larry Bell '80, engaging questions about the beer industry and the process of starting a business.
In their responses, panelists gave advice about what they look for in prospective employees, noting the importance of an applicant seeking a work-culture fit rather than just an appealing job description. For example, "at Bell's, you kind of need to appreciate beer, but chances are you will be working in something other than brewing," Wood said. Regardless of the role, "it's important to find a place to work where you can show up and it's not just work."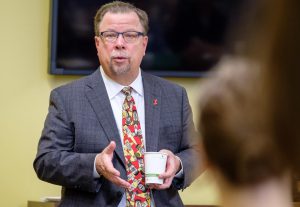 Aside from the founder, the Bell's Brewery panelists included five K alumni from a variety of majors who graduated between 1990 and 2014. All of them noted how well K prepared them for the work force.
"The students hear similar advice from [CCPD] career coaches, but it's always extremely helpful for them to hear it from people in the field," Wood said.
Bell himself discussed having multiple lifelong interests, all of which were nurtured at K through the liberal arts and sciences, including theater.
Bell noted that "he played the character Oberon in a sixth-grade production of Midsummer Night's Dream, and that inspired him to later name a beer Oberon," Wood said. In Bell, "the students saw someone who is living a liberal arts life."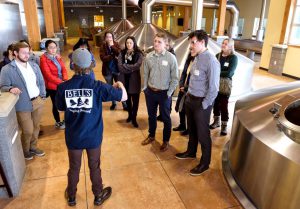 After an hour-long lunch, the K students split into smaller groups where they embarked on brewery tours, allowing them to witness the full process of brewing beer.
"It was nice seeing the full process because anybody attending could've had any level of knowledge of beer making going in," Wood said. "We sampled three different types of barley to see how it could impact flavor, and there were students taking video" to retain what they learned.
According to the Bell's Brewery website, Bell founded the company on Sept. 19, 1985, when he sold his first commercial beer after brewing it in a 15-gallon soup pot. Bell's has had several milestones since, including selling outside Michigan for the first time in 1990, opening Michigan's first on-site brew pub in Kalamazoo in 1993, opening its Comstock brewery in 2003, and expanding the Eccentric Café in 2015. Today, Kalamazoo County is number one in the state of Michigan in the production of craft beer, and Bell's is one of Michigan's most famous brands.
While many K-treks venture out on multi-day experiences in cities such as San Francisco, New York City and Chicago, there are plenty of industries to explore in K's backyard. Along with Bell's, local K-Treks have included trips to Kellogg's in Battle Creek, Stryker in Kalamazoo and Steelcase in Grand Rapids. Wood said other local K-Treks are being planned and students should stay tuned to find out where they will go. Learn more about K-Treks events such as K to Bell's at our website.