The Kalamazoo College Festival Playhouse's 55th season, featuring the theme of Assumption and Confusion, continues this week with the powerful play Student Body.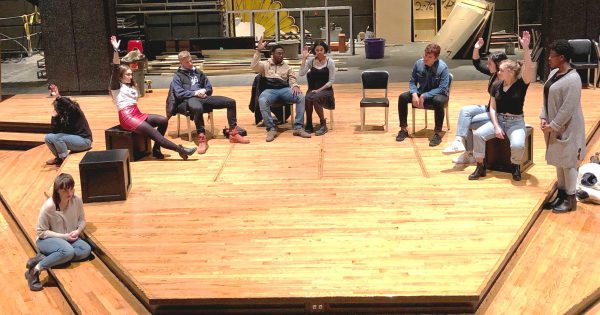 Written by Frank Winters and directed by Visiting Theatre Arts Assistant Professor Bianca Washington, the play approaches complicated ethical questions when a college student wakes up after a party in her parents' house and finds a video on her camera of a sexual encounter. The woman in the video might or might not be unconscious as others watch, leading the 10 characters, consisting of seven women and three men, to debate whether a sexual assault has occurred and who they should tell about it.
"The setting is written to be a university in the middle of nowhere, but the director made a bold decision to place it at K," said Ynika Yuag '21, who noted that some of the characters will wear Kalamazoo College apparel.
In her role as a dramaturg, Yuag is responsible for working with the director on background research and how current events and perspectives might inform or shape the production. "K isn't exactly the middle of nowhere," she said, "but the campus is small enough that we all get to know each other, which really makes [the production] personal. The more I work on it, the more I realize how it fits the theme of Assumption and Confusion."
The performances are scheduled for 7:30 p.m. Thursday, Feb. 21 through Saturday, Feb. 23, with a 2 p.m. showing on Sunday, Feb. 24. Yuag said a lobby display with interactive elements will allow audience members to engage with ideas related to the play through proxy stations before and after the show. Plus, there will be talkback sessions featuring facilitators and cast members after each show. The scheduled facilitators include:
Be advised, there is strong language and a graphic discussion of sexual violence in the show.
Tickets for all four shows at the Nelda K. Balch Playhouse are available by visiting festivalplayhouse.ludus.com or by calling 269.337.7333. Adults are $15, seniors are $10 and students are $5 with an ID. Kalamazoo College students, faculty and staff are admitted free with their College IDs.
Learn more about Student Body at reason.kzoo.edu/festivalplayhouse.