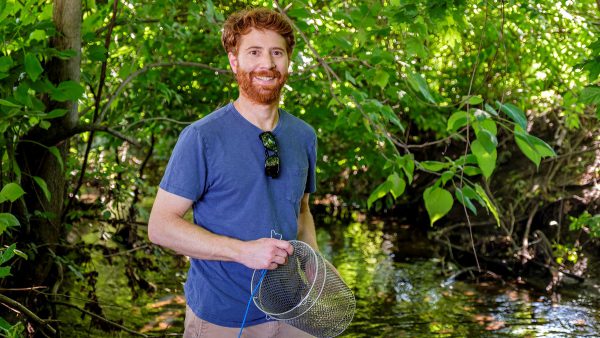 Kalamazoo College faculty members Santiago Salinas and Dwight Williams, from the biology and chemistry departments respectively, have been awarded tenure, recognizing their excellence in teaching, scholarship and service to the College.
The honor signifies the College's confidence in the contributions the professors will make throughout their careers. Their titles have been approved by the Board of Trustees and include promotion to associate professor.
Salinas, the Roger F. and Harriet G. Varney Assistant Professor of Biology, teaches classes such as vertebrate biology and human physiology. His research interests include his work in the K Fish Lab, where he and his student collaborators study the ways fish populations cope with changes in the environment. He was born in Argentina before attending the Lester B. Pearson United World College of the Pacific, earning his bachelor's degree from College of the Atlantic, and receiving a Ph.D. from the School of Marine and Atmospheric Sciences at Stony Brook University.
Salinas then was a post-doc at the University of California-Santa Cruz and the Southwest Fisheries Science Center and was a visiting assistant professor at the University of the Pacific.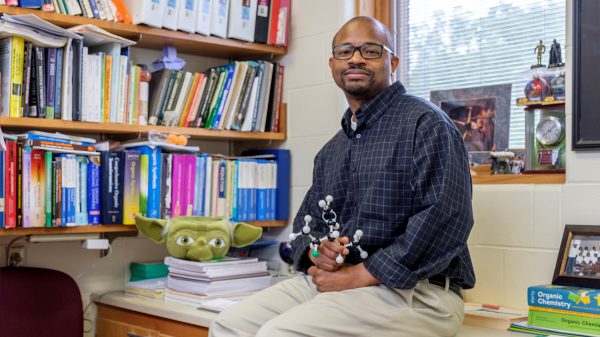 Williams, the Roger F. and Harriet G. Varney Assistant Professor of Chemistry, teaches classes such as organic chemistry at K. He earned a bachelor's degree in chemistry from Coastal Carolina University in 2001 and a Ph.D. in organic chemistry from Virginia Commonwealth University in 2007 while researching immunosensor design.
Williams spent a year as a lecturer at Longwood University before becoming an assistant professor at Lynchburg College. At Lynchburg, he found a passion for the synthesis and structural characterization of natural products as potential neuroprotectants.
Williams learned more about those subjects after accepting a National Institutes of Health postdoctoral research fellowship at the Virginia Commonwealth University Medical College of Virginia Department of Pharmacology and Toxicology. During that fellowship, he worked in medicinal chemistry and pharmacology, where his work was published in six peer-reviewed journals.
In 2019, Williams was awarded a Fellowship for Excellence in Teaching grant from The Woodrow Wilson National Fellowship Foundation and Course Hero.