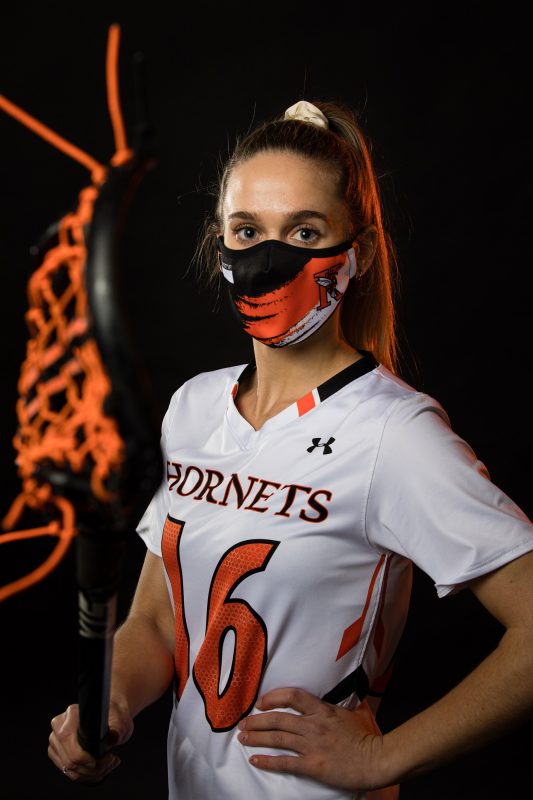 Roommates Leah Tardiff '21 and Rachel Madar '21 felt they lost something important when their Kalamazoo College women's lacrosse season was cut short last spring by COVID-19.
"We identify with being an athlete at K, so having that abruptly taken away was really hard," Tardiff said. "And then not knowing when it would ever come back was really challenging."
All 18 teams across K's athletics programs have been affected by the pandemic in the past year. Team-building opportunities, practices, games and seasons were lost.
Tardiff is also a member of the Student Athletic Advisory Committee (SAAC). As a board member, she was a liaison between the student-athletes and the Athletic Department as athletes grew increasingly frustrated.
"Our Athletic Department's aim is to have students compete, but they did not feel comfortable allowing that to happen given the risk of infection that students would be exposed to," Tardiff said. "It was very hard to be the bridge between athletes and the Athletic Department during that time."
SAAC kept student-athletes engaged with cooking shows featuring coaches and members of the Athletic Department, a website featuring athlete workout videos for Kalamazoo Public Schools students, and sharing letters with senior citizens through their residential facilities.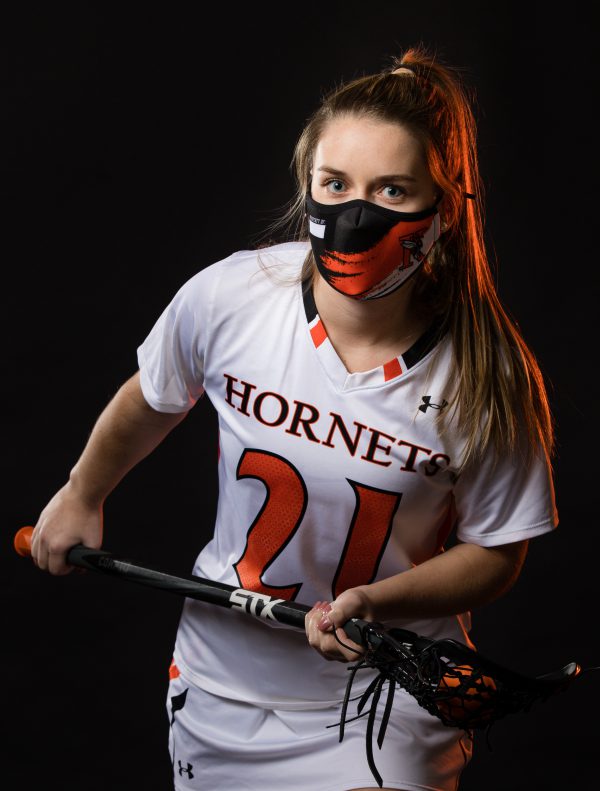 Yet a talented roster of student-athletes in 2020 represented what might've been the best women's lacrosse team K's program had ever fielded. That loss, coupled with losing 2021 season preparations last fall, made being on the sidelines even more difficult.
"It's usually around 16 days of practices in fall ball, so it wasn't the end of the world," Madar said. "Yet it was also hard because fall is when we form relationships with the incoming students, so we were losing more than just practice time. We were losing those relationships and the team chemistry that would carry over."
Regardless, athletics have returned just in time for the Hornets to feature seven seniors, including Tardiff and Madar, and a full slate of games. They believe they are not only competitive, but capable of winning the Michigan Intercollegiate Athletic Association (MIAA) championship for the first time.
"The preseason coaches rankings don't mean anything, but Adrian was ranked ahead of us, and we just beat them 14-3," Tardiff said. "We've always been up there in the standings, but we've never been able to beat Calvin or Hope, a couple of those top-tier teams. This year, when we look at our roster, we think we really have a great chance of winning."
Since the interview, the women's lacrosse team beat Calvin 14-13 in double overtime with Madar scoring the game-winning goal, and defeated Albion 13-9, before losing at St. Mary's, 14-13 in overtime and Trine 15-13, to start the season 3-2. Madar tied her own school record with nine goals in the loss to St. Mary's.
The journey to get athletics restarted was tough for Madar, but unquestionably worth it.
"We've had so many letdowns between lacrosse being shut down in the middle of our season last year, and then having our in-person classes with our favorite professors getting shut down, I was personally a little hesitant because it's hard to fully commit to something when it could be shut down," she said. "There are teams and other leagues that aren't playing again this year. But just getting back on the field, you realize how much you've missed it and how much you love it. It's all worked out well."
Their story is similar to many of those you will hear in the Kalamazoo College Athletics Department this year. Athletes are competing while wearing masks. There are limited spectators in the stands, if any, and athletes need to undergo COVID-19 testing at least three times a week, four times if they're chosen for random testing within the general student population. Yet from the student-athletes all the way to Athletic Director Becky Hall, K Hornets agree: their challenges are happily accepted regardless of the restrictions.
"I have tremendous respect for Becky Hall for carefully laying out plans to protect student-athletes and still make us feel hopeful that our seasons would return for the spring," Tardiff said. "Becky, the athletic trainers, the coaches and the entire Athletic Department have created a safe way for us to compete, despite the immense challenges they faced. I'm very grateful that they've worked so hard to give us this season."
'A New Level of Gratitude'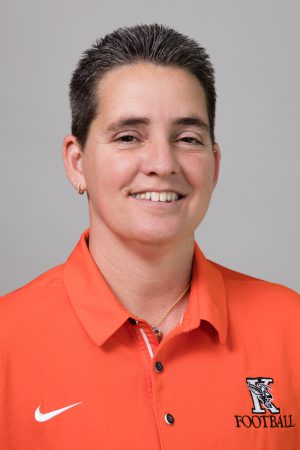 Athletic Director Becky Hall was always confident K was doing the right thing by shutting down athletics in spring and continuing the layover in fall.
"As long as we continue to put the health, safety and well-being of our student-athletes, our coaches and our staff at the forefront of all decision making, then I'm comfortable with the decisions we're making at the end of the day," she said.
Still, Hall was as frustrated as anyone when intercollegiate sports competitions and even practices weren't available, especially considering that about 24 percent of K's students participate in athletics.
"Eight of our sister schools were all doing something, whether they were competing or just getting together in practices with their teams and getting in the gym," Hall said. "We weren't able to do any of that. We couldn't get on the courts, courses and fields at all in the fall term, even when we had such a large percentage of our student-athletes living in the area, so there were a lot of hard feelings."
However, she said the hiatus has created a new level of gratitude for and dedication to athletics competition at K.
"I believe we all have a newfound respect and appreciation for athletics because it took us such a long time to get here," Hall said. "And once we knew we were a go for January, February and beyond, we developed a newfound level of joy. Nobody likes getting their nose swabbed, and we've got seven teams doing that right now in order to be on the court and their fields—that says something about their level of dedication."
Allowing fall sports to compete in spring will provide additional logistical challenges for Hall and her staff, although she's not concerned about students complying with restrictions or finite facilities.
"As we watched the COVID case numbers grow across the country in 2020, my coaches and I had enough conversations I think we all knew it was possible that we wouldn't have fall sports," Hall said. "When the email announcement came out saying that we were going all virtual, there was disappointment, but we also understood we could possibly push fall sports to the spring. It was something we knew we could look forward to if we were going to take that route and we decided to do so fairly quickly."
Hall knows Michigan could never guarantee that COVID-19 infections won't spike again, prompting another delay in athletics. Regardless, she has faith that state and College leaders do what's required to keep her athletes safe while maintaining proper protections.
"I think we all hold our breath when the governor says something that might affect what we're doing," Hall said. "But I appreciate not only the leadership of our governor, but also of our college president and provost who've helped us reach some of the decisions we have. Now is not the time to take our foot off the accelerator. We've got to stay the course to get the numbers down to get us closer to normal."
'An Opportunity to Grow'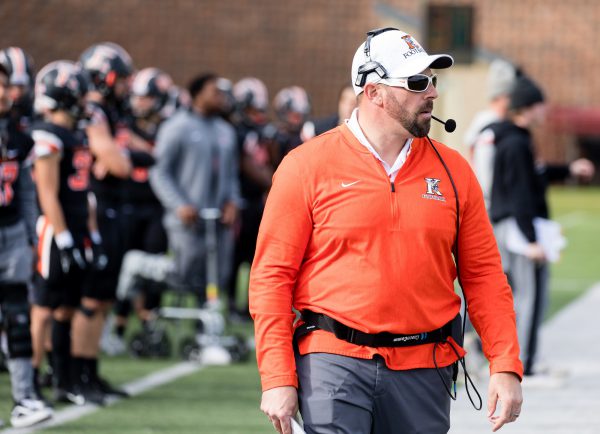 Football Coach Jamie Zorbo's team is one of the squads getting used to the idea of shifting from fall competitions to spring. Others include cross country, men's and women's golf, men's and women's soccer, and volleyball.
MIAA football teams, for example, rarely have to deal with sub-freezing temperatures considering they typically begin practice in summer and compete in the early fall. However, the change meant the Hornets started practicing during the coldest days of Kalamazoo's winter.
"We just have to remind ourselves that when things are tough, we're doing this for the kids and particularly our seniors," Zorbo said. "They deserve a chance to play and finish out their careers here. That's immediately where my mind went when I heard we would play this spring. I was just excited for them, and they were just excited to be out there playing the game again."
It was difficult for Zorbo, his coaching staff and his athletes to know in summer that there would be no football in fall.
"Coaches are creatures of habit and we can get into a routine every fall that we're used to," Zorbo said. "You get really busy and it's always an exciting time of year. It took me a while to kind of get used to not having football and going through the schedule I'm used to that time of year."
The good news is he stayed busy in other ways with regard to recruiting, advising, and being more present with his family.
"I was able to experience some of the things with my family that I don't typically get to do during the fall, which was a blessing," he said. "Initially, it was really tough without football, but I found other ways to stay active and engaged."
K football-related Twitter accounts such as @KzooFootball; @CoachZorboKZOO; and @WhoisCoachJones, belonging to Defensive Coordinator and Defensive Backs Coach Eugene Jones IV, reveal how coaches have been dedicated to college football in general, recruiting and the K community. Regular posts have shown admission application deadlines, birthday wishes for current players, stories highlighting K's academic excellence and virtual recruiting trips to about 15 states since last spring.
"We're continuing to try to find new ways of giving our prospective students an opportunity to learn every aspect of our program and the college while they get a chance to interact with our current players," Zorbo said. "We're trying to re-create virtually elements of the things that have been and continue to be important in our recruiting process. We all viewed it as an opportunity to grow and change the way we do some things for years to come, even when COVID isn't a threat anymore."
'Grateful to be Together'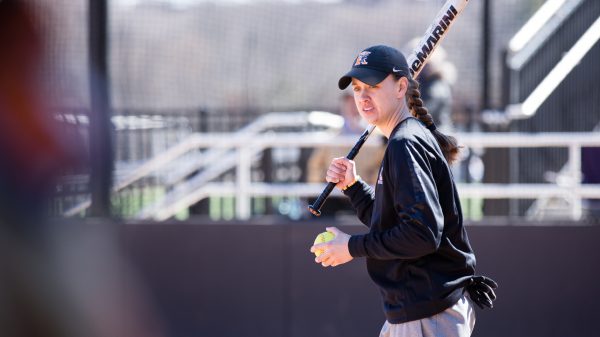 Compare Zorbo's coaching realities with those of Softball Coach Kelli Duimstra, whose team lost nearly their entire season just two games into last spring without an opportunity to simply reschedule later in the academic year.
"It was actually pretty devastating for the players, especially our two seniors," Duimstra said. "I think both were going to have their best seasons at K and I think our team was poised to be very strong. It was heartbreaking for us for sure."
Duimstra didn't want to let her team just leave K without a last chance to connect and talk.
"We had a sit-down meeting to let the team express their emotions," she said. "We talked about how this was certainly nothing that they had ever been through. Having your entire season canceled? That just doesn't happen. But then we talked about our place in this pandemic. I stressed that this was obviously something that we don't want to happen because we want to play. At the same time, we have to do our part to mitigate the spread. And if our part means that we don't get to play games, then we know we're going to do what's best for the greater good."
Even then, Duimstra wanted her team to connect in ways that could help them while going nearly a full year without in-person interaction as a team.
"In a season, we're allowed a certain number of weeks when we can practice and play games, so we had a bunch of weeks leftover," Duimstra said. "We met virtually as a team and I ran through some ideas about what we could do to keep our team together. We watched the two games that we were able to play. We read a book together as a team. We did weekly meetings so our players could get to know their teammates better. These were opportunities to share some intel about what we like to do and why. We couldn't be together to work on our skills on the field, but we could work to grow as a team. I hope that will help us on the field down the line."
Duimstra also conducted virtual recruiting visits through Zoom with on-campus tours suspended. Now, however, the wait for another season is about over as practices have restarted. After a gradual phase-in period that began with players only using their own equipment and not playing catch, the Hornets are poised for an all-MIAA season scheduled to begin March 23 with a doubleheader at Hope College.
"We're relieved and grateful that we get to be together," Duimstra said. "We're trying to put last season in in the rearview mirror. At the same time, we know this can get taken away from us at any moment so we need to appreciate every day we have. We have a very strong conference in softball and there won't be any off days. That will definitely be a challenge, but I know this team is up to it. They want to be the ones that turn this program in the right direction, so they're committed and I'm excited."
'We Love to See Them Compete'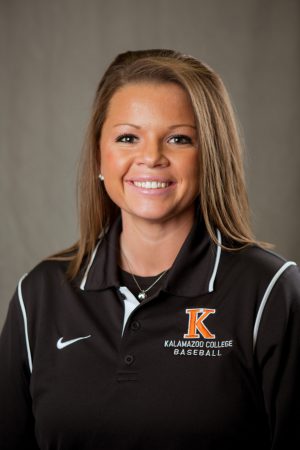 K Head Athletic Trainer Kathleen White, as a medical professional, started to get nervous about COVID-19 earlier than most people did.
"We started having conversations very early because we were abreast of the situation going on outside the U.S.," she said. "When it started creeping over here, we took precautions as much as we could before we knew that a shutdown was going to be necessary."
That led to careful planning, meticulous research and thoughtful collaboration, not only between colleagues at K, but between Michigan institutions and around the country.
"We had months of figuring out what was going on with the MIAA," White said. "We would also meet as an institution, as a department and as a league, and the NCAA had meetings trying to figure out was safe. Things were constantly changing and evolving. We then had to wait to see what the numbers were going to be to see what our policies needed to be."
White now tests up to 350 students a week for COVID-19. That alone would pack her schedule, but there's so much more to ensuring that sports can continue.
"Those tests are just so we can get practices going," White said. "We'll get teams starting on the fields at 4 p.m. and some of our teams don't stop until probably about 1 a.m., so the only time the training room isn't open is from about 1 a.m. to 5 a.m. We also contact trace our athletes' situations, handle our COVID isolation and quarantine situations, and perform the daily testing for them, while doing all our normal athletic training duties on top of all the COVID duties."
Still, White didn't describe her recent efforts as hectic or stressful. Her mind is focused more on the athletes and the opportunities they'll have.
"It's definitely exciting because it's worth it," White said. "We live for being able to give our student-athletes their experiences. We love to see them compete and we want to see them grow, not only as athletes but individuals and students. It's not only for them physically, but for their mental health as well. Sports have really been something that some students need to get through this difficult time.
"When we had the first basketball game the medical staff just kind of looked at each other and was like, 'Wow, that's awesome. We did it,'" she added. "Getting to the first practices was a big accomplishment. Getting through the first couple of weeks of practices was huge. And then making it to the first games, it's exciting and it's rewarding for all the work we've put in."