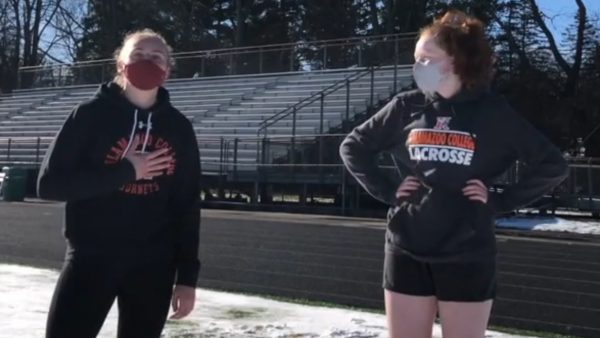 Kalamazoo College student-athletes have donated their time during the pandemic by creating a website that gives Kalamazoo Public Schools (KPS) students a chance to stay active through online videos.
Larkin O'Gorman '22, the community service director for K's Student Athletic Advisory Council, brainstormed creating the exercise website that promotes stretching, athletic participation and injury prevention for elementary school children through high school students in videos recorded by representatives of several K sports.
"I have a fifth-grade sister at home and I noticed she was struggling with being active during the pandemic," said O'Gorman, a women's soccer and lacrosse student-athlete. "Her gym class wasn't meeting her standards and she can't play sports, so I thought it might be cool to have Kalamazoo College athletes come up with things that younger students or even high school students could do while sports were on hold. We talked about it as a group and we came up with the idea of this website to make videos teaching our sports or certain drills to help students stay active."
Putting an Idea into Action
When she received the council's approval, O'Gorman began emailing KPS representatives to gauge their interest in a website, and came in contact with Katie Kelly, the district's lead physical education teacher.
"She was interested and I asked her what they would want from this website," O'Gorman said. "She had a meeting with the other gym teachers who said they would want shorter videos to keep the students' attention and things to get them active, like a circuit workout. They gave us some ideas and we ran with it."
O'Gorman's fellow K student-athletes were excited to help. For example, Hannah Wolfe '21, a fellow soccer and lacrosse athlete, helped O'Gorman record two soccer videos, including a warmup consisting of stretching and dynamic movement and a core workout filled with routine exercises they pursue at practices.
"We used an off-brand GoPro, our cell phones and a tripod," Wolfe said. "The app we used allowed the camera to follow us while we were doing our workout. As we were running back and forth, the camera would rotate. Afterwards, we put together the clips and added the music."
Exercise Builds Ambition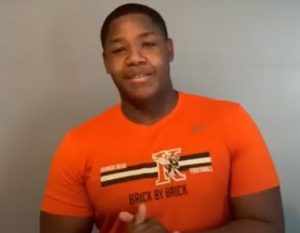 Jamison Brown Jr. '22, a linebacker from Detroit, saw participating in the videos as an opportunity to be an ambassador for the sport of football while encouraging young people to stay active. In his segment, he discussed how a positive mindset toward exercise or a sport like football can build one's work ethic. He then demonstrated exercises such as pushups, bodyweight and weighted squats, up-down planks and Russian twists that anyone can do at home without any standard exercise equipment.
"Most days you don't feel like working out, but you can learn to see it as your job," Brown said. "If you put yourself in the mindset of getting better, you must go do your job. Football is sometimes like that, too, especially for a college athlete. The more you do it, the better you get. And once you get into your professional career, you might not feel like going to work, but you must do it to be successful.
"I feel that I was very proud to have the opportunity to do it, to give back to the community."
Exercise Anywhere at Anytime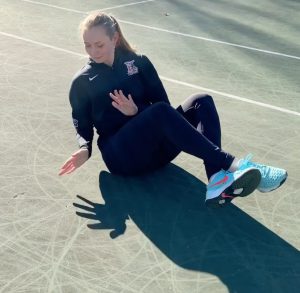 While filming at a tennis court, Ella Knight '22 demonstrated the line jumps, side line jumps and scissors jumps she does with her tennis teammates at practice, yet she stressed that the exercises could be performed just as easily at home using common household items.
"We wanted kids to develop an increased interest in sports and not be on a computer screen so much," Knight said. "That was our main goal along with taking their minds of the pandemic."
Respect Precautions
Volleyball teammates MacKenzy Maddock '22 and Ashley Rill '23 further showed what can be done without exercise equipment and added some COVID-19 precautions in an abdominal workout outdoors they attempted while socially distanced and wearing masks. The process, Maddock said, was as easy as propping up a phone on a step using a water bottle, while recording and exercising for 20 minutes total.
"For me personally, exercise has been a huge part of my life," she said. "There are so many studies that show exercise is good for physical and mental health. I use it when I feel overwhelmed. It makes me feel good about myself and my body. That should be available to everyone no matter what equipment they have."
Enjoy Your Environment
Lily Rogowski '22 added a voiceover to her video, allowing her to focus on a full-body workout in her demonstrations, which included standing bicycles, plank pushups, Superman extensions, high knees, crunches and shoulder taps. She filmed the video on campus because she remembered how much she enjoyed working out at Oregon State University when she was growing up in Corvallis, Oregon.
"When I was in high school, I thought it was cool to go to the university and run on their track rather than the high school track, so I thought kids might enjoy seeing some of the pretty areas in their town and on our campus," she said. "I had my iPhone there and just set it up on my jacket, so I filmed some clips and I tried to make it fun. Hopefully, there was a little something in there for everyone."
Where it Goes From Here
O'Gorman would eventually like to have each K sport represented in at least one video with a growing website that offers more and more content. Perhaps it could even benefit additional schools and involve other college athletics programs.
"When I started, I thought it would be just for KPS, but part of me thinks I should share it with other schools," she said. "I can definitely see a broader picture and maybe other Division III schools in Michigan and in our league would like to participate and share videos to this website as well."
View each of the 10 videos currently posted, and submit your feedback and ideas at their website.