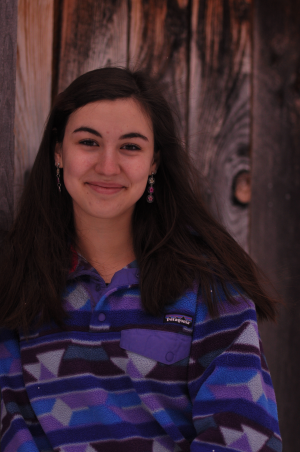 Stella Young, a junior political science major, was just one of the Kalamazoo College students who had planned to study abroad during the 2020-21 academic year. When the pandemic threw a wrench into those plans, she was disappointed.
"Study abroad was one of my deciding factors in coming to K," she said. "I was supposed to go to Madrid for six months."
Regardless, K's Center for Career and Professional Development, along with faculty and staff from around campus, provided a thoughtful alternative. Collectively, they developed a series of internships for 20 juniors, including five who worked through CCPD Assistant Director for External Relations Valerie Miller, giving them practical career experience in addition to a credit-granting class.
"I think the students had phenomenal experiences typical of internships," Miller said. "They didn't know what to expect and they had some doubts going in. Then they developed some skills and started to understand the work environment better. By the end, each one of them seemed to feel pretty confident about what they accomplished."
Alumni Connections Critical
According to Miller, alumni were key in setting up the internships her cohort of students wanted. Young, for example, worked with Rock the Vote, a nonpartisan and nonprofit organization that encourages young adults to participate in the election process, which is led by Carolyn DeWitt '04.
"I wanted to go on study abroad to meet new people and make new connections," Young said. "I think I did that with this program."
Young became a valuable asset to her 15 internship colleagues from across the country as she worked on several projects, including one that helped Iowa voters understand issues and where candidates stood on them in Senate races.
"I hopped on projects as staff members needed help," she said. "I did a lot of research and data entry leading up to the election, and after, I worked with voters who had questions about results. I knew going into this I wanted to work with a nonprofit and this was an opportunity to put what I've been learning in the classroom into action. I hope to stay involved as a volunteer because they're doing really important work."
Navigating Health Care
Aramide Apo-Oyin '22, however, independently found her internship serving heart-failure patients through Aurora Advocate Health in Chicago, via a nonprofit patient-support program offered through its hospital.
"The program is basically a volunteer initiative that helps patients and their families navigate the health care system," she said, adding she commonly helped patients schedule follow-up care, understand their dietary needs and seek the exercise and activity they needed. "It provides them with the literacy they need, and helps navigate any barriers to their care."
Apo-Oyin noted the program didn't necessarily have a specific target audience, but it's easy to spot trends in the health care system when working with people from many backgrounds.
"So even though we don't say we're only helping people who have the fewest resources, we often find they're the people who need our help the most due to language barriers with their care team in the hospital, being uninsured and not knowing how to enroll into government assistance programs like Medicaid or Medicare, and not having a support system at home to help with transportation to appointments and overall support."
As a result, the transition support program Apo-Oyin represented commonly assisted people without insurance or those who needed more support than just immediate care.
"We have connections and the relationships that can really help us to assist the communities that need our help. This program is about helping the patients heal and live with their diagnosis. I feel like that happens with more than just the medicine and the procedures doctors do. That's our role and that's why I chose to go into it."
A Happy Ending
In moving forward, both students credited the campus partners for creating programs that tied well with their career goals while developing experiences that made their fall term valuable despite the absence of study abroad.
"I definitely want to use these services more in the future," Young said of Miller and the CCPD. "She was great in finding a position that I really wanted. I would definitely recommend that people go to the CCPD when they want some off-campus experience—it helped broaden our horizons."CCP