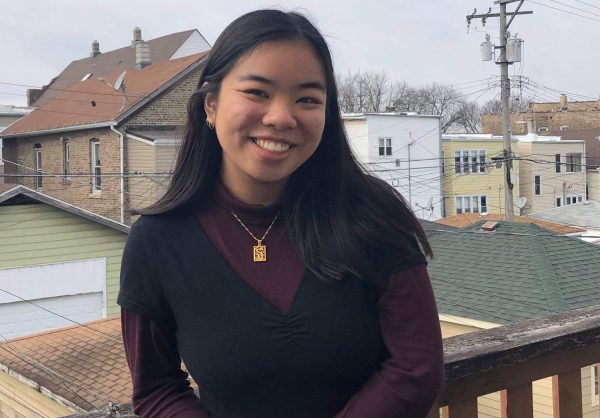 Emily Cheng '23 is continuing to develop her standout civic-leadership skills through Kalamazoo College by accepting a place in the 2021-22 cohort of Newman Civic Fellows.
The fellowship is offered through Campus Compact, a Boston-based nonprofit organization that advances the public-service purposes of higher education. About 290 students from member institutions in 39 states, Washington, D.C., and Mexico will comprise the cohort this year. Recipients such as Cheng demonstrate a commitment to finding solutions for challenges facing communities locally, nationally and globally.
"When I applied, I was curious about what Newman Fellows do in general and how Campus Compact teaches students to be confident in themselves while developing leadership skills," Cheng said. "I am interested in the nonprofit space as a career, but I'm also interested in things the fellowship teaches like advocacy, collaboration and mentoring."
Cheng is known on campus as a member of the Sexual Peer Educators at K (SPEAK) group, for which she began and co-manages an Instagram account @kc_s.p.e.a.k. She also is the co-president of the Asian Pacific Islander Student Association, while serving as a Reproductive Justice Leadership Institute Fellow for the National Asian Pacific American Women's Forum.
Elsewhere, she has found her interests in community organizing to create social change through working with local grassroots campaigns, where she has met and worked with inspiring mentors and friends who have catalyzed her passion to fight against institutions that constrain the people she cares about.
Cheng chose to attend K largely for the format of the K-Plan, which allows students to formulate their own curriculum, along with the College's study abroad programs. The Intercultural Center, however, has given her the courage to seek opportunities such as the Newman Fellowship thanks to people such as Director of Intercultural Student Life Natalia Carvalho-Pinto.
"The Intercultural Center has been my home away from home," Cheng said. "Even while we're virtual, people like Natalia are amazing because she is still such an encouraging spirit," Cheng said.
Each year, Newman Fellows participate in virtual training and networking to give them some of the skills and connections they will need to create change. The cornerstone of the fellowship is the annual Convening of Fellows, which offers intensive skill-building and networking over the course of two days. The fellowship also provides fellows with pathways to apply for exclusive scholarship and post-graduate opportunities.
Each recipient, including Cheng, received a recommendation letter from their institution's president.
Cheng "is a student leader who has dedicated her time on campus and in her community to advocating for reproductive rights, access to affordable housing, and diversifying the students holding on-campus leadership positions," Kalamazoo College President Jorge G. Gonzalez said in recommending her. "She has found community at the Intercultural Center, as a place that catalyzed and affirmed her desire to work with her community to create larger, greater change."
The fellowship is named for the late Frank Newman, one of Campus Compact's founders, who advocated for civic engagement in higher education. In the spirit of Newman's leadership, Campus Compact member presidents and chancellors nominate student leaders from their campuses to be named Newman Civic Fellows.
"We are proud to recognize these extraordinary student leaders and thrilled to engage with them," Campus Compact President Andrew Seligsohn said. "The experience of the last year has driven home to all of us that we need open-minded, innovative, public-spirited thinkers and doers. That is what Campus Compact is about, and the stories of our Newman Civic Fellows demonstrate who they are."