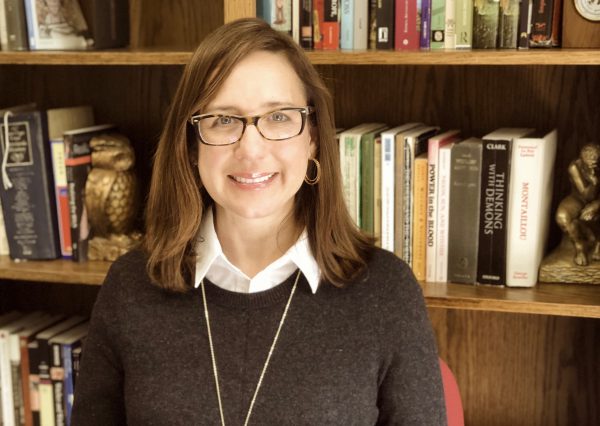 In standing up to inquisitors, a local court from Pamplona in the Basque region of Northern Spain smuggled more than 150 people accused of witchcraft away from the Spanish Inquisition for the sake of conducting 30 independent trials in the 16th and 17th centuries.
Left behind was one of the richest records of witch trials in Spain, said Kalamazoo College Assistant Professor of History Rochelle Rojas, with more than 3,000 pages of accounts from townspeople, prostitutes, net makers, priests, fathers, children and others, setting the stage for Rojas' latest research project.
"About 500 years ago, these people told the Spanish Inquisition that they could go pound sand," Rojas said. "So my project is amazing in that it's the first and only one dealing with witchcraft in Spain that isn't based on Inquisition sources. This brings to life those voices of people, mostly women, who had to endure terror and execution due to being labeled a witch by others."
The voices will help Rojas write a book over the next year titled Bad Christians and Hanging Toads: Witchcraft in Early Modern Spain. She has written three chapters and plans to complete two more chapters before traveling to Spain next spring to finish it. The excursion will be funded by an American Fellowship she earned from the American Association of University Women (AAUW).
The first six chapters of her book, she said, will be a straight-forward look into the history of these Spanish witch trials. Examples of people discussed in these sources, such as Graciana Belza—meaning Graciana Black—will help Rojas argue in the epilogue that there are similarities between the treatment of the accused witches, and how some groups, such as immigrants and other marginalized citizens, are treated in the modern-day United States.
"In 1569, she was poor, and the entire village blamed her for everything," Rojas said of Belza. "Someone's kerchief was missing from the drying rack; it was blamed on her. Someone's daughter died; it must've been her fault. A man became impotent; it must've been because of her. Everybody blamed her."
Belza, in fact, was tortured and her jailers broke both her arms while the court demanded that she leave town within 10 days after her trial. However, with two broken arms, she was unable to transport her belongings. That led to her being jailed again, and ultimately dying from untreated torture wounds.
"It's interesting in this case to see how people had a preconceived notion that she was a bad person and how she was treated very unfairly; just as someone today who might not speak English or someone who's Black," Rojas said.
Labels such as witch were invented, predicated on fear.
"They didn't have the labels that we use now to label our undesirables, so they invented them," Rojas said. "And the word then literally was witch or bruja."
Stories like Belza's will be at Rojas' fingertips when she visits Spain thanks to the fellowship she received. The AAUW American Fellowship, started in 1888, is the oldest non-institutional source of graduate funding for women in the United States. It supports women scholars with up to $6,000 when they pursue full-time study to complete dissertations, conduct postdoctoral research full time or prepare research for publication.
Thousands of women in academia from across the country apply for the fellowship and only about 200 were awarded it this year. The fellowship panel considers applicants like Rojas based on factors such as scholarly excellence, the quality of their project design, their mentoring of other women and teaching experience.
"Sometimes It's hard to pitch the importance of something having to do with witches from 500 years ago in a tiny village, so I was happy that the AAUW was able to understand my vision of why this topic is relevant," Rojas said "This was the first post-graduation grant I applied to and it's a pretty hard one to get. That makes me feel really good, especially when people who support K can see that we as professors are actively engaged in trying to earn larger recognition for the College."